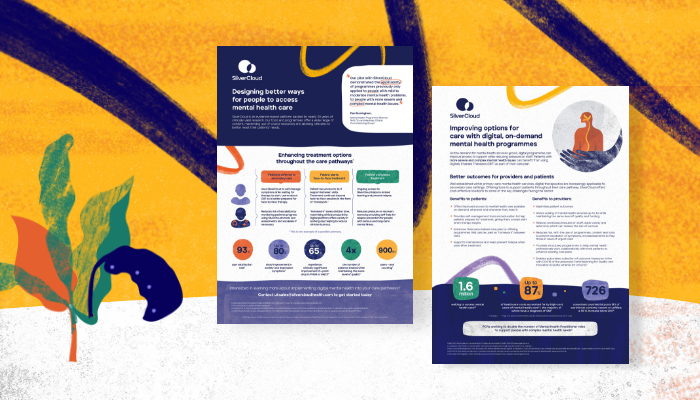 Digital mental health therapeutics are well established within primary care. The provision of digitally-enabled models of therapy for depression and anxiety disorders is a priority for IAPT services in England. During the pandemic, the adoption of digital mental health technologies rapidly increased. But what's happening beyond primary care services? Can digital mental health interventions also support people with more complex mental health challenges? As many secondary care services are discovering, the answer is yes. And the benefits are felt, both by patients and by the mental health workers delivering their care.
Digital mental health interventions at every stage of the pathway
With 1.6 million people currently waiting to access mental health care and over 700 consultant psychiatrist posts (9% of the workforce) unfilled, the challenge facing mental health services is not hard to diagnose. Even as patients wait for therapy, digital behavioural health has a role to play, providing self-management tools to support patients. If they have no previous experience with Cognitive Behavioural Therapy (CBT), digital therapeutics can also prepare them for face-to-face therapy by introducing them to the concepts and methodology of the treatment they will eventually receive. Once treatment has begun, digital mental health interventions can provide additional tools and support as an adjunct to face-to-face therapy. One of the great advantages of digital therapeutics in mental health care is its 24/7 availability, providing round-the-clock support between visits and enhancing existing care plans.
They can also increase the scope of the care patients receive. For example, SilverCloud has programmes addressing a wide range of mental health issues. The core programme includes common mental health conditions, such as depression, anxiety, and obsessive-compulsive disorder (OCD). But programmes can be personalised for each patient, to address other issues impacting their mental wellbeing, such as sleep disorders, stress, and money worries. And because long-term physical conditions have a major impact on mental health, there are programmes to help people living with chronic conditions, such as diabetes and coronary heart disease (CHD).
When services are under pressure, it would be hugely challenging to provide this level of detailed support within face-to-face therapy. Digital behavioural health programmes allow mental health workers to address wider issues while preserving face-to-face sessions for therapy that needs higher levels of support. And once a patient has finished treatment, ongoing access to digital mental health therapeutics also empowers patients to take what they have learned and embed it in their everyday lives, helping to prevent relapse.
Learn more about embedding digital mental health interventions into your care pathways.
Creating blended mental health treatment using digital therapeutics
The benefits of providing a mix of digital and face-to-face support work both ways. Patients have access to enhanced care pathways, and care providers can scale services while making more effective use of clinician time. Digital mental health programmes can also help mental health professionals such as care coordinators build a structured programme for collaboratively supporting the mental health of their patients.
Of course, these benefits will play out differently depending on how the digital mental health therapeutics are used and what issues services are facing.
Of course, these benefits will play out differently depending on how the digital mental health therapeutics are used and what issues services are facing. The East London NHS Foundation Trust (ELFT) had a challenge that will be familiar to many providers: how to achieve cost-effective growth while simultaneously addressing the increase in referrals of people with more severe and complex mental health issues.
ELFT worked with us here at SilverCloud to develop a series of innovative solutions and use cases extending right along the secondary care pathway. These included:
The psychotherapy department using SilverCloud's comorbid anxiety and depression programme, with patients supported through the programme via asynchronous online reviews.
The home treatment team opening up SilverCloud's self-help programmes to their service users in managing sleep disorders and stress.
Using SilverCloud online therapy as an early intervention for people at risk of developing psychosis or those experiencing a first episode.
The recovery team using SilverCloud programmes as self-help for relapse prevention in people with serious and long-term mental illness.
These blended models of treatment, combining digital with face-to-face, are leading to innovative opportunities to maximise patient outcomes by enhancing care plans within secondary care pathways.
Learn more about embedding digital mental health interventions into your care pathways.