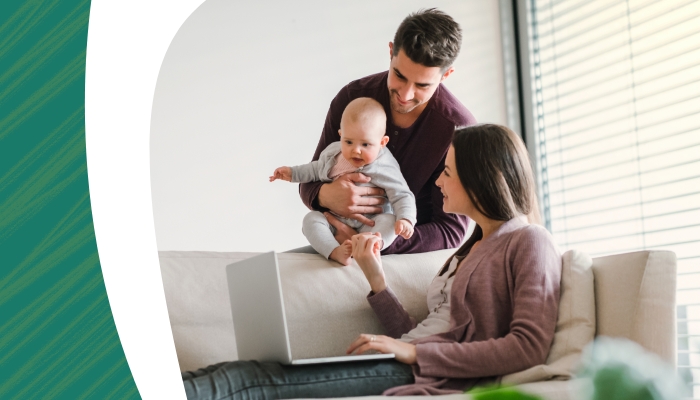 Mental health is not always something that can be narrowed down to a strictly individual experience. Especially in families, mental illness can affect more than one person, either through genetics or purely by proximity. This becomes apparent in the perinatal phase when parents are preparing for the arrival of their child and emotions are in a state of upheaval. Perinatal mental illness can impact the entire family.
Between 10 to 20% of women in the UK struggle with perinatal mental health problems during pregnancy and the first year after having a baby. For such a widespread struggle, perinatal depression and mental health challenges do not have many treatment options available. Many reduce the illness down to postpartum depression and dismiss the experience as something every mum struggles with. However, perinatal mental illness looks different for every mum and family, and some can experience extremely serious symptoms. Those who experience mental illness during and after pregnancy are also susceptible to anxiety, eating disorders, and OCD. These struggles can adversely affect the mum and other caregivers and the children themselves.
Unfortunately, for those who experience mild to moderate symptoms, there is a stigma that indicates those suffering should not seek professional help. Struggles with perinatal mental health present different challenges from other forms of mental health. This is due to the nature of the issues, as they intertwine with the struggles of being a new parent and navigating a new normal. Due to stigma, up to 50% of mums will never seek treatment. In light of this statistic, Talking Therapies Berkshire has implemented a programme that allows users to feel validated and their feelings understood, without stigma.
It is important to reword the perinatal mental health narrative from "you're not sick enough for professional care" to "what type of professional care will best suit your needs?" Talking Therapies does exactly that with an initial assessment to determine the mum and family's specific struggles and needs. Their clinicians implement immediate care after this assessment, including access to digital services that are available around the clock. SilverCloud's partnership with Talking Therapies allows for an option to provide this low-level digital intervention before jumping to intensive care. This option helps those who are worried about the stigma of seeking help to be more at ease with a less intrusive method. Talking Therapies also prioritises immediate care, avoiding timely waitlists even for those whose symptoms appear more "mild."

SilverCloud Health has partnered with Talking Therapies Berkshire to implement the Space for Perinatal Wellbeing programme. This digital programme makes it easy for users to access care 24/7 and focuses on emotions specific to perinatal mental illness, specifically anxiety, depression, and low mood. The flexibility of the programme allows new parents to fit mental health care into their busy schedules so it cannot be swept under the rug. More intensive care options are also available, including face-to-face and telephone support.

Most users say they feel understood and that the programme offers empathy, even when they are not face-to-face with a clinician. These benefits all contribute to an overwhelming 94% of users reporting satisfaction with the product. SilverCloud's focus on personal narratives and validation of feelings paired with Talking Therapies' expertise in perinatal care allows for a unique, highly successful programme.

Addressing and ending the stigma around perinatal mental illness is of utmost importance. SilverCloud Health's Case Study explores the details of the Space for Perinatal Wellbeing programme and why it is so successful. To learn more about this solution to perinatal mental illness, read our Talking Therapies Berkshire Case Study.