In today's demanding work environment, it is not uncommon for staff to experience low mood and anxiety. Great Britain's workplace regulator figures show an estimated 914,000 cases of work-related stress, depression, or anxiety in 2021-2022. This suggests a real drive for intelligent and cutting-edge treatment solutions.

Digital therapy for employees can be implemented to effectively treat depression and anxiety disorders, with results comparable to face-to-face therapy. Chattopadhyay (2012) found that digital technologies can connect individuals with mental health specialists, empower staff to take charge of their care and be used for diagnosing and detecting mental health conditions. However, digitally enabled therapy must be delivered structured and practically to achieve verifiable results.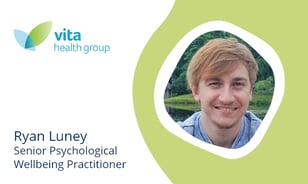 Watch our n demand video session featuring Dr Carolyn Lorian, Head of Clinical Transformation at Amwell, and Ryan Luney, Senior Psychological Well-being Practitioner at Vita Health Group. The session covers the benefits of easy access, early intervention, and 24/7 support for employees experiencing low mood and anxiety.
Watch the session here

What are digital therapies?
Digital therapies are therapeutic interventions delivered via digital platforms like mobile apps, online programs, and on-demand video sessions. One of the essential differences online therapies offers is the ability for more people to access mental healthcare with a professional from the comfort of their homes.
The benefits of digital therapy
Using tried and tested cognitive behaviour treatment methods, digital therapy has the potential to help thousands of people improve their mental well-being. Some of the benefits include:
Flexibility
Empowers self-care
Promotes autonomy
Prioritises early intervention
Relieves pressure
24/7 support
Highly accessible
Treatment for a wide range of conditions
Promotes workforce retention and satisfaction
Affordable
Reduces stigma.
How to help an employee with anxiety
Managing workplace anxiety is challenging. In 2020/21, stress, depression, or anxiety accounted for 50% of work-related ill health cases. With over half of workers suffering from anxiety, employers now prioritise staff well-being and implement mental health strategies.

Examples of ways to help an employee with anxiety include: