As the world changes, new challenges can cause high stress and anxiety. Atteridge (2019) conducted a longitudinal study revealing those businesses incorporating an Employee Assistance Programme (EAP) improved productivity, engagement, and overall life satisfaction. This research also highlighted EAP's role in reducing absenteeism and workplace distress. Amwell® recognises the importance of providing on-demand content and EAP services so individuals can access evidence-based support 24 hours a day, every day of the year.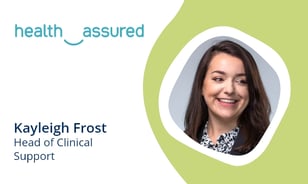 We invite you to watch our video session featuring Dr Carolyn Lorian, Head of Clinical Transformation at Amwell, joined by Kayleigh Frost, who is accountable for Health Assured's case management, trauma, and well-being. The discussion focuses on the benefits and role of evidence-based digital support in engaging EAPs. Kayleigh's primary focus is to ensure that Health Assured's service provisions align with the requirements of organisational mental health.
Watch the session here

What is an Employee Assistance Programme?
An EAP is formed to assist employees in resolving personal issues that may negatively affect their health, well-being, or work performance. It allows staff to access mental health support and advice at their own pace. Research suggests that the use of EAP's improve physical and emotional health and relationships (Eastern, 2011) .
What does the EAP help with?
It is impossible to be sure what type of support each employee will need. For this reason, we offer individuals access to a wide range of expertise. Amwell's network of professionals can act as a guide to help you understand exactly what your staff require to thrive in life.
Employees can choose from various well-being content depending on their requirements. Some available functionalities available from the team include :
Stress

Depression and Anxiety

Substance abuse

Addiction, including gambling

Domestic abuse

Grief and loss

Critical incidents

Childcare and parenting issues

Care giving issues

Education

Relatives with disabilities

Health and safety concerns

Career development

Relationship issues

Trauma

Budgeting

Managing debt

Workplace stress

Workplace conflict

Job burnout

Coping with change

Separation and divorce


What are the key benefits of digital support?
Companies can enhance employee engagement and productivity by offering digital mental health tools. There are several advantages to consider:
Evidence-based
Rigorously tested
User-friendly
Accessible
Cost-effective
Supports recovery
Helps organisations prioritise employee well-being


At Amwell, we understand that mental health is a complex issue. That's why we work closely with businesses to design solutions tailored to their needs. Watch our on-demand video session to learn how to build a healthy and productive workplace.
Watch the session here

References:
Attridge M. A Global Perspective on Promoting Workplace Mental Health and the Role of Employee Assistance Programs. Am J Health Promot. 2019 May;33(4):622-629. doi: 10.1177/0890117119838101c. PMID: 31006254. Eastern J. Commentary—Employee Rewards. Internal Medicine News. 2011. Available online: https://www.mdedge.com/internalmedicine/article/46781/commentary-employee-rewards