Within our overstretched mental health services, digital interventions are already playing a vital role in improving access to support. Yet some misconceptions persist. In SilverCloud® by Amwell's® latest white paper The Future of Therapy clinicians on the frontline of mental health services in the NHS discuss the opportunity offered by innovative digital technologies to transform mental healthcare. Their experiences challenge many of the myths around digital mental health interventions. They make a compelling case for digital technology to form a key part of the future of therapy.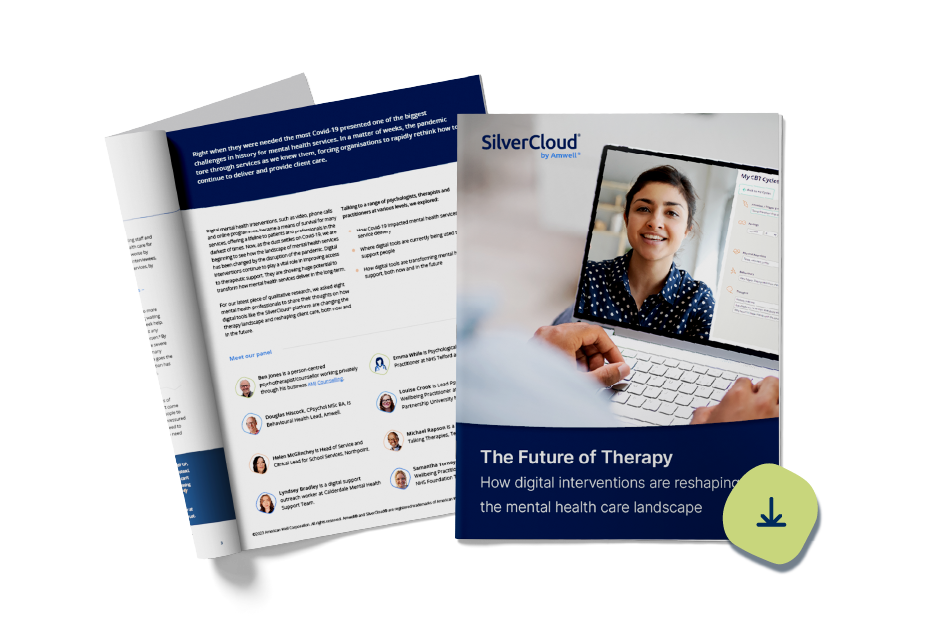 Several studies have proved that digital therapy can be just as effective as face-to-face treatment. In fact, research published in The Lancet compared iCBT with in-person CBT and found that iCBT was even more effective than face-to-face CBT at reducing depression symptoms.1 SilverCloud® programmes have a 93% user satisfaction rate. Plus, 65% of users achieve clinically significant improvements. During a Randomized Control Trial (RCT) with Berkshire Healthcare NHS Foundation Trust, the SilverCloud by Amwell suite of interventions for depression and anxiety disorders achieved significant post treatment effects in comparison to a control group. These clinically significant reductions in symptoms of depression and anxiety were found to be sustained at 12 months post treatment, solidifying the platform as an effective component of therapeutic care delivery.2, 3


With long waiting lists for NHS talking therapies, it's easy to feel helpless as a clinician. Two-fifths of patients waiting for mental health treatment end up contacting emergency or crisis services, with 1 in 9 ending up in A&E.4 Online therapy can bridge the gap. There are no waiting lists and it's flexible in its application. Clinicians use SilverCloud programmes as an alternative form of therapy,as support while someone is waiting for treatment, during and inbetween therapy sessions, or as a tool to maintain recovery post therapy.


Each person is unique, which means a one-size fits-all approach to therapy will not cut it. Each SilverCloud programme is tailored by clinical experts, whether it has a focus on mental health, wellbeing, or something more niche.


As clinical experts, we get that therapy can be tough, and that a little external motivation can be the difference between success and failure. As digital experts we also understand that some people might feel nervous about using an online platform. That's why SilverCloud programmes have the option to add a supporter – a real person, experienced in mental health – to provide guidance and motivation. SilverCloud by Amwell can provide supporters or train your team.


It's easy to dismiss digital therapy as best suited to the mildest mental health problems, but this is not the case. In fact, NICE recently recommended eight digital therapies for treating anxiety and depression in adults, including the SilverCloud Anxiety programme and Depression programme. NICE has also approved digital technologies including the SilverCloud platform to help children and young people manage low mood and anxiety. Plus, SilverCloud programmes have since been updated to align with NICE guidelines.


In-person therapy will always play a vital role in mental health treatment. Digital therapy is not designed to replace it, but to be part of a wider support plan, to aid clinicians in getting patients treatment sooner. But many therapists featured in the Future of Therapy white paper said that their patients preferred digital therapy. 24/7 access meant they didn't need to travel, take time off work or arrange childcare. In today's financial climate, all of these factors represent major barriers for many patients.

References
1. Luo, C. et al. (2020) 'A comparison of electronically-delivered and face to face cognitive behavioural therapies in Depressive Disorders: A systematic review and meta-analysis', eClinicalMedicine, 24, p. 100442. doi:10.1016/j.eclinm.2020.100442.
2. Psychological Therapies: reports on the use of IAPT services, England, January 2023 Final including a report on the IAPT Employment Advisers pilot In January 2023 alone, nearly 49,000 Internet Enabled Therapy sessions occurred within the NHS Talking Therapies
3. Richards, D., Enrique, A., Eilert, N., Franklin, M., Palacios, J., Duffy, D., ... & Timulak, L. (2020). A pragmatic randomized waitlist-controlled effectiveness and cost-effectiveness trial of digital interventions for depression and anxiety. NPJ digital medicine, 3(1), 85.
4. Two-fifths of patients waiting for mental health treatment forced to resort to emergency or crisis services (2020) www.rcpsych.ac.uk. Available at: https://www.rcpsych.ac.uk/news-and-features/latest-news/detail/2020/10/06/two-fifths-of-patients-waiting-for-mental-health-treatment-forced-to-resort-to-emergency-or-crisis-services (Accessed: 28 July 2023)