As the landscape of employee mental health support continues to transform and grow, so does the demand for businesses to seek innovative solutions. The SilverCloud® by Amwell® platform is backed by 20 years of clinical research providing evidence-based solutions that supercharge employee well-being programs and integrate digital and human support to deliver high-quality care. This means equipping individuals with access to self-help resources and support from trained therapists through our messaging or video services. Integrating the best of both worlds allows us to provide employees the tailored support they require.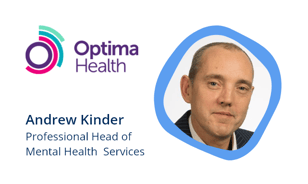 We are pleased to invite you to our on-demand video session with Amwell's Head of Clinical Transformation, Dr Carolyn Lorian and Andrew Kinder, Professional Health of Mental Health Services at Optima Health. In this session, we talk about the recent shifts in preventative measures and mental health support in the UK and we explore techniques that can be integrated into employee well-being programs to help future-proof mental health.
Watch the session here

So, what recent trends have we seen in employee mental health support?
Increased demand
As we navigate the world post-pandemic, we've seen a significant increase in demand for online mental health support. With a record 4.6 million referrals made in England during 2022 (an increase of 22% since 2019), mental health services have been pushed to their limit, highlighting the need for imaginative solutions like the SilverCloud platform.

Internet-based Cognitive Behavioural Therapy (CBT) is a successful approach, combining the convenience of digital technology and reducing waiting times whilst implementing CBT tools and methodologies to help empower self-management or to prepare someone for face-face therapy.
Raise awareness
In the UK, businesses recognise that the need to promote good employee mental health is more significant than ever before. With over 90% of UK businesses increasing their focus on employee mental health. SilverCloud's employee well-being solutions have proven effective in increasing productivity and helping employees achieve a better work-life balance. Consequently, this has resulted in decreased absence rates and staff turnover.
Focus on prevention
Promoting and encouraging good health and well-being practices have become common practice for businesses, in order to enhance employee engagement and performance. Early detection strategies may allow for more effective healthcare pathways. By implementing our coach-support and self-guided programmes, companies note a boost in staff morale, loyalty, innovation, productivity, and profits.

Businesses can take several proactive steps to future-proof mental health support in the workplace. Here are some ideas that you may find helpful:
Awareness campaigns
Education and training on mental health
Fostering a culture of open communication
Prioritise work-life balance.
Flexible working arrangements
Promoting regular breaks
Easy access to mental health resources and self-help tools
Incorporate wellness programs.
Mindfulness activities
Stress management workshops.


At Amwell, we are committed to evidence-based research. Our growing collection of published projects demonstrates our motivation for continuous improvement. Businesses highly emphasise providing valued employees with comprehensive and practical online mental health support. Our goal is to equip clients with the necessary tools and resources to overcome obstacles.

The aim is to help individuals succeed in their personal and professional pursuits.
Watch the session here