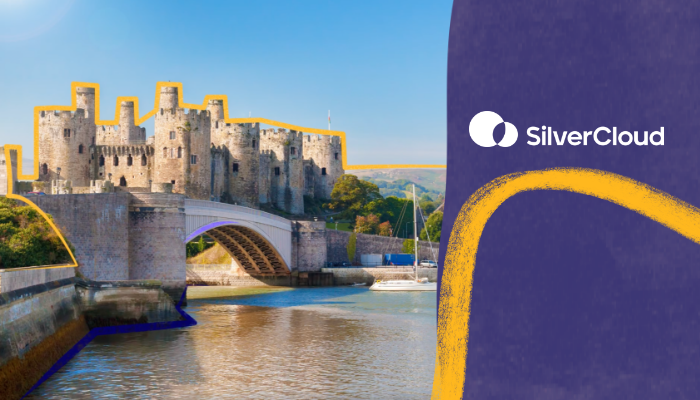 Welsh Government announces new nationwide access to SilverCloud Health's clinically proven iCBT programmes to all aged 11+ in Wales
A strategic cornerstone in the 'Help Us, Help You' direct access campaign
Showcasing the expanding NHS investment in digital mental health solutions across the UK to meet the scale of need post COVID
Further to the successful all-Wales pilot launched during the pandemic, the Welsh Government has confirmed 3-years of funding via Powys Teaching Health Board to expand access to SilverCloud Health iCBT programmes nationwide. Over 23,000 patients accessed mental health programmes during the pilot period, and nearly two thirds (64%) saw positive outcomes following self-referral.
This new wave of funding puts patients' needs at the core and aims to provide accessible mental health services at scale across Wales, whether through referral by a healthcare professional, or via self-referral. Children and young people who have arguably suffered higher levels of anxiety in recent times have specific programmes available to them as part of the roll out, complemented by programmes designed to support the parents of an anxious child. This move comes as part of the Welsh Government's 'Help Us, Help You' campaign which encourages the public to utilise direct access therapy tools, and the digital transformation of NHS Wales.
"We're proud that SilverCloud Health has been chosen by NHS Wales to deliver a new type of mental health service – one that is available at all times of the day or night - at a scale never seen before," comments Derek Richards, Chief Science Officer and one of the founders of SilverCloud Health. "With a clinically robust body of research spanning some 18 years, our programmes, designed by practising psychologists, have demonstrated their effectiveness. Every person helped is a success story as far as we are concerned."
SilverCloud Health programmes are free to use, and available 24/7 from any digital device. iCBT can be used both with or without support, and equally in conjunction with face-to-face therapy. Patients are supported by an NHS Wales team of psychologists and therapy co-ordinators. While all data entered on the platform is anonymous, cases are escalated when a patient's clinical scores indicate the need for intervention.
Welsh language options are available for the most popular programmes, including Space from Anxiety and Space from Depression.
For those aged 11+, experiencing mild-to-moderate symptoms of depression or anxiety, access to NHS Wales online mental health services is available either through self-referral at https://nhswales.silvercloudhealth.com/signup/ or via primary care referral.
-ENDS-
For further information, interview or to find out more please contact:
Theresa Dunthorne, Lily Spencer or Sarah Winterbottom at ROAD Communications or call us on +44 (0)20 8995 5832.
About SilverCloud Health:
SilverCloud Health, part of Amwell® (NYSE: AMWL), is the world's leading digital mental health company, enabling providers, health plans and employers to deliver clinically validated digital health/therapeutic care that improves outcomes, increases access and scale while reducing costs. The company's multi-award-winning digital mental health platform is a result of over 18 years of clinical research with leading academic institutions. Today, SilverCloud is being used by over 500 organizations globally to meet their populations' mental health needs. Global experts have deeply validated the platform through full randomized control trials and real-world data from over half a million SilverCloud users. The platform continues to lead the industry with its effectiveness, engagement and range of clinical programs that encompasses the spectrum of mental health needs. Learn more at www.silvercloudhealth.com or https://business.amwell.com.
Additional Context / Terminology:
New Referral – Client has been accepted onto the programme but is awaiting the allocation of a SilverCloud Supporter, once allocated they move to Current
PHQ9 scores 0-14 inclusive and 0-1

on PHQ9-Q9 - client is given access to the programme and goes directly into New Referrals

PHQ9 0-14 inclusive but either 2 or 3 on PHQ9-Q9

- client is notified that they are eligible for a telephone assessment and go into Awaiting Assessment

Positive telephone assessment – given access to the programme and moved from Awaiting Assessment to New
Negative telephone assessment (or do not respond) – client informed of alternative service and moved to Sign-posted to other services

PHQ9 over 14, scores "yes" on risk questions, is under 16 or is receiving secondary or tertiary care

– client is informed of alternative services, initially in Awaiting Assessment and then moved by PTHB SilverCloud team into Sign-posted to other services after recording scores for reporting purposes