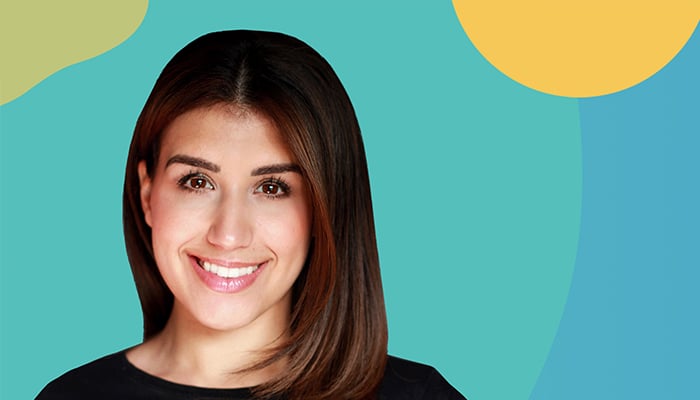 This week (10-16 May) is Mental Health Awareness Week in the UK, an annual event providing an opportunity to focus on achieving good mental health. We mark the week by hearing Gabriella's story, a SilverCloud user who faced her own anxiety and depression with the help of our on-demand programmes.
Like many people who suffer from depression and anxiety, Gabriella, a 28-year-old actress and writer, tried to handle it on her own, riding the waves of her negative feelings. But she knew she wasn't coping and was finding the various stresses in her life, including her work, harder and harder to handle. Her feelings of hopelessness and low mood, some of which moved to suicidal thoughts, led her to speak with her doctor and take some time off work.
At this point, it was clear that she would have to wait around two months to see a therapist face-to-face and so she jumped at the chance of getting some immediate online support from SilverCloud.
Gabriella accessed two of SilverCloud's world-leading mental health and wellbeing programmes: Space from Anxiety and Space from Depression, which run over six weeks.
Looking back Gabriella said that
"Being able to begin the programmes immediately, access it anytime from my own home and connect with a coach for support, were what initially drew me to SilverCloud. It felt easily accessible and ready to help".
This level of convenience and the ability to access the programmes 24/7 from anywhere in the world were big positives for Gabriella – something that many SilverCloud users tell us about their experience.
The programmes were developed from over 18 years of clinical research with leading academic institutions and are full of practical tools and support, including a worry tree which helps users to identify their thoughts and ways of coping with them. Gabriella found that particular tool incredibly useful, reflecting that:
"With the worry tree I asked myself 'How do I cope with thoughts?' I put them down and I could see the positive and negative. It was a really great tool because I noticed as time went on, I went from bad, to OK, and finally, to good."
As with many other SilverCloud users, Gabriella found that writing down her thoughts and doing some journaling made a big difference to how she tracked, understood and was able to manage the impact of these thoughts. Alongside this, she was able to work with her SilverCloud coach, Shantell, and begin to self-manage anxiety attacks and use mindfulness techniques like controlled breathing exercises.
The programmes provide a structured and supportive way for users to identify and understand their thoughts and can help tackle feelings of being overwhelmed by them. Reflecting on this aspect of the programme, Gabriella said:
"The biggest thing that I've taken away from doing therapy was actually getting the thoughts out of my head and onto paper. I think it is a great coping mechanism in general. You've got these negative thoughts festering in your head. To this day, I say to people: 'Write it down.'"
Over 600,000 people have accessed SilverCloud programmes and users report an 85% improvement in depression and anxiety symptoms. The Space from Anxiety and Space from Depression programmes certainly helped Gabriella, who is making a short film about a woman who is suffering from depression and uses SilverCloud's mental health programs to overcome it.
"I want to get across that therapy is a good thing to do," Gabriella says. "I also think it's good for people to see that there are different options, not just face-to-face therapy sessions."
Getting immediate on-demand access to the online SilverCloud programmes helped Gabriella to overcome her depression and anxiety and put her in control on when and where she got her support. After completing the programmes, Gabriella is really positive about the future and says that she feels "comfortable in her own skin" and ready for what life has in store.
To follow in Gabriella's footsteps and get your own personal access to SilverCloud's world-leading materials, including our free dedicated pandemic programme 'Space from COVID', please click this button: