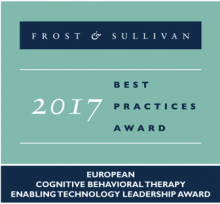 It is a great honour to receive the Frost & Sullivan's Enabling Technology Leadership Award, which recognises SilverCloud Health as the market leader in the Internet-delivered cognitive behavioural therapy (CBT) industry.
This award goes to the company that demonstrates superior leadership, technological innovation, customer service, and strategic product development.
As part of the selection process, Frost & Sullivan's global team of analysts independently evaluated SilverCloud and other market participants against a set of key benchmarking criteria regarding technology leverage and customer impact. This stringent process includes in-depth interviews, analysis, and extensive secondary research to assess the fit with the best practice criteria.
Technology Leverage
The research highlights SilverCloud's commitment to innovation and creativity, specifically the interactivity, personalization, professional support, and a sense of virtual social networking features of the platform that inject a sense of engagement and 'gamification' for the user, to promote a sense of ownership, increasing engagement and consequently impacting clinical outcomes. The breadth of SilverCloud's programme library, that now treats over 27 therapeutic areas; was also highlighted as a differentiator.
Customer Impact
The impact of SilverCloud for our customers was also noted, since launching in 2012 the platform has supported over 125,000 patients with an efficacy that is on par with face-to-face therapies. Frost & Sullivan comment, SilverCloud's platform is 'game-changing, one that succeeds in significantly increasing patient engagement and involvement in the treatment program.'
According to Frost & Sullivan analysis, SilverCloud Health has developed the best-in-class solution for delivery of behavioural health therapy through an online platform.
Figure 1: Matrix showing how SilverCloud compares with competitors
Both categories (Customer Impact & Technology Leverage) contained 5 criteria in total, with a rating on a scale of 1-10. SilverCloud received an average rating of 9.5 for each category.
Request a full copy of the report.