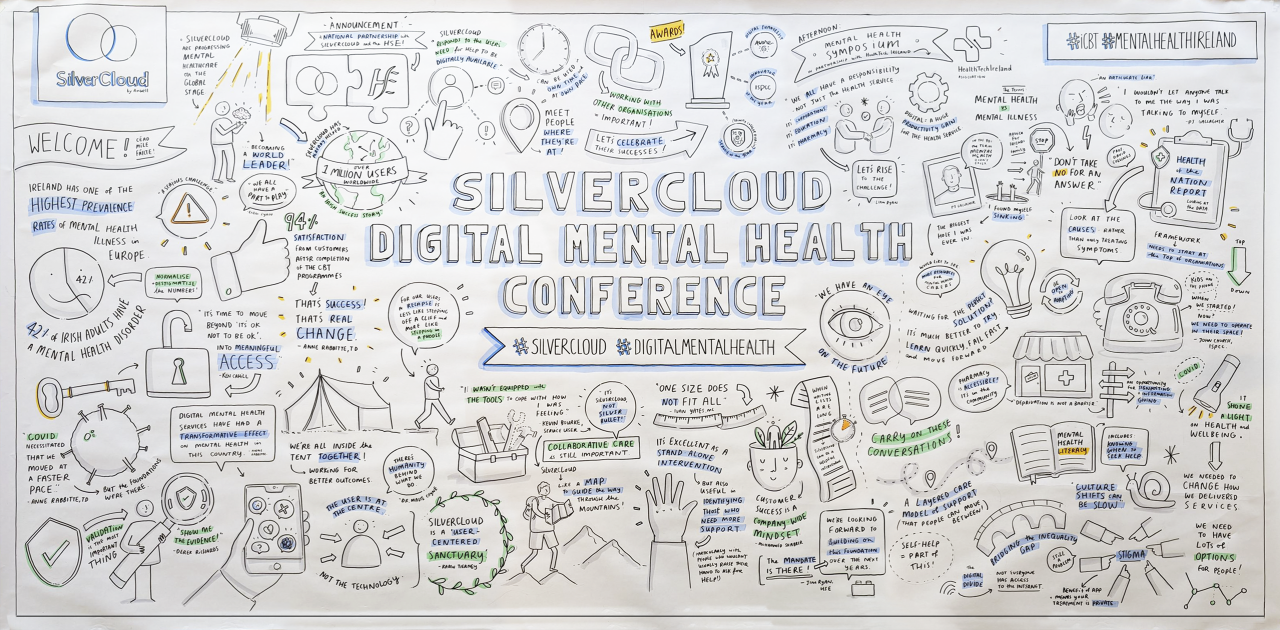 Country Manager Ireland, SilverCloud Health / 2 x Co-Founder / Musician.
Last Wednesday, 30th November 2022, we hosted our inaugural SilverCloud® Digital Mental Health Conference at City Hall, Dublin. I wanted to take some time to write a reflection on the day by sharing some of the highlights and discussion items.
There are some recently published insights (citations on request) that will first help set the scene about mental healthcare in Ireland today and the significant challenges we are collectively facing:
Ireland has one of the highest prevalence rates of mental health illness in Europe.
42% of Irish adults have a mental health disorder.
1 in 10 people reported a history of attempted suicide.
Mental health problems cost the Irish economy over € 8.2 billion a year.
55% of women and 40% of men, aged between 20 and 22, were classified as depressed.
More than 10,000 children are currently on a Health Service Executive (HSE) waiting list for mental health treatment, with more than 4,000 of those waiting over a year for an appointment.
Morning Session - Customer and Partner Conference
Our morning session brought together our customer and partner community across the entire island of Ireland, an opportunity to be inside the tent to work together, foster closer relationships and learn from each others' experiences of adopting Digital CBT programmes. Our chair for the day was Ivan Yates who expertly guided our leadership team across various departments to share their latest news, from research to world-leading innovation, and from clinical governance to customer success:
Ken Cahill

(Cofounder of SilverCloud & Chief Behavioural Health Officer at Amwell) framed the discussion for the day around the key mental health challenge in Ireland and restated our organisations Vision

(to deliver effective mental healthcare for all) and

Mission

(to be the world's leading digital mental health platform, delivering the best outcomes, inside and outside of current healthcare paradigms). Ken also shared the exciting news of our latest programmes now available for Perinatal, Insomnia and Children & Young People.
Dr.

Derek Richards

(Chief Science Officer) presented the

Science of Digital CBT

from his world-class team's latest scientific contributions; proven clinical effectiveness, lasting impact and relapse prevention, and the cost-benefits of such an intervention.
Karen Tierney

(Cofounder & Chief Product Officer) shared the latest on our secret sauce, incorporating an overview of our platform and programmes that help users feel better in 6-12 weeks (11-16 logins), with both user empowerment and engagement front of mind.
Dr. Malie Coyne

(Clinical Psychologist and Supervisor) shared an overview of our clinical operations and governance structures while also bringing to light the real stories from our Supporters behind the service and patient experience.
Mohammed Sajid Shabbir

(Head of Customer Success, International) shared an overview of how his team works with customers today to enable them in their delivery of mental health services and their digital maturity, together with highlighting some of the core plans in train for 2023.
In Minister Mary Butler TD's absence (Minister of State with responsibilities for Mental Health), we were then joined by Anne Rabbitte T.D. (Minister of State at the Department of Health) to officially announce SilverCloud's successful open European tender award for a long-term national contract with the HSE. Our partnership will provide online mental health services to patients across the country where referred patients can access the guided service within 24-48 hours. You can read the official HSE press release here.
"

The announcement of this partnership with the Health Service Executive and digital mental health platform SilverCloud for the provision of Guided Digital Cognitive Behavioural Therapy (CBT) comes as a welcome one. Allowing our mental health services to amplify access to digital therapies across Ireland when and where they are most needed. Following a very successful pilot, this national rollout will be a key part of Ireland's mental health strategy to support our nation across multiple spectrums of mental health ."

- Minsiter's Speech
By putting SilverCloud's Guided Digital CBT service at the heart of the National Mental Health Policy (called "Sharing the Vision"), the HSE - our flagship customer in Ireland - is celebrated as innovative, progressive, and committed to leading the changing face of mental healthcare on the international stage. You can read more via Irish Times coverage here. On the day we also published a new report to review the first 18-month application of the service in Ireland, seeing over 10,000 referrals from GPs, Primary Care Psychologists, Counselling in Primary Care and Jigsaw.
Later in the morning, we learned about the impact of the platform and service on patient outcomes and explored best-in-class ways to further drive activation and engagement within our adult population. We heard insights from the frontline by Mairead Holsgrove (Psychotherapist, the National Counselling Service) and Kevin Burke (a proud Waterford man) who shared his story of childhood trauma, alcohol and drug abuse, and his inability to escape the depression and anxiety that followed him from his school days. Kevin has been enrolled in SilverCloud with HSE support since July this year, who said the evidence-based tools on the SilverCloud platform helped him manage his mental health and was helping him to keep on a steady path and avoid falling into negative thoughts. You can read his story as covered in the Irish Independent here.
For the final session of the morning, we introduced our Customer Success Awards. While the future intention is to enlist the support of independent judges for the assessment of shortlisted nominations in subsequent years, there is always the first year. So with this in mind, a decision was made that senior members of the SilverCloud executive team would select the winners that embodied the spirit of each award. The awards and award winners were as follows:
Digital Evangelist – an individual who advocates for the use of a specific emerging technology, and then elevates it as a standard within the industry.
The award was given to Dominic Layden the CEO of Aware (accepted by Karen Bergin, Online Services Manager). Aware has seen over 20,000 individuals through their SilverCloud service over the past decade with over 600 people on a waiting list at any one time.
Innovator of the Year - recognises an outstanding individual or organisation who has translated world-class research into service offering innovation.
The award was given to Caroline O'Sullivan the Director of Services at ISPCC (accepted by Siobhan Harvey, Parents Lead). Over the past 18 months, the ISPCC have offered digital programmes aimed at reducing anxiety for children and young people, as well as digital programmes for parents and carers to manage their own anxiety while supporting their anxious child or teenager.
Service of the Year – celebrating an organisation who demonstrates the ability to accelerate digital transformation in their existing ways of working and showcases measurable impact at scale.
The award was given to Trinity College Dublin with Trish Murphy, Director of Student Counselling accepting the award. Trinity College Dublin has enjoyed a successful decade-long relationship with SilverCloud to help meet the huge increase in demand it has experienced from its students for mental health and wellbeing services. In that time, around 5,000 students received SilverCloud support.
Afternoon Session - Mental Health Symposium
After a networking lunch (provided by the fantastic team at Brother Hubbard), our afternoon session was our very first "Mental Health Symposium" - in partnership with HealthTech Ireland; to reflect on meeting Ireland's Mental Health challenges through digital transformation. The core purpose of the meeting was to connect key stakeholders across the industry and the health system through collaboration, education and advocacy.
Following words of collaboration and commitment to this sector from Susan Treacy (CEO, HealthTech Ireland), we heard from PJ Gallagher (one of the best-known Comedians in Ireland today, and a morning broadcaster on Radio Nova) on his personal journey of mental health in a fireside conversation with Ivan Yates. PJ recently shared his mental health struggles on Late Late Show (October 2022) and speak candidly about his secret mental health struggles and receiving treatment at St Patrick's Hospital for his depression. You can watch that RTE interview back here.
Prof David Collings (Associate Dean for Research at DCU) then joined the stage to share the outputs of a significant body of research that was recently conducted with Irish Life Health regarding the 'Health of the Nation' with particular attention to the findings through the mental health lens.
For our first panel, titled "The importance of cross-sector collaboration in our mental healthcare", will were joined by Derek Chambers, (GM Policy Implementation, National Mental Health Operations, HSE), Roisin Clarke (Interim CEO, Mental Health Reform), John Church (CEO, ISPCC) and Caoimhe McAuley (Director of Pharmacy, Boots Ireland).
For our final panel discussion, titled "How digital health can bridge the inequality gap and provide access", we were joined by Dr. Yolande Ferguson (Executive Clinical Director, Dublin South Mental Health Services), Dr. Austin O Carroll (GP Inner City Dublin & GP Trainer, ICGP), Stacey Machesney (Head of Health and Wellbeing, Irish Life) and Judith Chapman (Former Clinical Director, NHS).
To close out the day, Ken Cahill shared some closing remarks, including a walk-through of the impressive graphics board completed by Ruth Graham; the result of the deft and perceptive illustrating skills that captured the mood and key messages throughout the day.
Finally, I would sincerely like to thank our partners, collaborators, speakers, panellists and contributors who shared their time willingly in adding to the conversation. A number of key people, in particular, include Ken Cahill, Ian Carr, Glen Reid, Dan Olson, Matt McCormick, Alison Tyrrell, Andrew Behan, Hannah Farrell, Susan Tracey, Jim Dowdall and Ivan Yates. Thanks also to Ellie from Brother Hubbard (Catering), Fran Quigley from CAVS (Audio/Visual), and Karen and Alice from CityHall.
We look forward to contributing to the discussion throughout 2023!
About SilverCloud
SilverCloud® by Amwell® (NYSE: AMWL) is a leading digital mental health platform, enabling providers, health plans and employers to deliver clinically validated digital health/therapeutic care that improves outcomes and increases access and scale while reducing costs. Developed in Ireland in 2012, the multi-award-winning digital mental health platform is a result of nearly 20 years of clinical research with leading academic institutions. Today, SilverCloud is being used by more than 500 organisations globally to meet their populations' mental health needs. Global experts have clinically proven the platform through fully randomised control trials and anonymised, real-world data from over one million SilverCloud users. The platform is a leader in the industry with its effectiveness, engagement and range of clinical programs that encompass the spectrum of mental health needs.
Learn more at www.silvercloudhealth.com
(Originally published on https://www.linkedin.com/pulse/silvercloud-digital-health-conference-2022-wrap-up-liam-ryan/ )