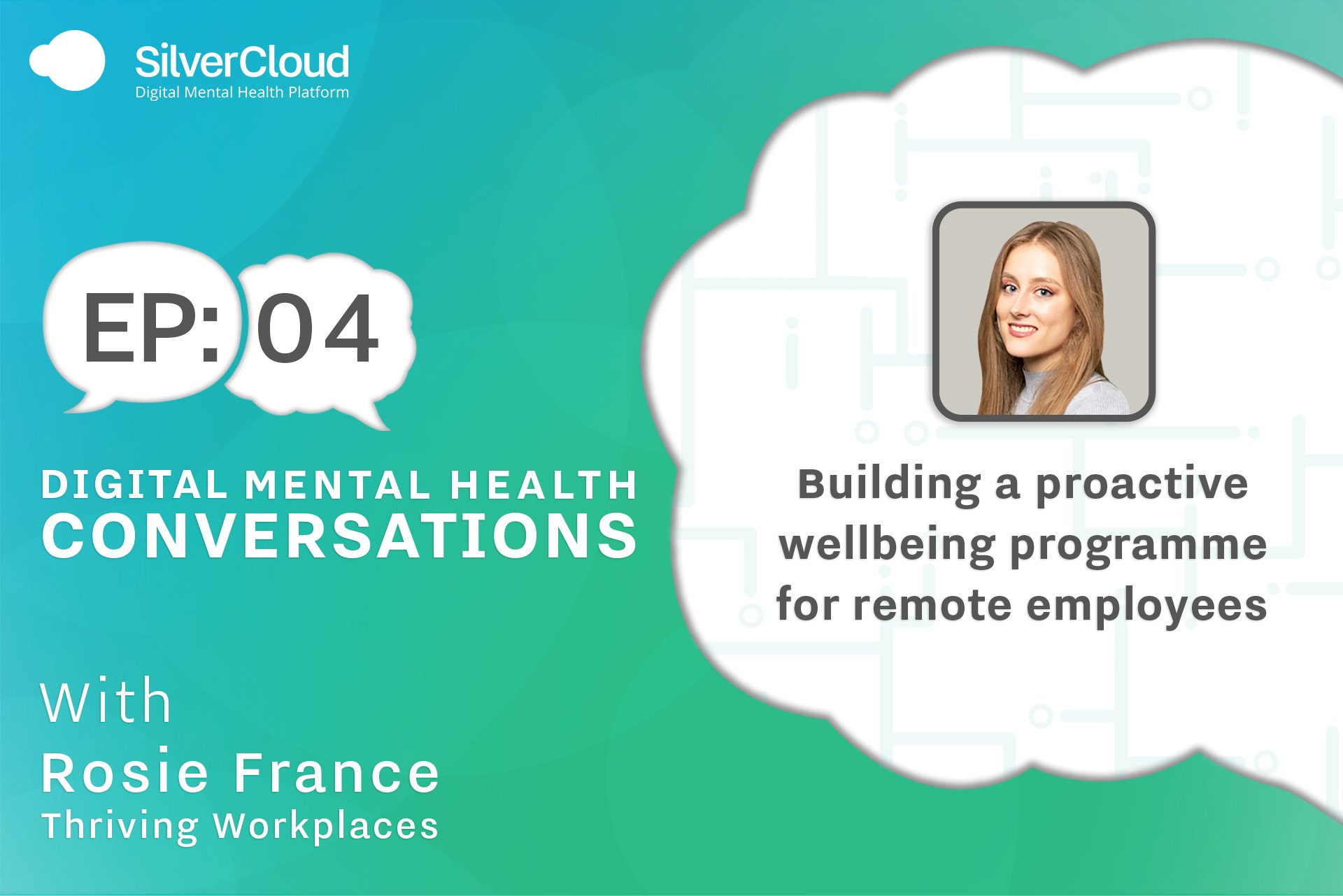 Author: Lloyd Humphreys, SilverCloud Health

COVID-19 has shown that investment in workplace mental health and wellbeing needs a long-term perspective.

In this podcast episode, Rosie France, Health and Wellbeing Manager at Thrive Tribe and Workplace Health Facilitator at Thriving Workplaces, shares her experience of supporting workplaces in Norfolk with their health and wellbeing issues.

Thriving Workplaces is an initiative that started in 2017 and is funded by Norfolk County Council with the mission to create thriving workplaces with a healthy, happy workforce. The workplace health provider supports companies with tailored trainings, policy development, communication plans and health promotion events with an increased focus on mental health and wellbeing.
Rosie explains how COVID-19 has impacted employers in terms of their approaches to wellbeing. Thriving Workplaces has seen that more organisations are taking a long-term, proactive perspective to mental health now with an increased investment in prevention and intervention. One of the biggest shifts seen is the recognition of flexible working, with digital methods and communication platforms to support employee engagement and wellbeing.

To build a proactive wellbeing programme for remote employees, Rosie emphasises the need for organisations to provide flexibility in terms of employee working patterns and to build support options for employee wellbeing and to make it easily available when required. In the podcast, Rosie points out how people have different levels of comfort when it comes to returning to the workplace and that employers now have a greater responsibility to look after the mental health of their staff.

Ultimately, Rosie offers some practical advice for employers who want to deliver a wellbeing programme that can support both those returning to work and those continuing to work from home. Again, she emphasises the need to consider personal circumstances and to acknowledge that people have individual needs.
Listen to "EP04 Building a proactive wellbeing programme for remote employees"
Follow us on LinkedIn to stay up to date with our latest podcast episodes and content.

To find out more about managing mental health with SilverCloud, get in touch by following this link.

For further content, browse our new resource center here.

About Rosie France:

Rosie France is the Health and Wellbeing Manager for Thrive Tribe and a Workplace Health Facilitator for their workplace health provision, Thriving Workplaces. She is responsible for overseeing the promotion and delivery of mental health initiatives within Thrive Tribe, ensuring that everyone's wellbeing needs are being met by the company. Since Thriving Workplaces launched in 2017, she has supported a wide variety of employers with the promotion and delivery of health and wellbeing initiatives with a focus on mental health. Rosie is experienced in the delivery of Mental Health First Aid training, Emotional Resilience training and bespoke workshops on wellbeing in the workplace, this is used in combination with consultancy to help businesses become better able to support the health and wellbeing of their workforce.