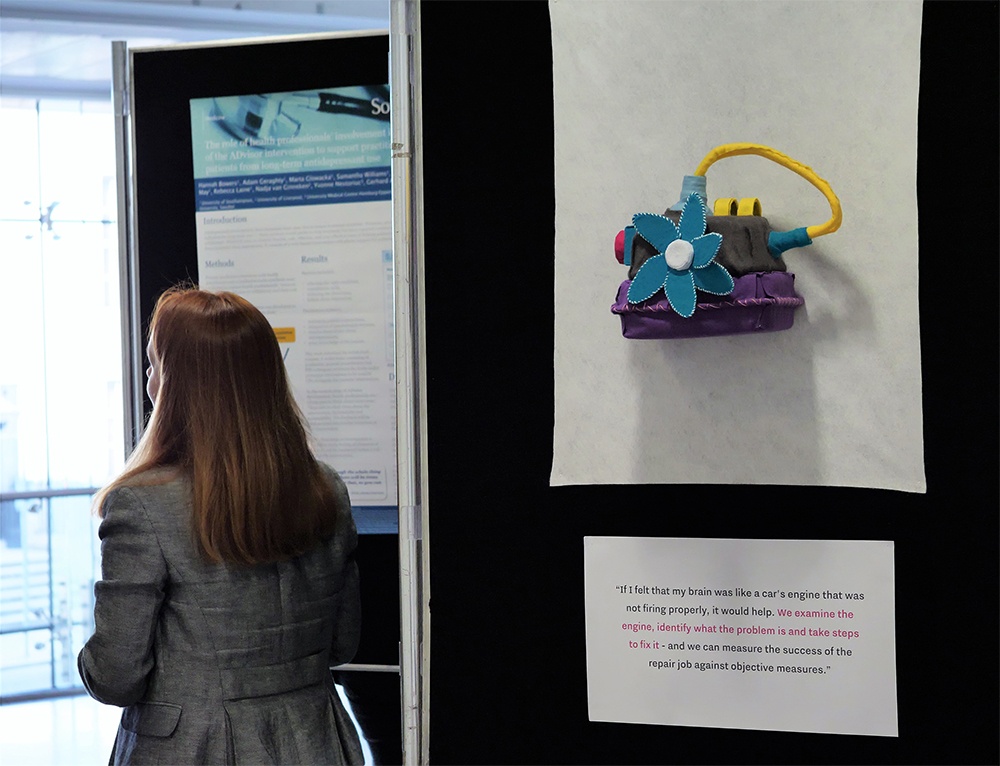 Metaphors are linguistic tools that help us to describe abstract concepts by providing a mental link to a more familiar phenomenon. They allow us to ground complex ideas or experiences in undistorted, material reality.
The experience of internet delivered Cognitive Behavioural Therapy (iCBT) makes an ideal candidate for metaphor depiction, because it is a process that combines many potentially unfamiliar elements for the user, including cognitive restructuring, awareness and insight, therapeutic support, and the navigation of computer interfaces. For this reason users often describe what iCBT felt like in terms of metaphor, which can open up a window into a phenomenon which would have otherwise remained in the dark. But what is the importance of understanding the user's subjective experience of iCBT?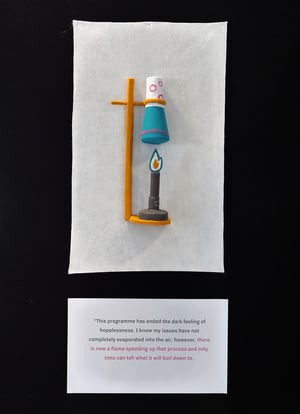 Clinical research usually favours measurable outcomes as indicators of treatment effectiveness, and as such, analysis of online interventions can sometimes neglect the distinct subjective qualities that comprise the user's journey. Exploring the qualia of online interventions however, can give us a unique perspective into how these clinical outcomes are achieved. There is a substantial quantity of data indicating that iCBT is effective, but the nuances of how it is effective, and what this "effectiveness" means for the user is largely uncharted territory.
To open up discussion around the experiential side of online interventions, a group of researchers and designers at SilverCloud created an art installation which was exhibited at the 5th European Society for Research on Internet Interventions (ESRII) Conference, held in Trinity College Dublin in April 2018. The installation was inspired by metaphors provided by users of the SilverCloud platform for their own unique first-person experiences of this innovative mode of treatment.
Sculptural visualisations of the metaphor quotes were created from felt, conveying the soft, yet often fuzzy, side of online treatment. The pieces were displayed amongst the conference poster presentations, to allow for a moment of reflection amidst the research, to create a break in the data-focused agenda. The intention was to confront the audience by placing strange artefacts in what is usually a predictable and familiar setting. In this way we stimulated debate about the place of phenomenology and the user's first-person experience in online intervention research.
One of the four Mental Model sculptures on display at the ESRII 2018 Conference. The quote reads: "This module has been an eye opener for me - I can see now how it all fits together. I now have a framework of the whole picture and how one piece affects the other. It's like the inner workings of an antique clock; if one piece isn't working correctly, the whole clock is affected."
Metaphors give us an insight into a person's mind, in a way that we can grasp almost immediately. They are just one way that we can come to understand a little more about each other's subjective conscious experiences. The great mystery of what it feels like to be another person, to experience what they experience, is needless to say a daunting research topic. Only by lifting up the corners and finding new routes can we hope to fully understand cognitive and behavioural change.
About the Author
Jacinta Jardine is an Innovation Associate at SilverCloud Health. She has a background and qualifications in both fine art and psychology, and she is currently working towards a Level 9 Certificate in Design Thinking. Jacinta also has over three years experience volunteering as an Aware Life Skills Online supporter. At SilverCloud Health she works between the Design, Content and Clinical teams, in a number of areas including clinical and innovation research, content writing and multidisciplinary development projects.