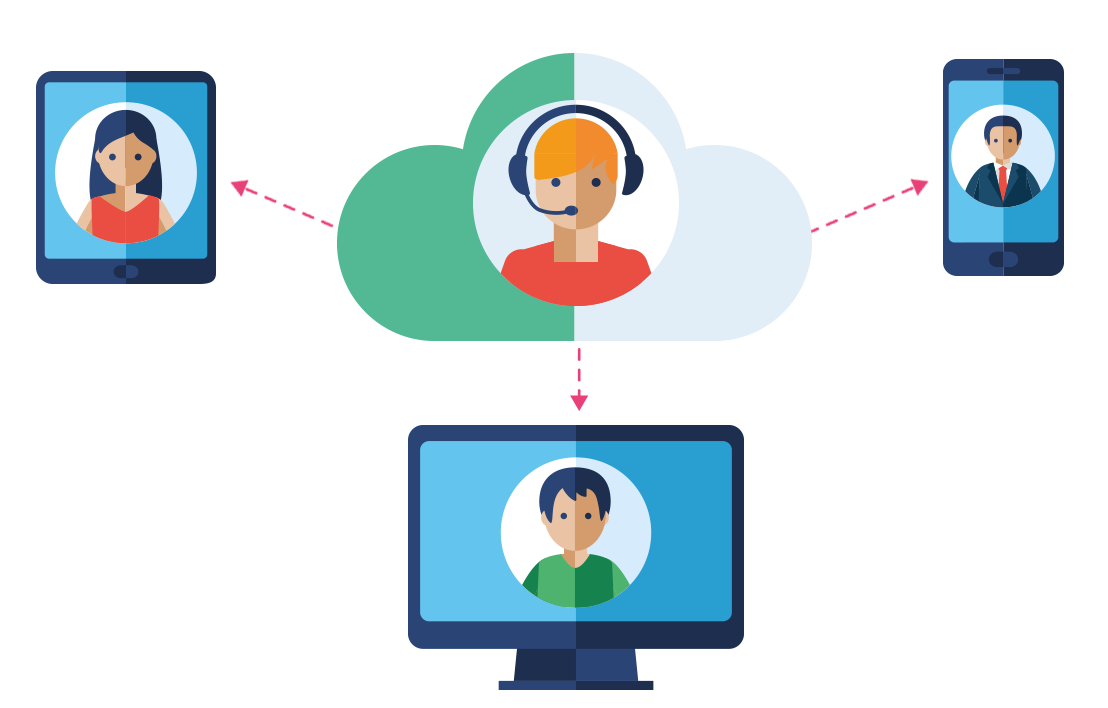 By Jacinta Jardine, Caroline Earley and Maria Lyons
At SilverCloud, we always strive to provide our customers, supporters and their clients with a seamless, accessible user experience. Listening to our customers is at the core of what we do. Therefore, we always make sure to tap into the experience and knowledge of SilverCloud's users and supporters to help us continuously improve the platform for everyone.
The supporter side of the platform has been recently enhanced through the addition of new features and upgrades such as the redesign of our client review page. You can read more about this in our previous article "Space for Supporters: How and Why we Improved the Supporter Experience".
One core issue that arose during our research with supporters was training. Through our investigation, we found that many supporters felt that they would have benefited from more extensive training, and a number said they were not sure where to go or who to ask if they had difficulties using SilverCloud. After conducting ideation workshops with key stakeholders (supporters, customer success managers, clinical experts and designers), we came up with a list of some of the central issues around training that we wanted to address:
New supporters joining existing services need to be able to access training materials in their own time.
Supporters need easy and constant access to best practice guidelines.
SilverCloud supporters often come from varied backgrounds; training should therefore be adaptable, to suit their varied needs. Supporters should be able to choose what training content is relevant to them.
While the research and evidence behind SilverCloud is important, supporter training should focus more on practical areas such as how to navigate the platform, engage clients and write reviews.
A clear solution emerged for us that could address all these issues – to house the training online, in what was previously the supporter help centre. To this end we created a new Supporter Learning Centre, to house both the training materials and several other resources.
The training content was developed collaboratively by our clinical, content and customer success teams, using supporter and client feedback and up-to-date research in the field. Combining these areas has helped us to create best practice guidelines and recommendations for our supporters. Furthermore, we have endeavoured to make the training concise, relevant and accessible for all SilverCloud supporters, regardless of their service location or type.
The new training is made up of 7 modules. While the relevance of some of these will vary depending on each customer and supporter, useful insights can be found throughout.
Module 1: CBT Basics covers the core principals of CBT and will be particularly helpful for those supporters who are less familiar. Understanding the applicability of CBT through the intervention's content is imperative for supporters.
Module 2: Benefits of online CBT outlines the advantages of online CBT, both for the client and the supporter. Having a grasp of these benefits can help supporters to instil confidence in their client and encourage their engagement in the treatment program.
Module 3: The Role of the Supporter considers what a supporter is and isn't. Feedback from our supporters indicates that having a clear understanding of the responsibilities and boundaries of the role is essential in the provision of effective support.
Module 4: Assessing Clients for Suitability looks at how to tell whether a client is suitable or unsuitable for online interventions. A few theoretical models are presented here to help supporters understand the different factors that can influence behaviour and behaviour change.
Module 5: SilverCloud Programs compliments the new 'cheatsheet' feature on the supporter side of the platform. This module outlines the common features across all our programs, so that supporters can have a clear understanding of what is available to their clients.
Module 6: Supporting Clients, probably the most important module in the training, looks at how to support clients and write reviews. A review-writing checklist is provided, which lays out the 7 core elements necessary for an effective review. Tips on language-use and encouraging engagement are also provided, and several case studies are presented that demonstrate the impact reviews can have, from the client's perspective.
Module 7: Practical Exercises provides exercises that may be used to enhance supporter knowledge and awareness, as real understanding comes from experience.
In addition to the training modules, the new Learning Centre includes a few other helpful sections:
Resources section where supporters and services can download useful pdfs and materials such as review criteria checklists & programme overview sheets.
Research section which houses pdfs of all our SilverCloud research papers, as well as blog posts and lists of other relevant references.
'Getting Started' section specifically for new supporters, to help them get oriented and learn how to navigate the supporter platform.
'How-to's' section contains several guides which provide practical tips on how to use the platform g. how to use templates.
To ensure that the Learning Centre is delivered in the most beneficial way, we will pilot various forms of the training and attain feedback from those supporting on SilverCloud. With these efforts we hope to enhance the supporter experience, make it easier for our customers to use SilverCloud and subsequently drive positive client outcomes.