The SilverCloud® platform is a reliable and proven tool for mental health clinicians. In fact, following random control trials carried out with NHS Berkshire, SilverCloud programmes were found to sustain the effects of treatment for up to 12 months post-delivery.
With the speed at which online mental health provision is growing, we wanted to make sure we were continuing to deliver the best possible experience for clinicians and patients alike.
Introducing a powerful new tool for therapists… Tools for Therapy empowers clinicians and therapists to provide enhanced in-person or online therapy sessions within the SilverCloud® by Amwell® platform. It makes online therapy even more engaging for the patient and easier to deliver for the therapist.
We spoke to clinicians about any concerns they had about online CBT, to show how Tools for Therapy is designed to address these concerns, as well as remaining clinically robust and evidence based. They came up with four main problems…
Problem 1: Training patients on tools can be hard through screens.
"Sharing and explaining CBT tools to patients online can be tricky. I might use a whiteboard, or hold paper up to the screen."
The Tools for Therapy solution:
Virtual tools enable services to interact with patients by collaboratively reviewing tools, programmes and content in real-time. Patients and their supporters can review homework, check progress and bookmark tools – all through existing video and screensharing software. The intuitive platform, designed to fit with existing systems, means minimal adjustment is required.
Problem 2: Online therapy can lead to added admin.
"Sharing work we've done online afterwards is time consuming, and raises concerns about security and version control."
Tools for Therapy solution:
All session work is securely saved online. Enhanced integrations between the SilverCloud platform, and case management systems iaptus and PC-MIS, allow for session summaries and outcome measures to be quickly recorded after a therapy session. It does away with a lot of the administrative burden.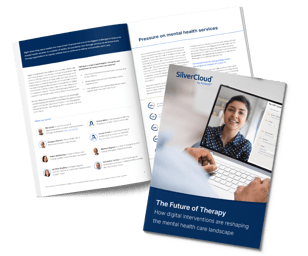 Find out more about how digital interventions are reshaping
the mental health care landscape in our Whitepaper: The Future of Therapy

Problem 3: Boundaries can be blurred.
"Digital access can make it harder to maintain professional boundaries between patient and therapist."
Tools for Therapy solution:
It reduces the need to use personal emails or messaging services. Therapists have the flexibility and freedom to set synchronous or asynchronous review sessions, which allows therapist contact to be increased and decreased depending on the patient's needs and the work being completed in the session. While SilverCloud programmes are available 24/7, that doesn't apply to mental health care providers who use the app.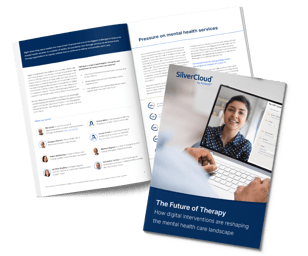 Find out more about how digital interventions are reshaping
the mental health care landscape in our Whitepaper: The Future of Therapy

Problem 4: iCBT might not be effective at Step 3.
"SilverCloud resources are really good, but for me it's about how they might fit in alongside or as an alternative to step three treatment."
Tools for Therapy solution:
SilverCloud programmes' evidence-based content and tools are already proven to help patients with mild to moderate symptoms. To better support patients with complex conditions such as social anxiety, GAD, OCD, trauma, and depression, our content and tools can now support patients needing more intensive treatment for moderate to more severe presentations, as recommended by NICE.

SilverCloud® by Amwell® introduces Tools for Therapy. Take the next step in modern therapy services.
Designed with therapists, by scientists
Increases productivity by doing away with extra admin
Integrates seamlessly with existing tools and systems
Allows for real-time collaboration online
Saves work securely and removes the need for follow-up
Reduces the need to use email or messaging services
Backed by 20 years of research


Ready to take Tools for Therapy for a test drive? Enquire about a demo today.