THE SCALE OF THE PROBLEM
Right now there is a growing epidemic of mental health issues - 1 in 4 people experience mental health issues each year.1 £94 billion per year is the estimated economic cost of mental ill health in England.2 A long-lived assessment of health and social care in England is that people with mental health problems often fail to receive the same access to services or quality of care as people with other health conditions. There are a number of barriers to care or reasons for this including lack of parity of esteem, insufficient funding and staff shortages.


1 in 4

people experience mental health issues each year.1
£94 billion per year is the estimated economic cost of mental ill health in England.2
BARRIERS TO CARE
Three in four people with a mental health problem in England receive little or no treatment for their condition. There are also large gaps in terms of health outcomes – people with the most severe mental illnesses die on average 15 to 20 years earlier than the general population.4 Responding to these concerns, the Health and Social Care Act 2012 put the legal duty on the NHS to deliver 'parity of esteem' between mental and physical health, and the government has pledged to achieve this by 2020.
Parity of esteem means ensuring that there is as much focus on improving mental as physical health, and that people with mental health issues receive an equal standard of care. In October 2014 the government announced waiting time standards for some mental health services – the first time such targets, already used extensively in other parts of the NHS, were set for mental health.7
From April 2015 waiting times were evaluated for two types of service: psychological therapies provided through the Improved Access to Psychological Therapies (IAPT) programme and early intervention services for people experiencing their first episode of psychosis. The ambition is to extend targets to other forms of mental health care over time. However, despite these measures mental health conditions are increasing at a rate that means services are unable to meet demand due to barriers to care that include:
Staff shortages – The largest group of clinicians are registered mental health nurses, but their numbers are in decline. There was a 12% drop in the number of nursing posts between November 2009 and July 2019.6
Funding shortages - there is still not parity of spending on mental health and physical health, mental health services account for 23% of NHS activity but they only receive 11% of NHS spend.4 There have been warnings of a 'postcode lottery' with certain regions in the UK suffering from a lack of funds - it is reported that communities 'in the North and Midlands' suffer from depression the most, with a quarter of people seeking help from GPs for help with the condition.8
Long wait lists - for both an initial appointment and a second treatment appointment. Recent reports suggest that some people face waits of over 28 days between their first and second treatment sessions.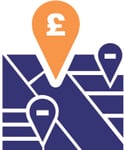 1 in 10 NHS consultant psychiatrist posts are vacant.3
11% of NHS spend is on mental health services.4
75% of people in England experiencing mental health problems receive no treatment at all.5
HOW DIGITAL MENTAL HEALTH IS PART OF THE SOLUTION
There was a reduction in the prices paid to mental health providers in 2014/15 (which exceeded reductions for hospitals providing physical health care). This led many to conclude that institutional bias against mental health remains as strong as ever. In terms of specific programmes, the government has also continued to invest in the Improved Access to Psychological Therapies (IAPT) programme, a primary care service aimed mainly at people with depression or anxiety disorders. The number of people treated through this programme has increased annually, and IAPT services are now being extended to include children and young people. The SilverCloud digital mental health programme is now being used in over 70% of IAPT services across England and has proven to be a very effective way of treating more people with limited resources.
Digital Mental Health Solutions can help address the aforementioned barriers to care. Data analysis from our recent RCT conducted within an NHS setting has shown that SilverCloud's Digital Mental Health Platform can:
Increase access to mental health services - by helping to breakdown barriers including geographical (distance to treatment centres), staff shortages and stigma.
Improve clinical outcomes - with recovery rates above 50% maintained at 12 months post treatment.
Maximise cost effectiveness - the solution is 80% more cost effective than traditional care after 6+ months.

46-60% recover from a clinical diagnosis of depression and anxiety after 3 months.8
50%+ decrease in symptoms of depression and anxiety, maintained at 12 months after treatment.8
80%+ cost-effectiveness of care after 6, 9 and 12 months.8
Although there is still a way to go in terms of achieving full parity of esteem and access for all to adequate mental health services, digital mental health platforms such as SilverCloud Health have certainly proven that they are and should continue to be a vital part of the solution.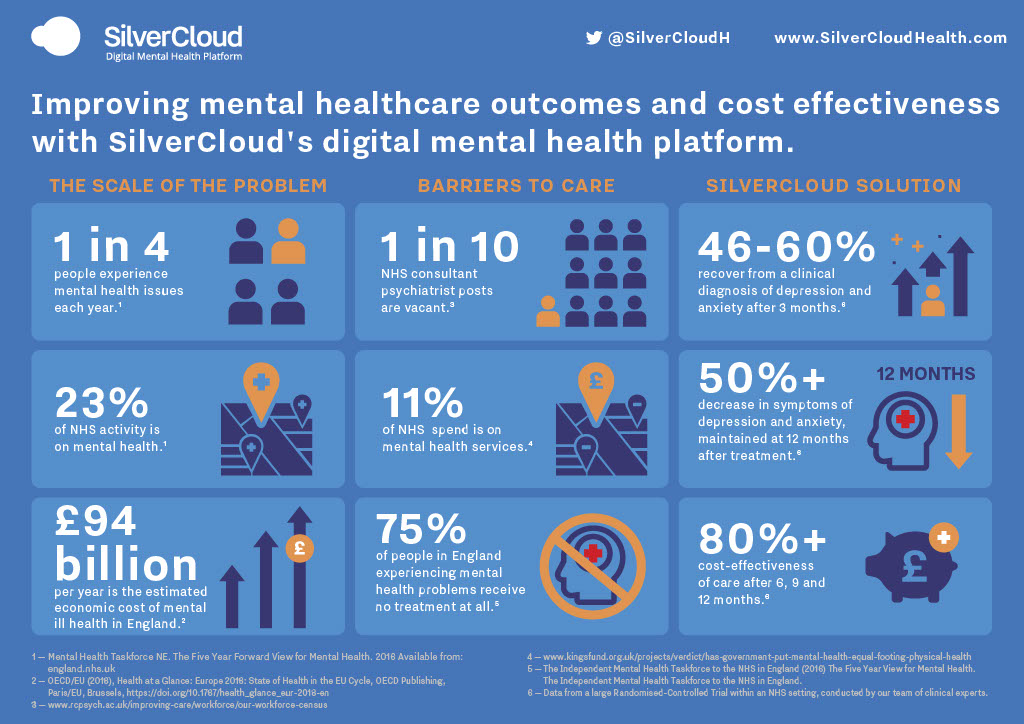 1. Mental Health Taskforce NE. The Five Year Forward View for Mental Health. 2016 Available from: england.nhs.uk
2. OECD/EU (2018), Health at a Glance: Europe 2018: State of Health in the EU Cycle, OECD Publishing, Paris/EU, Brussels, https://www.oecd-ilibrary.org/social-issues-migration-health/health-at-a-glance-europe-2018_health_glance_eur-2018-en
3. https://www.rcpsych.ac.uk/improving-care/workforce/our-workforce-census
4. https://www.kingsfund.org.uk/projects/verdict/has-government-put-mental-health-equal-footing-physical-health
5. The Independent Mental Health Taskforce to the NHS in England (2016) The Five Year View for Mental Health. The Independent Mental Health Taskforce to the NHS in England.
6. https://www.nuffieldtrust.org.uk/resource/the-nhs-workforce-in-numbers#3-what-do-the-shortages-look-like-within-hospital-services
7. https://www.gov.uk/government/publications/mental-health-services-achieving-better-access-by-2020
8. https://www.nurses.co.uk/blog/the-number-of-mental-health-nurses-has-dropped-by-106-in-10-years/
9. Data from a large Randomised-Controlled Trial within an NHS setting, conducted by our team of clinical experts.