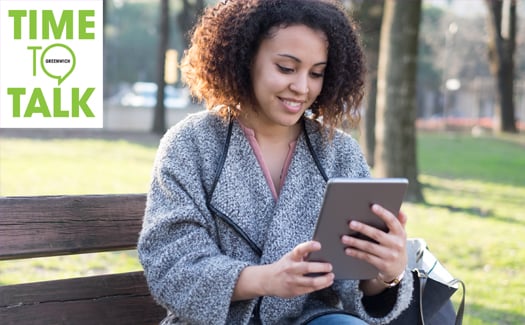 Greenwich Time to Talk, the main provider of specialist mental health care in the Borough of Greenwich, wished to investigate the impact of implementing digital therapy into step 2 (low intensity) care pathways.
Goals
To improve access rates to mental health services with a digital therapy option
To investigate potential clinical time savings without negatively impacting on clinical outcomes
The SilverCloud Solution
Greenwich Time To Talk went live with the SilverCloud solution in December 2016, offering customisable programmes for anxiety disorders, depression, stress, long-term conditions and resilience.
At assessment, all clients who meet the inclusion criteria are offered a group therapy session or SilverCloud digital therapy, clients generally choose SilverCloud over group therapy sessions.
All Psychological Wellbeing Practitioners are trained to use SilverCloud as part of their induction.
"Our clients value the flexible treatment option of online therapy because they can work entirely at their own pace and can choose how to complete sessions according to their schedule. Our service data suggests that SilverCloud is effective, achieving a level of recovery, which is well above the expected 50%." Dr Stavros Markatselis, Deputy Clinical Lead Greenwich Time To Talk
The Impact at Greenwich Time to Talk
Short waiting times of 2.5 to 3 weeks for SilverCloud digital therapy.
Less therapist time is required, allowing 4 times more SilverCloud treatment slots per week.
Better outcomes than face to face sessions (72% SilverCloud recovery).
Staff are trained and highly engaged with digital therapy pathways.
Client feedback on SilverCloud is very good.