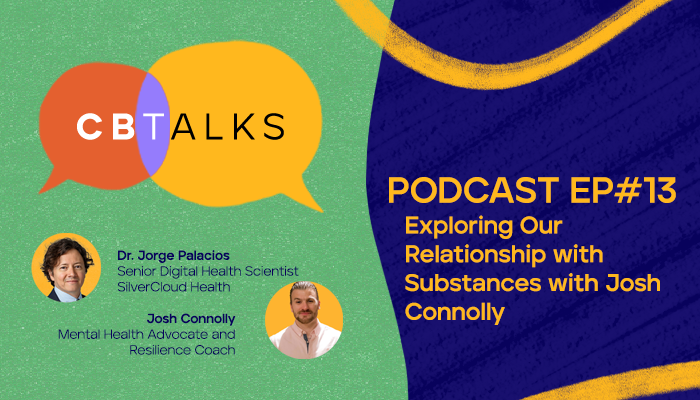 In a recent episode of our podcast, CBTalks, SilverCloud's Senior Digital Health Scientist Dr. Jorge Palacios sat down with Josh Connolly, Mental Health Advocate, and Resilience Coach to discuss how alcohol use and his decision to stop drinking changed his life.

Connolly's sobriety story starts around the time he was 25 years old and stopped drinking. He quickly discovered that alcohol wasn't the only problem he wasn't confronting – he had been struggling with his life and his emotions long before he had started drinking.
"I thought that when I stopped drinking, all my problems would go away because I'd sort of believed that my problem was alcohol. But what I found is that when alcohol was taken away, I was left with myself and I really struggled with that. I struggled with the feelings of overwhelm and I struggled with all of my emotions. I'd never really recognised now that I'd never really faced any of them…what became clear to me very quickly, when I started to look at my life is that I sort of struggled for a long time and actually had struggled long before I started drinking."

However, Connolly's relationship with alcohol started long before he was an adult. As a child, he watched his father's relationship with alcohol and often considered that he might end up in a similar situation – but at the young age of 12 or 13, Connolly started drinking for the first time and quickly realised that his drinking didn't look like everyone else's.
"I think deep down in me there was always a slight sense that I might be like my dad, because it was quite obvious to me from an early age that I didn't drink like other people, right? I seem to drink differently…I think a lot of people will resonate with feeling like I could stop, so I didn't have an off button is how some people would put it."


As Connolly grew into an adult and became a father he continued to struggle with his relationship with alcohol, knowing that once he started drinking he was unable to start. However, the natural consequences of drinking to excess never caught up with him – he was able to hold down a job, pay his bills, he didn't lose any time at work because of his drinking. He was able to easily hide his drinking – from himself especially – because he worked hard and played hard and society deemed that acceptable.

"In some ways, it was like an honorable badge, right? That I could drink all week and not stop."

Interested in hearing more of Connolly's story? Listen to his journey to sobriety here.


SilverCloud's Space from Alcohol program encourages individuals to look at their relationship with alcohol, reflect on any patterns they may see, and determine if they need or want to change their alcohol use habits.