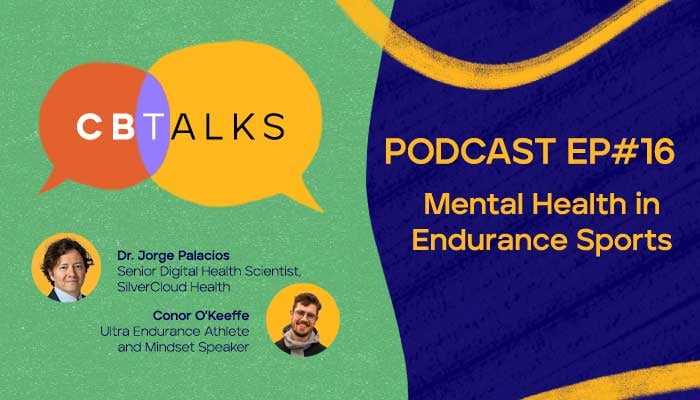 In this episode of our podcast, CBTalks, SilverCloud's Senior Digital Health Scientist Dr. Jorge Palacios chatted with an ultra-endurance athlete and speaker on mindset and wellbeing Conor O'Keeffe about the importance of mental fitness and resilience both in achieving epic physical challenges and indeed coping with everyday life.
Conor has achieved incredible athletic feats such as winning the Enduroman 200-mile race in 2019, passing RTE's Ultimate Hell Week which sees brave civilians undertake a gruelling physical and mental challenge designed by Ireland's Special Forces, and his upcoming challenge to run 32 marathons, across 32 counties of Ireland in 32 days, carrying a 32lbs weighted vest.
The conversation starts with Conor discussing how he came to exercise as a way to feel good about himself and how all of his identity and self-worth were tied up in sport particularly when he started doing Thai boxing. He then suffered a major blow both physically and mentally when he was knocked unconscious in a National title fight. He goes on to explain how he didn't have the tools to deal with this major loss and disappointment in his life. He describes how he's constantly learning about himself in order to develop the tools he needs to manage his internal dialogue when something doesn't go his way or he's not feeling great. It is very much an ongoing process. He finds these skills are just as useful in everyday life as they are when he is doing an endurance event.
He talks about how he's come to realise that feeling content and happy has less to do with the things you inc. challenges and achievements but more about accepting who you are and being kind to yourself. He also believes there is real strength and power in admitting if you're not OK and seeking the help you need. Finally, Jorge asks Conor what's the main piece of advice he would give to someone who is struggling with their mental health. Conor suggests that for anyone who is struggling or just looking to understand themselves better therapy/counselling is a really useful thing to do.


Where to find more about Conor O'Keeffe:

Conor has his own podcast 'Flip The Script' available on all of your favourite podcast platforms. You can follow Conor's journey on Instagram: @cokeeffe.
If you have enjoyed this episode, please rate/review and share it with your friends. You can also follow SilverCloud on Instagram @SilverCloudH for more content. And if you are interested in gaining access to SilverCloud's evidence-based digital mental health platform, instant access is available with a referral from your GP, and some select Health Plans or Employers.