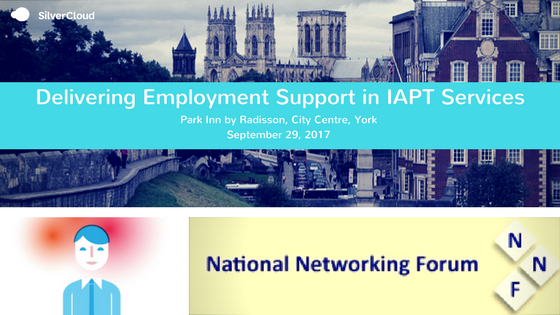 The event is to provide practical advice for services to integrate IAPT and Employment Support for their patients. This initiative supports and enables clients to make fuller, more permanent recoveries. From Service Managers and Clinical Leads to Employment Advisors themselves, this unique day will examine in detail how you can help each client to achieve their employment aspirations by delivering expert advice, peer-focussed case studies and stimulating group discussions.
Agenda for the day
9:15 Registration
10:00 Positioning employment support as an integral part of IAPT
10:30 IAPT National priorities: current position and future developments
11:00 Q & A
11:20 Break
11:50 Insight from an established IAPT employment service: SLaM case study
12:30 Group discussion: what impact will integrated IAPT/ employment support have on clients?
12:50 Lunch
14:00 Case study: the Candi approach to integrating IAPT and employment support
14:40 Group discussion: how can employment advisors engage and motivate clients?
15:00 Break
15:20 Supporting clients to remain in employment: ensuring the right support at the right time
16:00 Group discussion: what can IAPT do when employers are ill-equipped to deal with mental health
16:20 Close
To learn more about the event please click here
This will be a great opportunity to hear more about how to integrate IAPT and Employment Support services for patients. If you would like to learn more about what we do please click here.
If you are interested in our digital solution and would like a demonstration of our platform please email info@SilverCloudHealth.com.
We look forward to seeing you there!