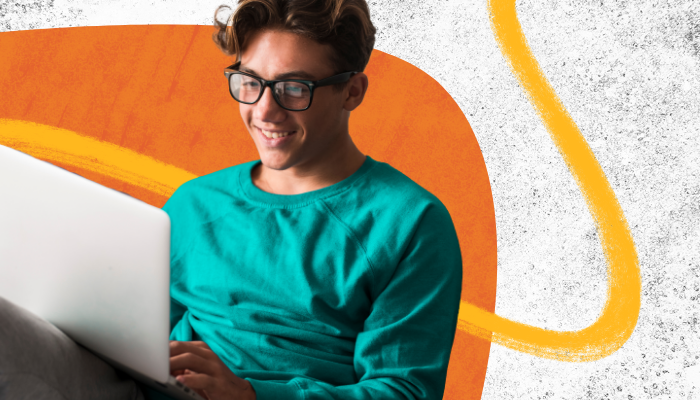 SilverCloud Research team published a systematic review and meta-analysis on internet-delivered interventions for children and young people (CYP) in JMIR pediatrics.
Growing up has never been without its struggles. Whether it's a stressful exam, a bully at school, or family troubles, there are all sorts of reasons a child or young person might feel overwhelmed with their situation. The normal trials and tribulations of those early years are enough of a battle on their own. However, kids today are up against the uniquely difficult task of navigating all these normal stressors amid a global pandemic. This unfortunate circumstance has taken its toll on the mental health of children and young people (CYP). According to the NHS, the number of children aged 5 to 16 years that were identified as having a probable mental disorder increased from one in nine in 2017 to one in six in 2020. Along with this increase also came a proportional surge in demand for access to mental health services. Over the last 2 years, mental health referrals for children and young people (CYP) to the NHS nearly doubled. We see a similar story for young people in the US. According to a new report just released by Centers for Disease Control and Prevention (CDC), more than a third (37%) of high school students reported they experienced poor mental health during the COVID-19 pandemic, and 44% reported they persistently felt sad or hopeless during the past year. Young people in both the U.K. and the US are having serious mental health issues that are only made worse by the global pandemic.
In the UK an additional challenge for families seeking support for their child's mental health is that waiting lists are generally long, making it difficult for young people to access support when it's most needed. One in five families with a child struggling with a mental health condition reported over a six-month wait to see a specialist. This is also the case in the US where according to the Centers for Disease Control and Prevention (CDC) only about 20% of children with mental, emotional, or behavioral disorders receive care from a specialised mental healthcare provider, and those who do often face long waitlist times. It's clear that access to mental health services is a barrier for many children, young people, and their families. Internet-delivered interventions offer a promising opportunity to increase access to much-needed services.
Over the past year, there has been tremendous growth in the use of digital solutions for mental healthcare during the pandemic.1 This adoption of digital solutions is encouraging but the rapid introduction of many new, untested treatments is not without its risks. At SilverCloud, we are committed to conducting high-quality research toward finding and improving effective internet-delivered interventions for children and young people (CYP). In this blog post, we summarise findings from a scientific article we recently published that examined all the available evidence to date for the effectiveness of internet-delivered interventions to support young people with anxiety and/or depression.
Internet-delivered interventions for young people
While there is extensive research that suggests internet-delivered interventions for depression and anxiety are effective for adults, the data is less clear for CYP. To understand all the evidence to date, the SilverCloud Research team conducted a systematic review and meta-analysis on internet-delivered interventions for CYP. Our systematic review aimed to identify the scientific evidence available for the effectiveness of internet-delivered interventions for treating anxiety and depression in children and young people

The search found 23 studies that were eligible for our review. Of these 23 studies, 16 were also included in our "meta-analysis", a formal statistical test that allows us to pool evidence from across individual studies and quantify the overall effect of interventions tested. A total of 6981 participants were included across all studies. Our analysis of the results, considering evidence from all these trials, revealed mixed outcomes for depression and anxiety.

First, we found a small but significant effect on anxiety symptoms. This means that overall, participants who received interventions had a decrease in anxiety symptoms compared to a control group who did not receive an intervention. However, the same was not true for depression. Participants who received interventions did not have reduced depression symptoms, compared to a control group who did not receive an intervention. In summary, our review indicates that the potential of internet-delivered interventions for young people has not yet been optimised. With only 23 studies to date, there is a clear need for more research in this area and a real opportunity to develop more effective internet-delivered interventions specific to the needs of children and young people.
Now that the systematic review has given us some context, we can inform decisions about the most important next steps for research regarding digital mental health interventions for CYP. On the surface, the lack of evidence surrounding digital interventions for CYP may seem a little discouraging. However, what this shows is that there is still a lot we do not know about how to best support young people with online interventions, and huge potential to improve the mental health support available during this critical developmental stage. SilverCloud has always been at the forefront of mental health research. The opportunity to uncover new, useful insights about CYP populations is on the horizon.
As we continue to learn and grow in this space, SilverCloud has developed its own population-specific programmes for CYP and their parents. Our services offer a growing selection of programmes that help young people understand, manage, and overcome their anxiety and depression. Additionally, we offer programmes to parents to help support children and adolescents struggling with mental health issues in a healthy and productive way. These digital solutions for mental healthcare can give families and their children access to care when they otherwise might not have the opportunity. We will be conducting our own research on the effectiveness of these programmes which will inform their further development and help to advance the science in this field.
References


1. Sorkin DH, Janio EA, Eikey EV, Schneider M, Davis K, Schueller SM, Stadnick NA, Zheng K, Neary M, Safani D, Mukamel DB. Rise in Use of Digital Mental Health Tools and Technologies in the United States During the COVID-19 Pandemic: Survey Study. J Med Internet Res. 2021 Apr 16;23(4):e26994. doi: 10.2196/26994. PMID: 33822737; PMCID: PMC8054774.