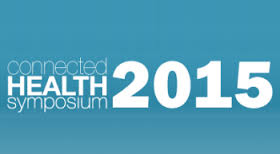 Our very own Noemi Vigano, Counselling Psychologist and Clinical Programmes Manager here at SilverCloud Health will be presenting at the 2015 Connected Health Symposium this week. This year's theme is "The Internet of Healthy Things: Integrating Connected Health into Real World Care Delivery". SilverCloud Health will be presenting as part of the conference's brand new Poster Session, supported by the Journal of Medical Internet Research.
SilverCloud Health is a global leader in connected healthcare solutions. Connected health is an approach to healthcare delivery that uses technology to provide healthcare services remotely, maximise resources and provide rapid and efficient patient-centered care.
SilverCloud Health is setting the Gold Standard for internet-based interventions which we will be showcasing at our poster exhibition "The New Gold Standard in Online Delivered Behavioral Health Programs". Current APA and American Telemedicine Association Guidelines mainly focus on the use of videoconferencing. SilverCloud Health however, have developed what can be considered to be a new Gold Standard in the delivery of internet-based interventions that better reflects advances in telehealth technology.
Based on the latest research and empirical studies alongside our own experiences in developing and implementing internet-based interventions we have devised seven key criteria for developing internet-based interventions for mental and behavioural health.
These include:
Using evidenced based and empirically supported content
Be shaped by the expertise of Subject Matter Experts
Develop robust, secure and responsive technologies that are engaging for users
Include user-centred development and design
Focus on accountable care and achievement of clinical outcomes
Conduct research and evaluation that supports its effectiveness
Include healthcare implementation strategies into its design
Delegates are invited to attend our poster exhibition to discuss these Gold Standards and explore the implementation of these Gold Standards in real world care delivery through our second poster "A Randomized Controlled Trial of an internet‐delivered treatment: its potential as a low‐intensity community intervention for adults with symptoms of depression".
This poster will be displaying the impressive results of Ireland's first national randomized controlled trial of internet delivered intervention for depression in collaboration with the leading national charity, Aware. Using content shaped by the evidence-based principals of Cognitive Behaviour Therapy with the assistance of Subject Matter Experts we developed a low intensity intervention for the treatment of depression in adults. Come along to learn about the significant reduction in depressive symptoms trial participants experienced which held at 3 month and 6 month follow up and speak to our Clinical Programmes Manager, Noemi Vigano, about the exciting implications of this study on current healthcare provision.
Dr. Noemi Vigano will be in attendance at the conference on October 29th and 30th 2015 and we look forward to meeting you then. If you can't make it all the way over to beautiful Boston then keep an eye out on our Twitter Page where we will be tweeting live from the conference.