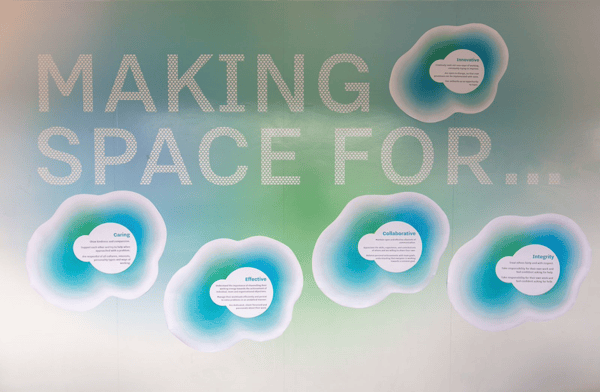 Values are more than just a part of the decor – they should be woven into an organisation's activities at all levels of the business. In this blog, we discuss our approach to corporate social responsibility (CSR) and why we believe it's an essential part of any thriving company culture.
At SilverCloud Health, we provide accessible and affordable digital mental health programmes that engage and empower users. Each step of the process, from the clinical researchers who develop our programmes to the product team who build them, is guided by our core values:
Collaboration
Caring
Effective
Innovative
Integrity
We believe that corporate social responsibility (CSR) is essential to developing a culture where these values are aligned with the impact we as a company have on society, including our own stakeholders and the environment.
With this in mind, developing a CSR committee felt like a natural next step for us. The multi-department team spans product development, clinical, finance, data security, marketing, and administration. Bringing these different perspectives together has helped us to tackle the question of, what an effective CSR programme looks like for SilverCloud Health?
What are the pillars of effective CSR?
To answer this, we researched international and local CSR accreditations and frameworks. We are continuing to explore the possibility of using the B Corps accreditation for our CSR programme.
To benchmark ourselves, we mapped our CSR activities against the five pillars framework of CSR:
Regional Communities

Environment

Workplace

Marketplace

Governance & Communications
These pillars allow us to take a holistic approach to our planning, developing sustainable policies that will create lasting positive change in our organisation and further afield.
With a view of our performance across the five pillars, we turned our focus to raising awareness of the CSR team within the organisation and encouraging our colleagues to take part in CSR events.
SilverCloud 2020 charity partners
SilverClouders are a generous bunch, and we knew they would actively support charity initiatives with both time and money. It was important to SilverCloud employees to continue to support our original charity partner Aware.
Aware is a voluntary organisation that assists people affected by depression, bipolar disorder and related mood conditions. They deliver our 'Space from Depression' programme as part of their Life Skills Online course. This programme helps those who may be experiencing depression and bipolar disorder. The CSR team collaborated with the leadership team to negotiate a significant discount on our platform.
Our next big move, was to establish 2 charity partners for the year ahead. We felt that it was important that the charity selection process was collaborative. Everyone was encouraged to submit their choice of two charities (one international and one local) which would then be voted on by all employees. As a group, we decided to support the work of both Medicines Sans Frontiers (MSF) and One In Four for 2020.

Both charities presented to SilverCloud on their work and how we can support them during the year. John Ryan, Head of Fundraising from One in Four, gave insight into the essential services they provide to adults who have experienced childhood sexual abuse.

Dr. Carrie Garavan of MSF, who had recently returned from the Democratic Republic of Congo on her 5th mission focused on fighting Ebola, described some of the challenges facing MSF workers on the ground and their commitment to saving lives in conflict situations, natural disasters, and during epidemics.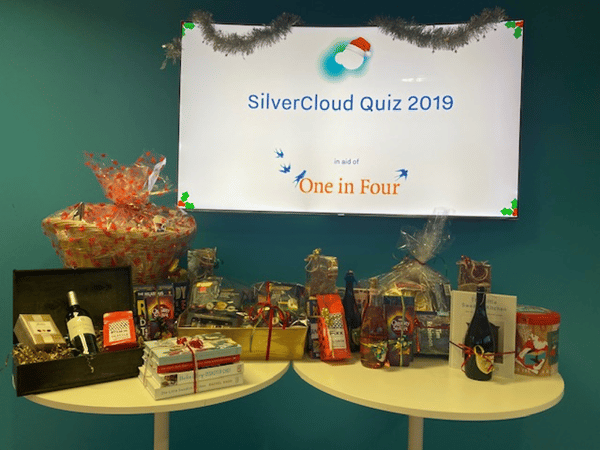 We are proud to support such worthy causes and closed 2019 with a small fundraiser table quiz which yielded significant results. Through the generosity of SilverCloud, Swrve, and Financial Services Union staff, we raised €1542 for One in Four. Through matched donations, we raised a total of €3000. This will cover an entire day of their essential service–an impressive result for our first CSR fundraiser! Further monies were raised through the sale of Christmas cards on behalf of both charities. We are delighted with the enthusiasm and goodwill shown towards our fundraising events.
Environmental initiatives for sustainable growth
When examining our efforts across the five pillars of CSR, we wanted to include in-house environmental initiatives. Making it easy for people to adapt to these changes is essential. We believe people are at the centre of creating sustainable change.
In the first five months we have:
Reduced the amount of meat purchased in our weekly office shop.
Reduced overall dairy usage by 50%.
Started using recycled paper in our printers, and we aim to reduce reliance on printing in the coming year.
Collected paper bags and lunch containers to encourage staff to 'reduce and reuse'. This has also made it easier for employees to take time away from their desks and enjoy nearby parks on their lunch break.
Employee Wellbeing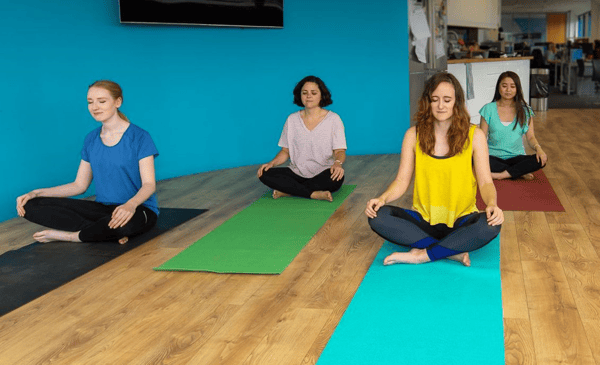 As we work in the field of mental health, we're mindful of employee wellbeing, as well as the wellbeing of our programme users. When we reviewed our wellbeing pillar, we were lucky to discover that we had a yoga teacher among us who was happy to provide donation-based yoga classes every week. It's a great way to start the week while supporting a good cause. We are currently exploring the possibility of offering mindfulness services to our employees.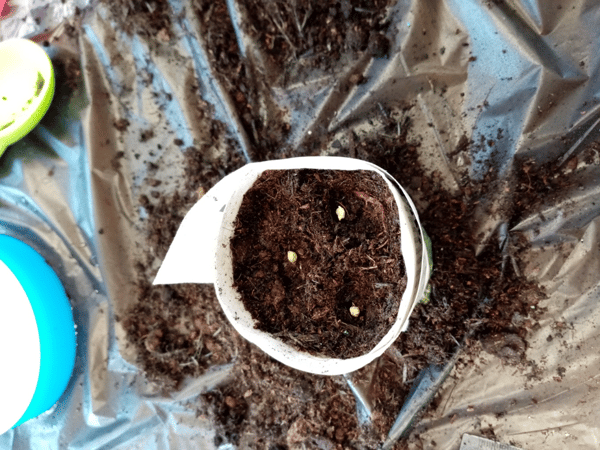 We also had a successful planting workshop where we made paper pots and sowed seeds for in-house herbs. It was great fun, and people enjoyed taking a small break to get their hands dirty and take a break from working on screens. We plan on building on our green initiatives in the new year as part of our environment and wellbeing programmes.
Designing effective, sustainable policies
In 2020, we wanted to identify better ways to implement CSR policies as a committee. Using design thinking, we examined:
What's working
What's not working
What we should continue doing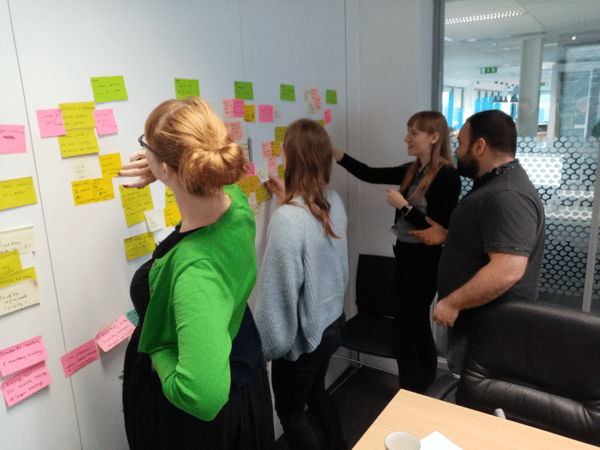 As design thinking is an iterative process rooted in empathy, it will allow us to understand, test, and quickly scrap or adapt ideas to identify practical solutions for CSR activities and the people that they to support.

Next Steps
We've learned a lot in our first six months, and we're proud of our team and the organisation for their continued commitment to corporate social responsibility. We'll be blogging about our progress throughout the year, so make sure to follow us on Twitter or LinkedIn for more updates.
The CSR team would like to thank the Bald Barista, One in Four, and La Piccola Italia for their generous donations to our Christmas raffle prizes.