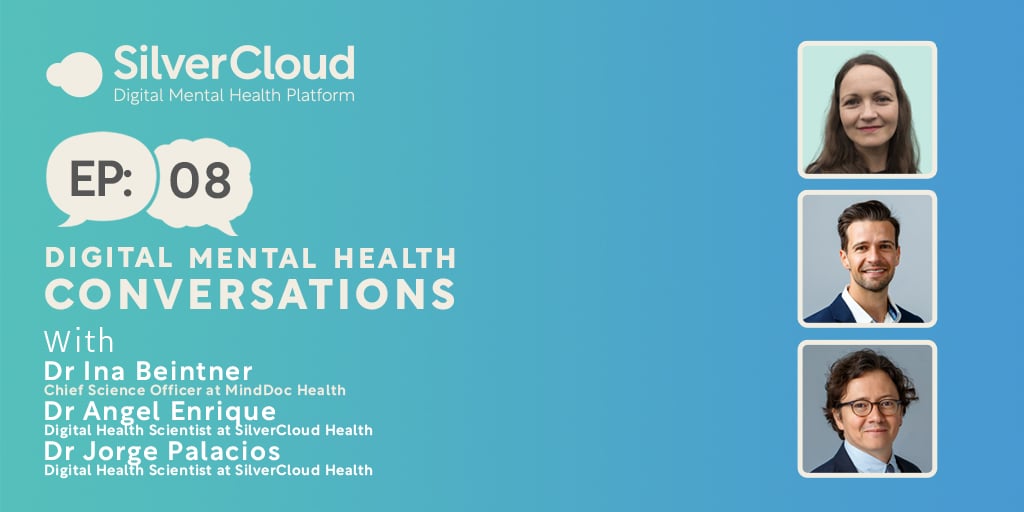 In this podcast, SilverCloud's Digital Health Scientist, Dr Jorge E Palacios, speaks with Dr Ina Beintner, Chief Science Officer at MindDoc, and SilverCloud colleague and Digital Health Scientist, Angel Enrique. Ina's background has been in e-mental health, and she is very passionate about improving adherence of interventions.

Engagement and adherence have become buzzwords but what do they actually mean in medical terms and what is the difference? While adherence refers to a patient following a treatment plan, engagement takes it a step further and implies actions, such as reading materials or taking actions to try to change behaviours. Our guest speakers explain what both terms mean in terms of digital mental health platforms and solutions and why it is so important to understand the concept of engagement.

Both Ina and Angel speak about the current research and academic literature, what it says with respect to engagement and where they see clear limitations in studies so far.

Furthermore, the podcast aims to unpack the concept of meaningful engagement, what it is and whether there is an optimal dose of engagement. While we can infer that people have actively engaged with an intervention if they get better, we do not know how they engaged with it. Adherence and engagement in clinical trials is also much different than what we see in the real world. In this context, Ina and Angel address the gap that exists between research and practice.

Lastly, the podcast dives into what the future holds and how we can leverage usage data to build an optimal path of personalisation.

Listen to the full podcast above, on Apple Podcasts or Google Podcasts. Follow us on LinkedIn to stay up to date with our latest podcast episodes and content.

To find out more about managing mental health with SilverCloud, get in touch by following this link.

For further content, browse our new resource centre here.


About Dr Ina Beintner:

Ina is a clinical psychologist who has been working in e-mental health research for 15 years. She has been involved in several clinical trials on online interventions and is passionate about improving adherence by designing adaptive interventions that are meaningful to users every step of the way. In 2019, Ina joined MindDoc, one of the leading providers of video-based psychotherapy in Germany and owner of the MindDoc app. As a Chief Science Officer, she is responsible for developing content both for the app and the therapy platform as well as coordinating various research projects around MindDoc services.