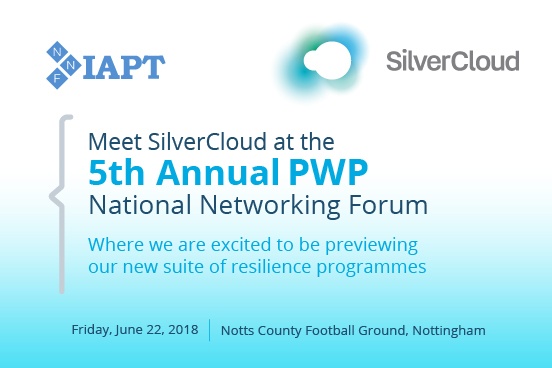 9.30am – 4.30pm 22nd June 2018
Notts County Football Ground,
Nottingham
SilverCloud Health is looking forward to attending and exhibiting at the 5th Annual PWP National Networking Forum on 22nd June 2018 where we will be previewing our new suite of resilience programmes. Led by Marie Chellingsworth the conference will cover key challenges faced and new areas of development within the PWP role.
Program Highlights include:
Marie Chellingsworth will present on the development of low intensity CBT roles, including
Developments in working with complexity and engagement with older adults at Step 2
Lessons that can be learnt from international development
Career development and prospects for the PWP role
Tabitha Rothwell, Long Term Conditions PWP & Dave Burniston, Senior PWP Talking Change at Portsmouth IAPT Service will discuss Long Term Conditions integration at their service including:
An overview of Long Term Conditions Service at Talking Change
Pathways: COPD & Cardiac, Diabetes, Pain and CFS & Stroke
PWP Case study 1: Step 2 Integrated working with Pain and Chronic Fatigue Syndrome (CFS)
PWP Case study 2: Step 2 working with Stroke Survivors
You can see the full agenda for the event here. We hope to see you there! Speak to us if you are interested in hearing more about our new suite of resilience programmes.