(Source: https://www.benefitnews.com) COVID-19 has conjured a whirlwind of challenges that have affected all aspects of home and work life. Consequently, the pandemic has provided an important opportunity for employers to create a more virtually accessible workplace for employees to include easy access to needed mental health and wellness support.
In the U.S. alone, more than 1 out of 3 adults indicate experiencing conditions of depression or anxiety since the onset of the pandemic, with 40.1% reporting these symptoms in July of 2020. This sharply compares to a 2019 report, which stated only 11% of people indicated experiencing anxiety and depression symptoms. Examined together, these numbers reveal a tremendous increase in symptoms that speaks to the rise of poor mental health conditions.
Now more than ever, employees need easy and fast access to mental health solutions to help them navigate and cope during this unprecedented time. Even if an employee is not currently experiencing symptoms of anxiety or depression, this is a time to be proactive and take a preventative approach. Furthermore, employees need access to solutions that are clinically validated and rooted in proven research and outcomes. With open enrollment on the horizon, it is time to raise the bar for offering support to employees, struggling or not.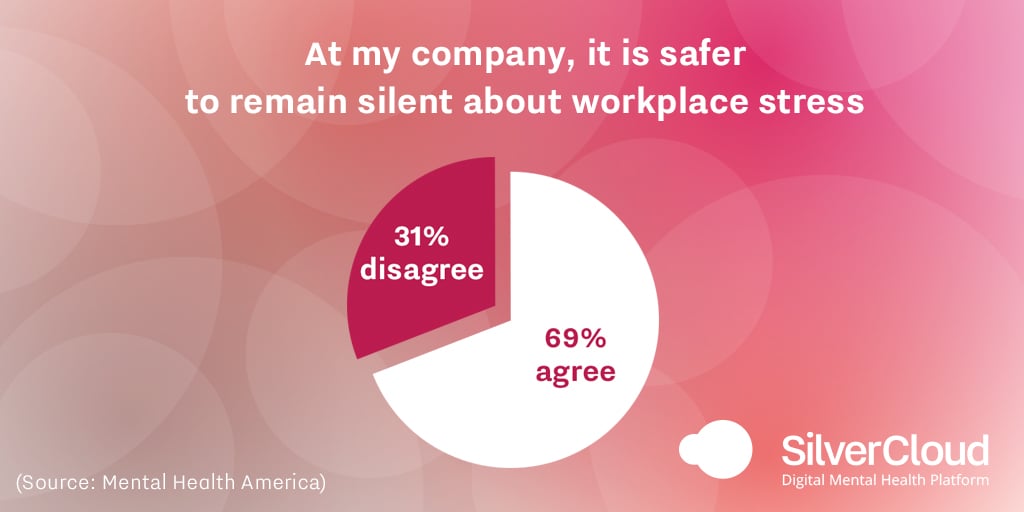 The current situation
Twenty-seven workdays are lost each year in relation to depressive disorders. This contributes to a yearly cost increase of $4,426 per employee. As more and more people report an onset of anxiety and depression related to the pandemic, the situation will only continue to escalate if not addressed properly. Furthermore, for every dollar put towards mental health, the ROI falls between $2 and $4, therefore, the cost of not addressing mental health is actually higher than investing in clinically sound treatment that is built on a framework of evidence.
With 53% of U.S. adults reporting that stress over the pandemic has hindered their mental health, it's reasonable that we're seeing increased interest in digital mental health solutions that are based in a clinically backed framework supported by independent research. While many digital mental health platforms and applications present themselves as promising service provisions for bridging the gap in mental health care access, organizations considering these tools must understand the difference between mindfulness applications and digital services that are built on a strong foundation of clinical evidence. It is paramount that organizations and employers perform the due diligence needed to identify a digital tool that offers clinically validated programs based on a scientific framework. This will help ensure that they select an effective and professional mental health service that will best support employees and provide the best outcomes.
The digital age of mental health support
Digital mental health services are key tools in addressing and supporting the mental health and wellbeing of employees in a way that promotes self-care, increases engagement and promises reliable, remote and private accessibility. It is important that employers revisit their benefit packages to add provisions for in-person and digital mental health services that meet or even exceed current and future employees' needs. With a wide range of platforms offering digital mental health, it is equally important that organizations select a digital service that is built on clinical evidence and is supported by measurable outcomes that validate the scientific approach and success of such solutions. By doing so, employees can access mental and behavioral health care services that will directly combat the mental health crisis seen in the workplace and society at large both during and after the pandemic.
The opportunity during open enrollment
The open enrollment period is an inflection point for employers to make decisions on offerings to employees. During this time of uncertainty, especially under remote conditions where in-person interaction is heavily restricted, digital mental health has proven itself to be a promising catalyst in transforming behavioral health care. It is not only affordable and widely accessible, but it can also be tailored to fit an individual's needs and personalized schedule. Digital healthcare solutions also open the door for individuals and employees across all levels to receive care services at any place and point in time, eliminating stigma and other access barriers.
Now more than ever, the need for organizations to offer employees a benefits plan that includes digital mental health services is essential. With isolation at its peak and work demands higher than ever, the time is right for employers to include digital mental health services during the 2021 open enrollment period.
(Originally published on https://www.benefitnews.com/ )