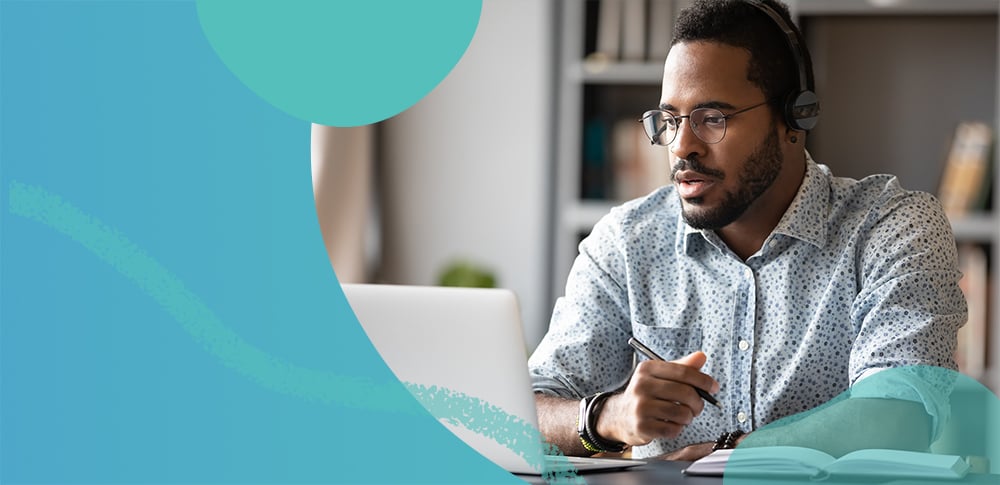 Stress is the body's response to perceived danger.

When we feel distressed, our brains activate the sympathetic nervous system, and it sends a signal to make adrenaline, which then brings about additional changes. These include increased heart rate, pulse rate, and blood pressure, which leads to more rapid breathing. More oxygen is sent to the brain, making us more alert. Our senses, including sight and hearing, become stronger. Blood sugar and fats from the body are released to provide more energy for a "fight or flight" response.

In addition to helping us avoid danger, a little stress can help us be more alert and prepared for difficult situations, or even help us perform better in workplace situations, such as presentations and complex tasks.

Too much stress, however, can have a negative effect on behavioral and mental health.
Stress Is a Major Problem in the U.S.
Even prior to the pandemic, stress is a major concern for Americans. Consider these eye-opening statistics compiled by The American Institute of Stress:
55% of Americans polled reported feeling stressed during the day.
U.S. Adults aged 30-49 are the most stressed age group or 65% of respondents.
Women are more stressed out than men. On a scale of one to 10, women surveyed rated their stress levels as 5.1, compared to the 4.4 rating of stress levels of men.
COVID-19 Impact on Employee Stress Level
A KFF Health Tracking Poll of adults, conducted from November 30 to December 8, 2020, confirmed that roughly 50% of all respondents said that worry or stress due to COVID-19 had a negative impact on their mental health.

To better understand the impact of COVID-19 on the mental health of employees and work-related stress, SilverCloud Health commissioned its own survey through a third-party research firm in January 2021. The survey sample of 1,288 U.S.-based, full-time employed adults included the U.S. Census balance for different age groups, income levels, races, genders, relationship status, geographical regions, and more.

A major takeaway from the survey: 90% of respondents said that COVID-19 had contributed to an increase in their level of stress at work.
The Financial Effect of Stress at Work
Chronic stress has a negative effect on employees in their personal and professional lives, as well as on the bottom line. It can affect absenteeism and productivity.

In the 2021 Employee Mental Health and Wellbeing Survey Report, 38% of respondents reported missing time at work due to COVID-related stress. For an employer with 5,000 employees, this equates to lost productivity of $120,000 per day or over $28 million per year.
What Employees Want
Employees want help for stress, don't necessarily want to talk to their employers about it:
Only 40% of employees suffering from workplace stress have talked to their employer about it, according to the Anxiety and Depression Association of America, cited in The American Institute of Stress.
Many surveys confirm that workers are afraid to talk about mental health issues with employers. One example: a 2019 study by Businessolver showed that 68% of respondents worried that bringing up a mental health issue could hurt their job security.
So if employees don't want to talk to employers about chronic stress, what do they want?

According to our survey, 78% want mental health services and support they can access online.
The Effectiveness of Online Digital Platforms

In January 2021, the American Psychiatric Association's (APA) Psychiatric Services Journal published the "Banbury Forum Consensus Statement on the Path Forward for Digital Mental Health Treatment."

The report shows that more than 100 randomized controlled trials demonstrate the effectiveness of DMHTs. In addition, DMHTs can solve the issues of access and provider shortages in the U.S. healthcare system.

"This report makes it clear that for mental health to have parity, digital mental health tools should be an integral part of the U.S. healthcare system, owing to its accessibility and potential impact on mental wellbeing for everyone, regardless of where they live," said Banbury Forum member and co-author Patricia Areán, Ph.D., Professor in the Department of Psychiatry and Behavioral Sciences at the University of Washington School of Medicine, who co-chaired the forum along with David Mohr, Ph.D., Professor of Preventive Medicine and Director of the Center for Behavioral Intervention Technologies at Northwestern University.
How SilverCloud Helps Employees Deal With Work-Related Stress
A key module in SilverCloud's online mental health platform is its "Space from Stress" program. The clinical and research teams designed it to help users manage and reduce their current symptoms of stress and develop resilience against stressful experiences in the future.

Like SilverCloud's other modules, this module includes an introductory video and quiz, psychoeducational content with examples and personal stories, interactive activities, homework suggestions, and summaries.

The key interventions in this module include looking at all areas of life that contribute to stress and managing that stress by creating SMART goals, solving problems, time management, cognitive restructuring, and making lifestyle choices that alleviate stress.
New SilverCloud Programs That Help Employees Deal with Stress
The SilverCloud research and clinical teams knew early on in the coronavirus outbreak that there would be a need to provide additional, specific help related to COVID-19 mental health issues.

They created two new programs to help employees:
"Challenging Times," part of a broad COVID-19 program that

supports users dealing with pandemic-related anxiety, depression, stress, sleep issues,

and more, launched in April 2020.
"Money Worries," helping users experiencing financial difficulties, including those brought on by COVID-19. Financial issues are one of the factors that lead to stress. One study conducted by the American Psychological Association confirmed that 60% of Americans feel stressed about money.
Start Helping Your Employees Now
In addition to providing robust mental health programs, you can provide quick tips to help them manage work-related stress. These include practicing self-care, taking frequent breaks from the news, and staying connected with others. These ideas and others are contained in this infographic from the APA. This useful article by the Centers for Disease Control and Prevention (CDC) provides a list of the symptoms of stress and tips on how to manage it.

And while you're at it, don't forget to take care of yourself!