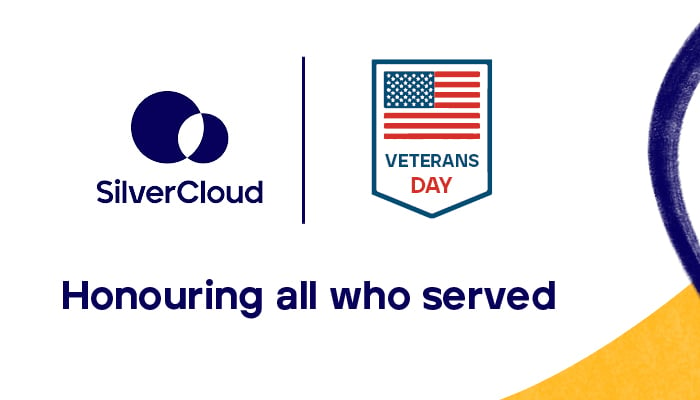 On this day, Veteran's Day, we pause to recognize and celebrate the members of the United States Armed Forces and their families – from all of us at SilverCloud Health, we thank you for your service.
We recognize that our United States veterans have a unique set of mental health needs due to the challenging lifestyle that can come from military life. It's reported that nearly 30% of all active and reserve military personnel deployed in Iraq and Afghanistan have a mental health condition that requires treatment.
Among those mental health conditions that affect veterans are anxiety, depression, PTSD, and relationship support. According to the National Alliance on Mental Illness (NAMI), there are five ways to best support our United States veterans:
1. Understand Suicide
The Veterans Administration (VA) reports that on average, 22 veterans die by suicide every day. If you know a veteran struggling with suicidal ideation, please share the 24/7 Veterans Crisis Line with them: 1-800-273-8255.
2. Understand PTSD
PTSD is 15 times more likely to affect veterans than it is to affect civilians.
3. Understand Traumatic Brain Injury (TBI)
According to the VA, the Department of Defense reported more than 375,000 cases of TBI between 2000 and 2017. Brain injuries can significantly increase the risk for co-occurring mental health conditions such as anxiety, depression, and insomnia.
4. Understand Depression
Approximately 10% of veterans treated by the Veterans Administration between 2009 and 2013 were treated for a major depressive disorder.
5. Understand Anxiety
In a 2013 study, it was found that 12% of participants met the criteria for an anxiety disorder. This percentage is in sharp contrast to the 1.6-3.5% of civilians who suffer from an anxiety-related disorder.
If you're a veteran and in need of assistance or support, please reach out to your nearest VA hospital.


About SilverCloud
Supporting more than 500 customers and over 800,000 users, SilverCloud brings nearly two decades of direct clinical research on digital delivery of mental and behavioral health together with easy-to-use technology to improve access and outcomes for users and their families. Designed to address the needs of large, diverse population groups, SilverCloud gives organizations a smart, measurable, impactful, modern way to invest in the health and happiness of their people.