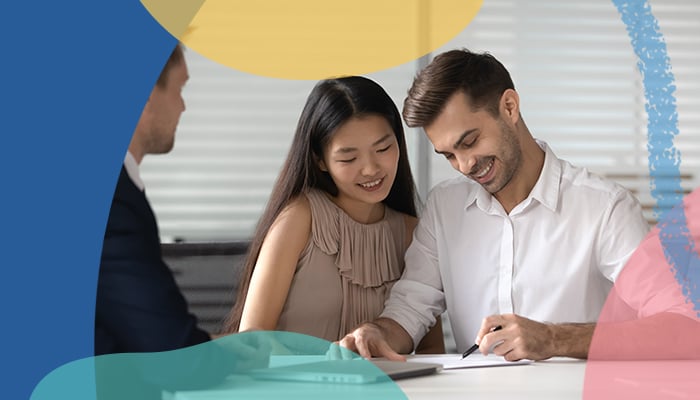 Value-based care is a healthcare approach intended to drive cost down, improve care rendered and coordinate care across the multiple players in the healthcare industry. For health plans, value-based care can mean better member engagement and satisfaction, better relationships with healthcare providers, and a way to respond to community criticism that the United States spends too much and gets too little in terms of access, equity, and care outcomes.

As many incentives as it offers, health plans overall haven't committed to a full transition to value-based care. It's risky, so let's take a look at two critical risk tactics that health plans can consider in terms of protecting themselves against risk when adopting value-based care: 1) the shared risk reimbursement model and 2) risk stratification.
What is the Shared Risk Model?
In a traditional fee-for-service model, healthcare providers are reimbursed by the total number of services they have provided. This traditional model is based on quantity. Within the last decade, health systems and health plans have started moving towards value-based approaches. In value-based care, providers are incentivized to provide better overall population health management—the focus moves from quantity to quality.

Shared savings programs are one of the original value-based care reimbursement models. Under shared savings programs, if a provider reduces healthcare spending under a specific benchmark (set by health plans), the provider retains a portion of the savings.

Closely related to a shared savings model, the shared risk model extends to cover risk as well. There are different variations of the shared risk approach, but ultimately in all of these approaches, the healthcare provider assumes a financial or payment loss if their costs exceed the established benchmark.
Have We Seen Value-Based Care Success with the Shared Risk Approach?
Although the shift towards value-based care and risk-sharing is still relatively new, there have been recent results that indicate that financial risk-sharing in healthcare can be a successful way to increase value-based care. According to California Regional Health Care Cost and Quality Atlas, financial risk-sharing in healthcare led to a 3.5% drop in the total cost of care in 2017. Additionally, in terms of quality, providers in risk-sharing arrangements in California scored 9.2 percentage points higher on average clinical quality performance as compared to providers using a fee-for-service model.

Higher quality performance and lower costs mean successful value-based care.
What is Risk Stratification?
Simply put, risk stratification is the process of dividing patients into "buckets" based on their lifestyles, vital health signs, and medical history. Risk stratification is a framework that's applied for combining several individual risk scores, complete population health management, socioeconomic and demographic characteristics, and medical records to create an all-inclusive patient profile. Risk stratification is a foundational step in targeting patients at various levels of risks, along with keeping them aligned with their care plans and scheduling follow-ups.

Risk stratification allows providers to pinpoint the right level of care and services for distinct subgroups of patients. It's the process of assigning a risk status to patients, then using this information to direct care and increase overall health outcomes. The goal of risk stratification is to section patients into distinct groups of similar complexity and care needs.
Why is Risk Stratification Essential to Value-Based Care?
By organizing care based on risk groups, healthcare providers (and therefore health plans) can spend the time and money in more efficient ways. If you spend less time on low-risk groups, you have more time to properly address higher-risk patients with more expensive care and treatment.
Risk Stratification is ultimately a tactic to identify the:
Right patient
Right treatment and care
Right time
Right outcomes
This means avoiding a one-size-fits-all model, where the same level of resources is offered to every patient. Not only is this clinically ineffective, but it's expensive. It's essentially the opposite of value-based care.
Community Care North Carolina implemented risk stratification efforts, and between 2014 and 2015, they produced a 5% drop in total Medicaid costs and a 26% reduction in inpatient admissions.
Reduce Risk and Achieve Value-Based Care with Digital Behavioral Health Tools
SilverCloud Health offers a digital behavioral health platform that can help health plans improve access to mental and behavioral healthcare and outcomes for members. Our behavioral health and wellbeing programs are built on decades of clinical research and regularly assessed for clinical outcomes. We offer a measurable and impactful way to reduce cost and improve outcomes.
Data analysis has shown the potential for up to a 13% savings on the cost of medical care for members who used SilverCloud.
Up to 65% of our users have shown clinically significant reduction in symptoms scores.
Referring members to SilverCloud Health increases the opportunity for members to receive the mental health support they need.
SilverCloud Health offers behavioral health programs specifically for higher-risk member populations that have chronic health and co-existing mental health conditions.
Learn more about how SilverCloud Health can help you improve behavioral healthcare options for your members.