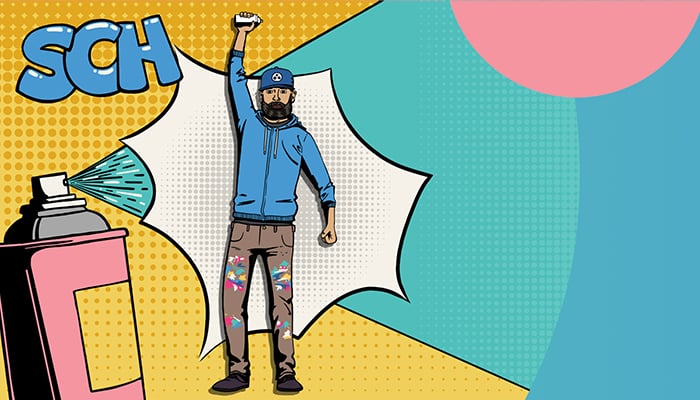 "My work took on a life of its own. I wasn't trying to put these messages out to change the world or grow a following and become famous. The whole thing happened because I was in the middle of a massive depression."
Those words are from TrustyScribe, our second superhero in SilverCloud's "Mental Health Superheroes" series.
If you're not familiar with TrustyScribe, he is a Los Angeles-based writer, photographer, and artist, who has created street art in the form of mental health "word bubbles" throughout the U.S. and around the world:
His personal, honest words about mental health have struck a nerve and opened up conversations about depression, suicide, and other mental health issues.
We caught up with TrustyScribe to learn more about this unintentional mental health superhero.
SilverCloud: Why did you begin creating mental health street art?
TrustyScribe: In 2017, I was in an abusive relationship and in the depths of a bad depression. I started calling around for mental health assistance. It was so bad that the calls triggered a suicide protocol where they ask, 'Are you suicidal? Do you have a means, a way, and a plan?' My honest response was, 'I don't want to kill myself; I just don't want to be here anymore.'
SilverCloud: Wow. That's strong stuff. How did they react?
TrustyScribe: I was told I could be seen in six weeks, to which I responded, 'Do you really think I'll still be here in six weeks?'
SilverCloud: Wow again. What did you do?
TrustyScribe: Luckily, my family stepped in, and we found help. I found a new therapist and was put on medication to try and balance me back out. Up until this point, I had been photographing street art for 15 years and had played with the idea - if I were to paint something, what would it be. I knew it would be word-based because I've been a writer most of my life, but the depression clarified what I wanted to do. My first piece, a word bubble that says, 'Please excuse my depression. It has a mind of its own,' allowed me to get my voice out at a time when I felt like I wasn't being heard.
SilverCloud: So you did it for yourself, but it resonated with others?
TrustyScribe: Yes. Though I hoped people would interact with these life-size word bubbles by standing with them to complete the piece of art, I didn't really think through what, if anything, it would mean to anyone else. However, within the first few weeks, I received messages on Instagram from people discovering my art, telling me that they too were struggling and that my words let them know that they are not alone. It was a turning point in my life to know that something I had created convinced someone I'd never met to stay on this planet another day. It's hard to describe what that feels like and what that means to me.
SilverCloud: We've heard the term 'graffiti' used to describe street art, with the idea that it's illegal and a public nuisance. How does your street art fit into that concept?
TrustyScribe: My motivation is not vandalism, though I do often paint illegally and without permission. Sometimes I get permission or am hired to paint a commission at a business or private home. Otherwise, I find my spots, painting on abandoned buildings or empty spaces for lease and in areas where graffiti and street art are 'tolerated' or appreciated, like the Melrose area.
SilverCloud: Where can we see your art?
TrustyScribe: I've painted a lot around LA since this is my home, but over the years, I've been able to put my work further out in the world across Europe, the UK, and Mexico. A lot of my word bubbles are still up on the street, even years later, which still sort of 'wows' me. I've had the good fortune of collaborating with some wonderful artists as well and have left my mark at private companies, schools, mental health facilities through private commissions and mental health programming.
SilverCloud: Which word bubbles that you created are your favorites?
TrustyScribe: I have two: 'Please excuse my depression; it has a mind of its own,' and 'Love is the only language I speak fluently.' Together they express my duality. I want to approach the world with love and compassion, and I understand that depression is very much with me and will most likely always be with me. But even in the pain, I try to find some source of levity and humor.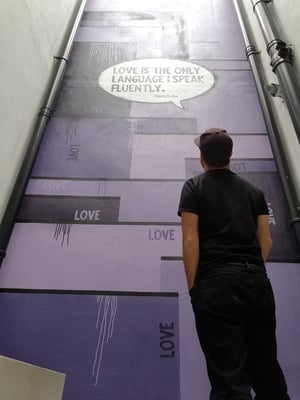 SilverCloud: You've described some of your street art word bubbles as more poignant and aggressive, such as 'I don't want to kill myself, I just don't want to be here anymore.' What kind of a response do you get from that message?
TrustyScribe: That piece is interesting. For people who have experienced that feeling, they give a knowing nod. And for people who have never felt it before, they're almost appalled by it. Regardless of which side you're on, either way, you're now having a conversation about mental health, and that's really what's important. Because if it's not you, it's someone close to you. We all have somebody in our lives that's gone through something and is challenged with their mental health. It wakes people up to the idea that maybe this is a conversation you should have.
SilverCloud: Because of the work you do, do you find that people reach out to you for help with mental health issues?
TrustyScribe: Yes. To be clear, I am not a social worker nor a therapist. My step-father is a well-respected therapist, so growing up under him, I learned what the therapist's role is, and so I know what I should and should not say. And I think a lot of times when people see my work; they know that someone has gone through the same thing they may be going through, someone who understands them, and so people do reach out to me for help. And some of the terrible sh*t they're going through breaks my heart. But what I've had to do is get really good at saying, 'I understand, and I hear you, and there are resources for people like us.' Because some people will specifically reach out and say, 'I need to talk to you.' Which is one of the reasons I put the US Suicide Prevention Hotline number on my Instagram. I've become very clear that what I'm doing is opening the door for people to, perhaps for the first time in their lives, speak up and say, 'I'm not okay, and I need help.' And I love that. It's lifting the stigma, which is the key to normalizing mental health.
SilverCloud: You also continue to get thanks from people who have been helped or inspired by your messages, right?
TrustyScribe: I get messages from people saying, 'I thought about killing myself. And I decided not to because of something you painted.' I got a message from a woman who had been suffering from postpartum depression for decades. She thanked me, and said my art gave her permission to finally say that there was something wrong, and she was actually on her way to her first therapy session. How amazing is it that I get messages like that?
SilverCloud: Terrific! We're also curious about the fact that you don't use your given name to tag your street art, instead of using the moniker 'TrustyScribe.' Why did you decide to use that name, and what does it mean to you?
TrustyScribe: As I mentioned, I've been around street art and graffiti for over 15 years as a photographer. So on a practical level, separating myself as the photographer from the person painting on the street felt necessary to me so that there was no confusion of what I was there to do when I was there to take photos. 'Scribe' is in reference to my writing - from articles to screenplays, I've been a writer most of my life. I'm a huge proponent of integrity and honesty. At the time, I was in a relationship where I was being lied to on a daily basis, so 'Trusty' is about that commitment to honesty. I believe that no matter what it is you're doing in your life, no matter who you are, own it. It's unhealthy for us to live in fear of what other people will think of us. Because if the people in our lives can't stand by us for who we are, then maybe they're the wrong people to be in our lives. So that's where 'TrustyScribe' came from.
SilverCloud: You also hid your face when you first started painting and posting photos to social media. Why?
TrustyScribe: For the first two years that I painted, I did it anonymously because what I really wanted was the words and messages to be more important than the person creating them. I stood with the pieces to show people that there is a real person having this experience and going through these things, but that the message was more important than who I was.
SilverCloud: But now you show your face along with your mental health street art.
TrustyScribe: Yes. I realized that to be a mental health advocate, I needed to come out of the shadows and stand in front of it and own it.
SilverCloud: Do you have a favorite example of how your street art generated conversations about mental health?
TrustyScribe: Yes. I worked on a mural at a middle school and spent an entire afternoon with several hundred kids. And every time I talked about why I painted and what I had gone through, the kids had so many specific questions about how to get help. They started opening up and talked about what they were going through. Afterward, the teacher from the school reached out to say, 'I have to tell you, in all my years of teaching, I've never heard my students talk the way they talked with you. I had no idea what they were going through.' And then she said, 'Even after you left, it continued, and it has continued to this day.' And I've gone back to the school to check in on the kids and the art classes. I'm all about the conversations. Imagine - not to think, but to know that something you've done has had a ripple effect into people's lives as a change for good.
SilverCloud: That's an amazing story, and you've accomplished so much! Do you have any future plans or dreams related to TrustyScribe work?
TrustyScribe: Yeah, there's so much that I want to do. I'd love to do more school mural projects, and it would be great to partner with a national health care provider like Kaiser Permanente to support a community outreach project like this. Having a mental health professional on-site every time would be incredible, where they could give on-site support if anyone needed more information on seeking help. Each project would have a takeaway, a one-sheet with detailed instructions on seeking mental health services in their specific community. I also want to take my message 'Love is the only language I speak fluently' global on a massive scale. I want to paint it in every language in every country around the world, 200-feet wide or bigger on the side of buildings or stadiums. I want to do only one in each country. I also enjoy my private commissions and my underwater photography and portraits, as well as the opportunity to speak about mental health. On top of everything, I'm also writing a book about this incredible journey through depression and spray paint.
SilverCloud: Again - wow! Do you have any final thoughts you'd like to share?
TrustyScribe: Ultimately, there's nothing greater that I could do than to help somebody stay in this world for one moment longer. And at the end of the day, the core of what I've stumbled upon is lifting the stigma on mental health. We need to give ourselves permission to genuinely, authentically be okay with who we are. If that means that some people aren't along for the ride, then they weren't the people that were supposed to be on the journey with you. Spread more love; it's my favorite kind of contagious.