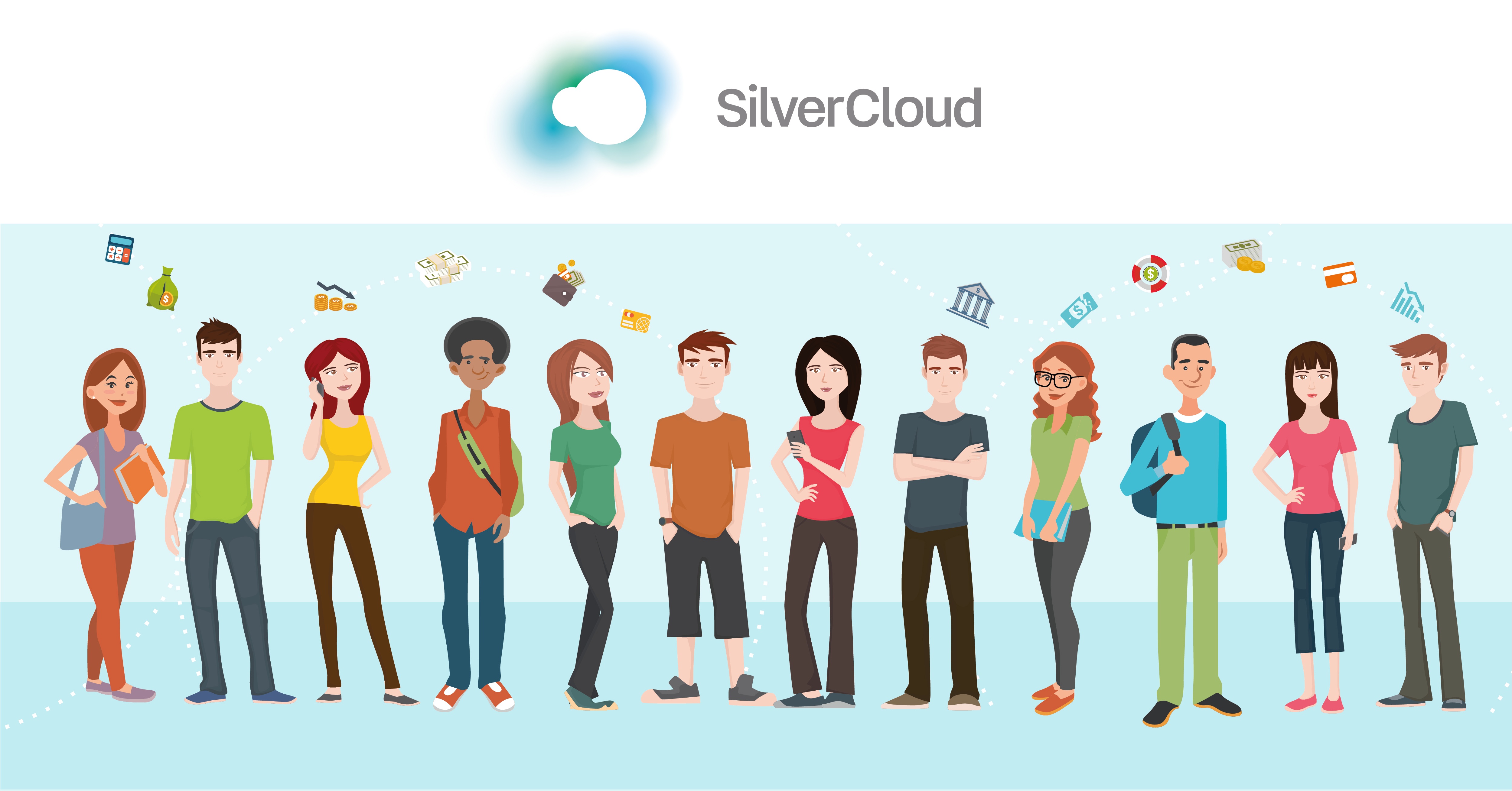 Banks accelerating efforts to support customer mental health needs
56% of Britons would be more confident banking with institutions committed to supporting such customers
71% agree that people in poor mental health are less able to manage their financial difficulties
Over half specifically believe that online mental health resources should be provided to people in debt
Nationally representative survey conducted by YouGov on behalf of SilverCloud Health
London, October, x, 2018 - To mark ten years since the beginning of the global financial crisis, global health tech company, SilverCloud Health is unveiling the results of a national study to underline the effects that financial turmoil has on Britain's mental health.
The nationally representative British study is part of SilverCloud's research efforts to better understand and analyse the links between debt and mental health and its future consequences if left unchecked.
The survey of 1,962 participants examined the extent of mental burden that consumers feel/have felt as a result of debt and how in turn this impacts their ability to repay such debt. It also reveals their thoughts and outlook on the future for UK personal debt, how mental health issues can affect one's ability to effectively manage their debt issues and how a supportive banking industry could ultimately benefit this.
Among the findings of the study:
71% agree that people in poor mental health are less able to manage their financial difficulties

61% of Britons say debt has negatively affected their mental health

59% believe the number of people struggling with personal debt in Britain will increase over the next 10 years and 52% believe the number will continue increasing over the next 20 years

42% believe financial institutions should be responsible for supporting mental health of customers in financial difficulty

56% would be more confident banking with institutions committed to supporting such customers

Over half specifically believe that online mental health resources should be provided to people in debt

42% of respondents have personally experienced financial difficulties or debt

Of these:

61% said that "financial difficulty/debt has negatively affected their mental health"

25% have sought mental health support from a doctor or specialist mental health clinician as a result of the financial difficulty they faced

22% were subsequently diagnosed with depression or other mood disorder

29% have experienced suicidal thoughts or thoughts of self-harm as a result of their debt

77% have experienced general anxiety about the future

63% "have experienced low moods/feelings of hopelessness"

25% have worried about house repossession (e.g. due to mortgage arrears)

70% have worried about unpaid bills
The figures come at a time of reflection on the tenth anniversary of the global financial crisis and amid increasing media attention on the links between debt and mental health.
In July, SilverCloud Health launched Space From Money Worries, a specialised online mental health programme, developed by their clinicians for the financial services sector. The programme was developed by SilverCloud Health's clinical team and industry experts to help tackle the kind of psychological mechanisms which lead to the cycle of financial difficulties and thus poor mental health. These mechanisms include negative thinking patterns and avoidance behaviours which can prevent people from tackling debt, and can exacerbate impulse spending, which in turn can increase their debt burden.
The health tech provider has developed a suite of over thirty different programmes focused on providing behavioural health for all and support for those suffering with specialised mental health disorders including depression and bipolar disorder. Several of these programmes focus on mental health maintenance, such as resilience and sleep. The aim is to enhance patient capacity to face, overcome and strengthen difficult experiences in order to avoid the likelihood of mental health conditions.
SilverCloud Health programmes are used by both private and public healthcare across the UK, Ireland and the US, including the HSE in Ireland and over 60% of NHS IAPT services in the UK.
Debt continues to grow as a major issue due to many factors, and the survey indicates that as many as 70% of the British population now expect banks to provide structures to support clients in debt. 67% believe that if a financial institution was to offer free online mental health support to their customers, it would enable them to more easily confront and handle their debt. Also, the survey revealed that as many as 56% would be more confident banking with institutions committed to supporting such customers. Lloyds Bank, which is partnered with UK charity Mental Health is one example of how UK financial institutions are increasingly focussed on supporting customer mental health.
"Similar to results recently highlighted in Ireland, the results of this British survey clearly demonstrates that British mental health has greatly suffered over the past decade as a result of financial difficulty stemming from the global crisis. Debt in the UK continues to be a massive problem and our survey showed that 73% of Britons worry about the future as a result of financial debt or difficulty" said SilverCloud CEO Ken Cahill.
We look forward to seeing more financial institutions working to provide services which are mindful of supporting customer mental health. We hope that SilverCloud Health can be the platform that works in tandem with financial institutions to tackle this growing issue and bridge the gap between banks and their customers suffering from debt and financial difficulties." he added.
A recent report by PwC revealed that the UK's unsecured debt mountain has now reached £300bn or £11,000 per household exceeding pre-crisis peak by 30%.
Dr Thomas Richardson, co-designer of SilverCloud's Space From Money Worries, a clinical psychologist and expert in the relationship between financial difficulties and mental health problem states that: "Financial difficulties and mental health problems are often part of the same problem, but most support options treat them individually, offering debt advice separately from mental health help. So, for example, you might be offered a debt advice appointment but if you are so anxious you can't face it then it won't help. Space from Money Worries tackles the root psychological mechanisms which lead to the cycle of financial difficulties and poor mental health: the negative thinking patterns which prevent you tackling your debt, the worry and avoidance which stops you seeking financial help, the impulse spending which digs you deeper into a debt hole."
Download our Infographic
About SilverCloud Health
SilverCloud Health is a multi-award winning global health tech company; since launching in 2012 it has gone on to support 220 organisations across its global customer base, delivering a suite of over 30 clinically effective online programmes.
Today, SilverCloud Health's extensive library of evidence-based programmes address a broad spectrum of conditions such as stress, depression and anxiety as well as specific programmes for long-term chronic conditions (diabetes, COPD, and chronic pain). Over 15 years of academic research and clinically led randomised controlled trials (RCT) demonstrate SilverCloud Health programmes are extremely effective, engaging for patients and provide positive outcomes on a par with face-to-face therapy.
Press contacts:
Maria Diviney
Beachhut PR
+353 83 803 1003
Richard Forde
Beachhut PR
+353 85 140 6395