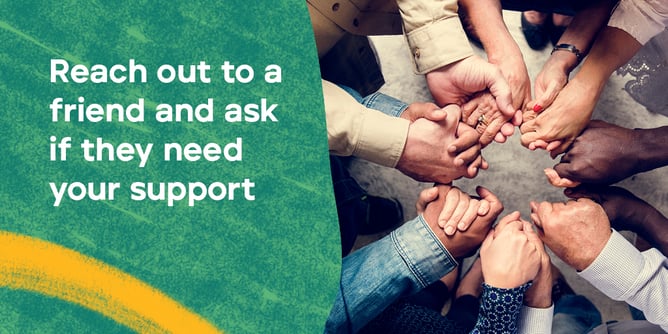 September is Suicide Prevention Awareness Month – it's during this month that we work to raise awareness around the topic of suicide and how to talk about it.

Since the start of the COVID-19 pandemic, conversations about mental health have become easier and access to mental health and wellbeing tools has been on the rise. However, the topic of suicide can still be difficult to discuss.

According to the National Alliance on Mental Illness (NAMI), suicide is the 2nd leading cause of death among people ages 10-34 with a 35% increase in the rate of suicide since 1999.

With suicide being the 10th leading cause of death in the United States, let's look at the annual prevalence of suicidal ideation among US demographic groups:
4.8% of all adults
11.8% of young adults aged 18-25
18.8% of high school students
46.8% of lesbian, gay, and bisexual high school students
---
"Having access to supported evidence-based cbt interventions can give people skills and strategies to manage difficult emotions like anxiety and depression which can support suicide prevention efforts." - Derek Richards, Chief Science Officer at SilverCloud Health
---
With nearly 46% of all those who have died by suicide struggling with a mental health diagnosis it is more important than ever to take care of our own mental health and wellbeing and be able to spot the warning signs in yourself and others – and remember, if it feels important, then it is important.

Things to look out for:*
Increased alcohol or drug use
Aggressive behaviors
Withdrawal from friends, family, or community
Dramatic mood swings

Impulsive/reckless behavior
Warning signs/behaviors that you should seek immediate help for:
Acting on a plan – organizing/collecting pills, buying a weapon, etc
Giving away possessions
Tying up loose ends – paying off debts, organizing important papers, etc
Saying goodbye to friends and family
Additionally, there are several factors that put someone at risk of suicide, some of these include:*
Family history of suicide
Substance use/abuse
Access to firearms
Chronic mental illness
Gender (Men are 4x more likely to die by suicide.)
History of trauma or abuse
*From NAMI's Risk of Suicide resource.

If you find yourself or a loved one in crisis it's important to talk openly and honestly and to remember that there is no shame in seeking help for yourself or others. One of the biggest myths about suicide is that if you talk about or ask about suicide then you're "planting the seed" – this is not true. Often times talking openly about suicide creates a safe space to share personal thoughts, feelings, experiences, and fears.

If you or someone you love is thinking about suicide, please know there are free and confidential places to access crisis help:
On average it takes 10 years before someone seeks mental health help or treatment. SilverCloud Health is an online mental health and wellbeing platform that connects people with tools and resources to help break down the barriers holding them back from living their best lives. If you're interested in how SilverCloud Health can help, investigate whether your employer has an Employee Assistance Program (EAP) and if it offers behavioral or mental health assistance.  

SilverCloud Health helps thousands of organizations address unmet behavioral and mental health needs among their employees and their family members.  

We support employers by providing various behavioral and mental health tools, programs, and coaching to improve employees' mental health and, ultimately, employers' ROI.   

With more than half 750,000 users globally, SilverCloud is the leading digital behavioral and mental health solution.