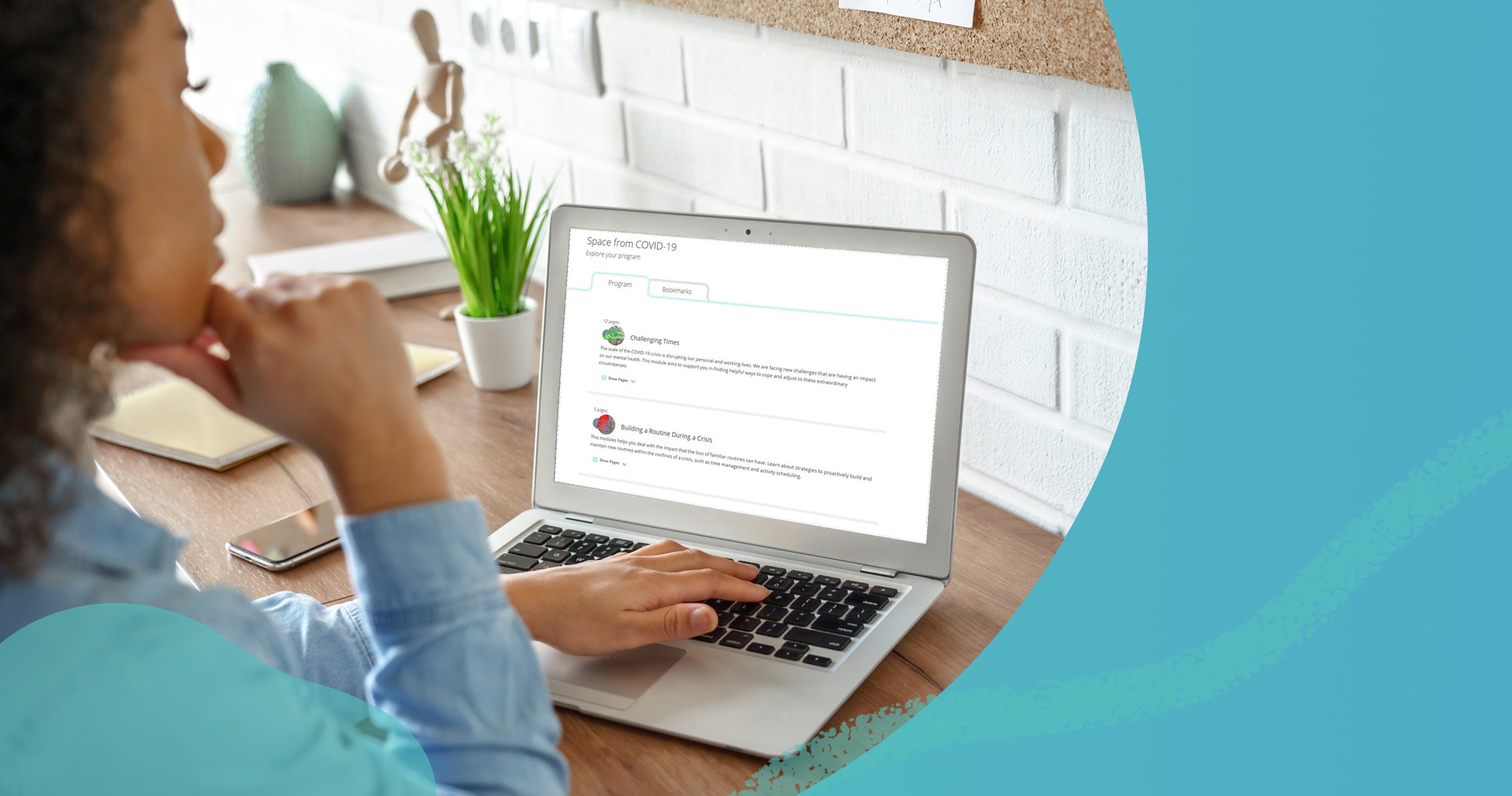 By Prof John Sharry, Co-founder and Clinical Director of SilverCloud Health and Adjunct Professor of Psychology at University College Dublin.
As the COVID-19 pandemic drags on, many people have dealt with their lives being turned upside-down. Many families have experienced illness, and some have lost loved ones to the disease. Many others have lost their jobs or are working under extra pressure and stress, and everyone is experiencing the pressures of lockdown, restriction, and social isolation.

The COVID-19 pandemic has been the first global mass trauma event for several decades. It's arguably the first of its kind since World War Two and the first of such severity in many of our lifetimes. Having to adjust - on a psychological and a practical level - to new and strange circumstances, as well as dealing with a lot of uncertainty on a daily basis, can put a strain on you and your mental health. 
As we enter the second year of COVID-19 disruption and restrictions, mental health problems such as stress, anxiety, and depression are increasing. While people may have coped initially during the first lockdown, they may now be experiencing psychological fatigue and frustration as the crisis goes on. The arrival of vaccines brings hope, but the crisis is far from over.

Space from COVID is a positive mental health program designed for people impacted by COVID-19. It can be used by anyone who has been affected by the crisis, including parents, frontline staff, people in self-isolation, and those affected by illness and loss.
Drawing on research about what helps people in an emergency, Space from COVID aims to promote a sense of safety, calm, self-efficacy, connectedness, and hope, both in individuals and in communities. The program is based on Cognitive Behavioral Therapy and provides structured support to help you improve your quality of life by addressing challenges such as those listed below.
Building Routine in a Crisis
The first module helps you to understand and combat some of the general worries associated with the COVID-19 pandemic. It aims to remind you that it is normal and expected that you might be experiencing difficult emotions. It encourages you to check in with yourself, focus on what you can control, and practice self-care. Building A Routine in A Crisis acknowledges the impact that the loss of familiar routines can have. This module helps you to establish a routine that gives your daily life more structure to ensure you are coping and thriving.
Sleep Difficulties
Sleep is an often-overlooked cornerstone of mental health, more pertinent now than ever. This module looks at sleep hygiene techniques that can help you to develop, restore, and maintain healthy sleep habits. A number of evidence-based techniques can be utilized to break the cycle of sleep disturbance so you can restore a healthy sleep pattern. Within the module, you are offered advice on how to create a more relaxing sleep environment and develop positive behaviors to encourage a healthy sleep cycle.
Relaxation
Relaxation is a physical state of deep rest that can be characterized by a sense of calm, low muscular tension, and low blood pressure. Relaxation has many benefits, including the reduction of symptoms of anxiety and stress and the improvement of mood. Relaxation can also have positive impacts on insomnia and pain. The relaxation tools in this module are accessible and easy to use. Everybody deserves the chance to unwind!
Mindfulness
Mindfulness is the practice of paying attention without judgment to the present moment experience. Practicing mindfulness has been shown to have many benefits, such as promoting self-awareness and positive emotional states as well as reducing stress through the development of healthy coping strategies. Since its initial use in therapeutic settings, mindfulness-based practices have been shown to be beneficial in a variety of physical and mental health difficulties. Come to this module with an open mind! The exercises are straightforward and enjoyable.
Grief & Loss
For those who have experienced loss during the COVID crisis, this module helps you understand your emotional response to loss and to reflect on your own unique and changing grief responses. The module helps you to develop healthy ways to express your feelings and rebuild your life. This module helps you to move forward from your grief by planning ahead for triggers and anniversaries. It encourages you to reflect on what you value most in life and how you can best remember the person you have lost.
Money Worries
Research shows that financial difficulties increase the risk of anxiety, poor overall mental health, and alcohol dependence over time. This module helps you to understand how your financial difficulties are impacting your mental health and vice versa. This module empowers you to reverse patterns of financial avoidance and impulsive spending and replace them with more active and helpful ways of coping.
Space from COVID aims to support you in finding helpful ways to cope and adjust to these extraordinary circumstances. It equips you with tools to manage the worries you have and instills a healthy sense of optimism. One of the bravest things a person can do is to reach out and ask for help! If you are suffering right now, know that you are not alone and that there are resources out there to help.