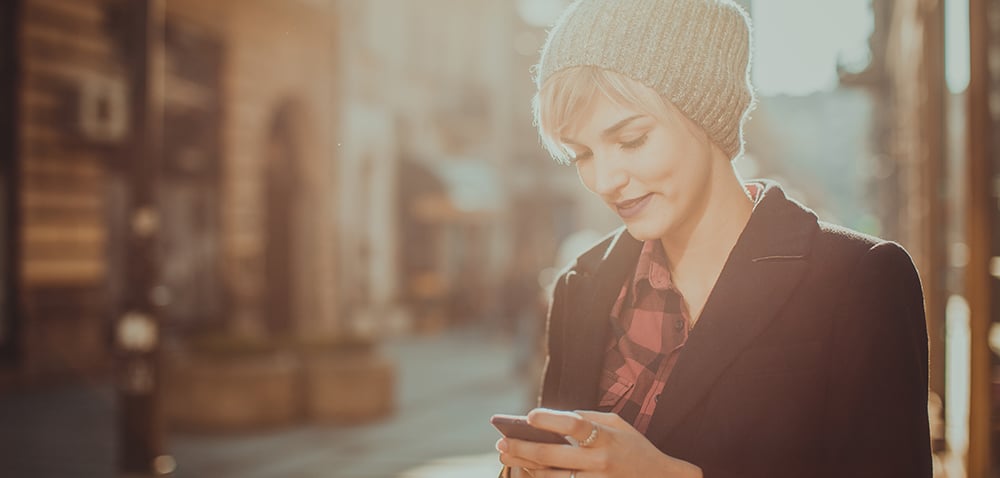 We've all felt the negative effects of the pandemic -- social isolation, work changes, financial insecurity, parenting and caretaking issues -- and the list goes on. These challenges have amplified mental and behavioral health conditions such as depression, anxiety, and substance use disorders.
In fact, according to a report published by the CDC and Prevention (CDC), in late June 2020, 40% of U.S. adults surveyed expressed they were struggling with mental or behavioral health issues.
Before these official findings were published, at the beginning of the COVID-19 outbreak, the SilverCloud team realized there would be an increased need for mental healthcare services. We also knew that as a provider of online behavioral healthcare services, we were in a unique position to help as many people as possible.
SilverCloud's Response to COVID-19 Challenges
The first step: tapping into our network of global users of our digital mental health platform, as well as our customers, and asking how best we could help them. Their responses led to two major initiatives.
Increasing

Access to Mental Health Services for Frontline Workers and Their Families

.
Our customers reached out proactively to this group to provide them with free of charge access to self-help programs for sleep, resilience, stress, and a new COVID-19 program.
Developing a COVID-19-Specific

Program to Support Mental Health

.
SilverCloud's product team worked to fast-track a new module called "Challenging Times" to help people deal with the unprecedented issues related to the pandemic. This, along with a broader COVID-19 program, supports people experiencing pandemic-related stress, worry, sleep issues, bereavement, isolation, and work-life balance. The program and module were released on April 14, 2020.
During the height of the pandemic, SilverCloud new user sign-ups reached 40,000 per month, an increase of 400%. To date, since the outbreak of COVID-19, SilverCloud has received over 190,000 new user sign-ups.
Helping Healthcare Providers During the Pandemic - OSF Healthcare
SilverCloud customer OSF HealthCare is based in Peoria, Illinois, and serves nearly three million people in Peoria and surrounding areas, from mid-size cities to rural populations.
Even before the pandemic, OSF Healthcare was utilizing SilverCloud to address:
Wait times to access behavioral health

Difficulties with transportation and travel to appointments

Provider shortages
"Gaining access to behavioral health services remains a challenge for people nationwide," said Luke Raymond, Director, Behavioral Health, OSF Healthcare System. "SilverCloud gives us the opportunity to reach anyone in our service areas seeking treatment for common mental health disorders."
SilverCloud programs provide individuals with immediate access to behavioral health programs that have been backed by two decades of research. The user-friendly digital platform is designed with the help of in-house clinical psychologists to help manage the causes of depression, anxiety, and stress from the comfort of home.
The SilverCloud service model includes working with, instead of diverting from, existing services. At OSF Healthcare, the SilverCloud platform is integrated into Community Care and Secondary Care pathways.
Community Care Pathway
Anyone who is 18 years old or older and lives in an area served by OSF HealthCare can enroll in the SilverCloud depression, anxiety, depression/anxiety combination, or stress management treatment programs. The depression and anxiety programs come with a Behavioral Health Supporter, who can help individuals through the program and provide extra support if needed. However, anyone can choose to work through the programs as self-help without clinical support.
"The ability to enroll patients immediately and identify a need rather than having them call or schedule an appointment breaks down one of the major barriers to access," Raymond said. "With SilverCloud, we can reach patients we otherwise would not have been able to reach before."
The SilverCloud platform is integrated with OSF Healthcare's website chatbot "Clare" to screen and capture individuals who flag for risk of depression or anxiety.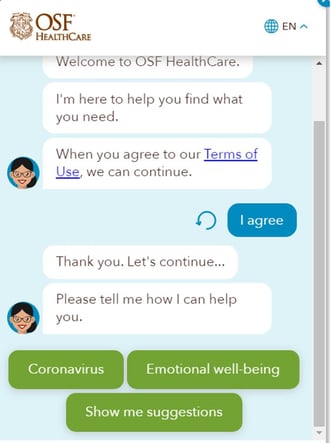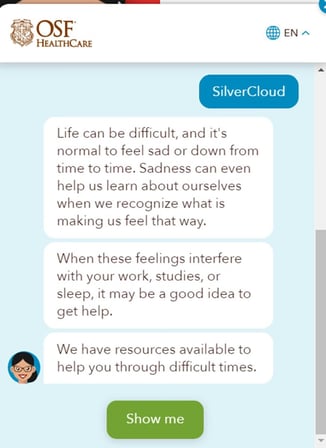 Secondary Care Pathway
Lengthy waitlists can lead to patient leakage and greater complexity, longer treatments, and increased healthcare costs. SilverCloud's platform is a key part of the OSF Healthcare strategy to address these challenges and provides the following:
A waitlist option to reduce patient leakage

A tool to reinforce learnings and improve outcomes between face to face therapy sessions

A means of follow-up care for patients who have been through inpatient or outpatient treatment
Increasing OSF User Access to Mental Healthcare During the Pandemic
OSF worked with SilverCloud to increase mental health support during COVID-19.
During the early stages of the pandemic, the marketing team at OSF Healthcare set out to increase awareness and engagement with SilverCloud. They developed a multi-faceted campaign to help reduce the stigma around mental health and normalize the issues around COVID-19.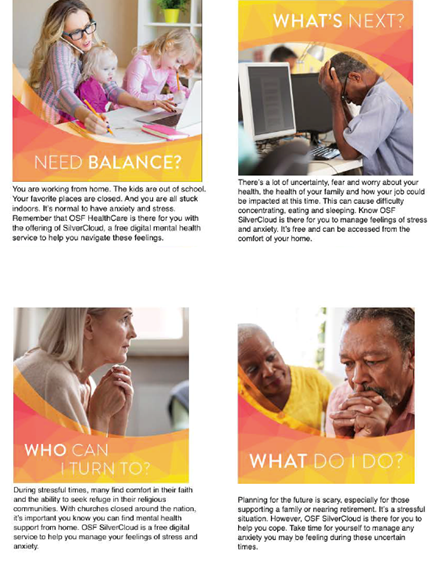 Their digital campaign included paid social advertising that allowed them to target specific groups of people. As a result, OSF Healthcare saw a 300-400% increase in monthly SilverCloud enrollments during the main lockdown months, March through May, and a 200% increase during June, July, and August.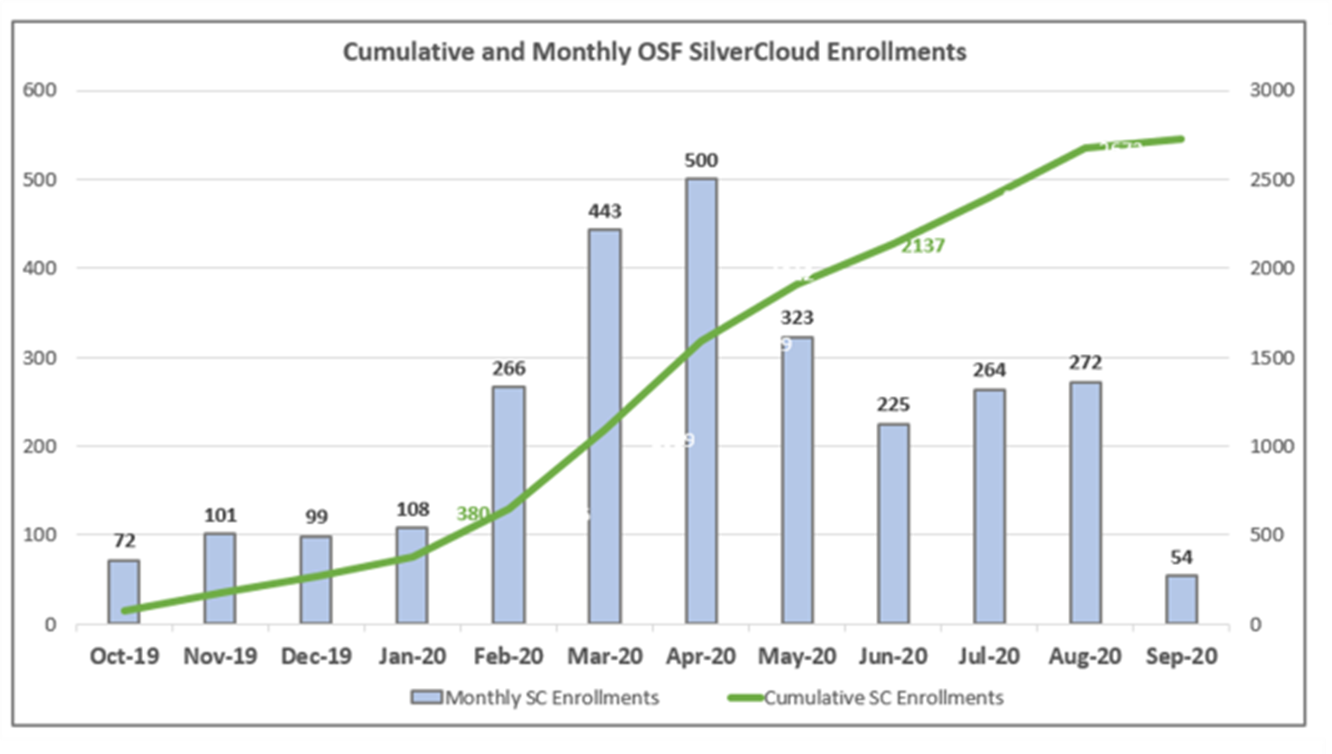 OSF Healthcare also made the Challenging Times module available to all users.
In addition to supporting service users, OSF Healthcare and SilverCloud worked together to provide immediate access to wellbeing support for all OSF Healthcare employees during the pandemic. A dedicated site was launched, providing free of charge access to self-help programs for sleep, resilience, stress, and COVID-19. Marketing materials, including posters and screen displays, were created and used to generate awareness.
To date, 298 employees have signed up and are actively using the self-help programs.
In addition, SilverCloud's flagship mental health program for adolescents is being rolled out to local schools in the Peoria area.
Impact of SilverCloud Programs for Users at OSF Healthcare
SilverCloud's digital therapy programs at OSF Healthcare have resulted in significant improvement for individuals experiencing moderate to severe levels of anxiety and depression, including:
Anxiety*:
67% clinically significant improvement (3 points+) for those with moderate symptoms

63% clinically significant improvement (3 points+) for those with severe symptoms
*measured by the Generalized Anxiety Disorder 7-item (GAD-7)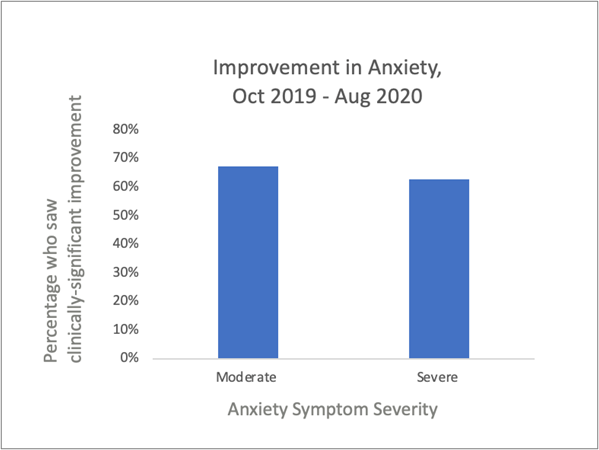 Depression*:
55% clinically significant improvement (3 points+) for those with moderate symptoms

71% clinically significant improvement (3 points+) for those with moderately severe symptoms

72% clinically significant improvement (3 points+)for those with severe symptoms
*measured by the Patient Health Questionnaire (PHQ-9)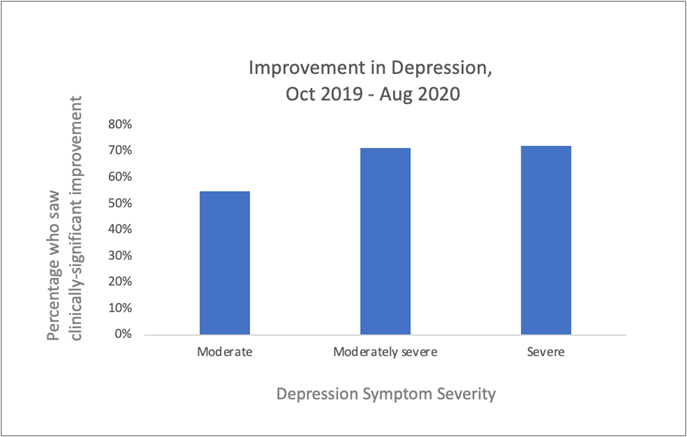 User Engagement:
97% user satisfaction

Individuals are spending one to three hours interacting with content (across all severity levels)
These outcomes reinforce both the effectiveness of the platform and the open-enrollment modality. Users show clinically significant improvement despite having no upfront screening. This is particularly relevant given the accelerated demand for remote mental health treatments.
How You Can Help
Even before the pandemic, mental healthcare providers faced significant challenges: stigma, access, and cost are all sizable barriers to care. With further shortages in services a possibility as providers face the economic challenges of the pandemic, we are at a significant turning point to re-evaluate and recalibrate how technology can be used to ensure the most effective delivery of services.
Real-world results and clinically led randomized control trials (RCT) have demonstrated that SilverCloud's programs are effective, engage patients, and provide positive clinical outcomes that are on par with face-to-face therapy.
At SilverCloud Health, our goal is to empower every individual with useful mental healthcare they can control and to provide accessible care delivery for providers.
Won't you join us?