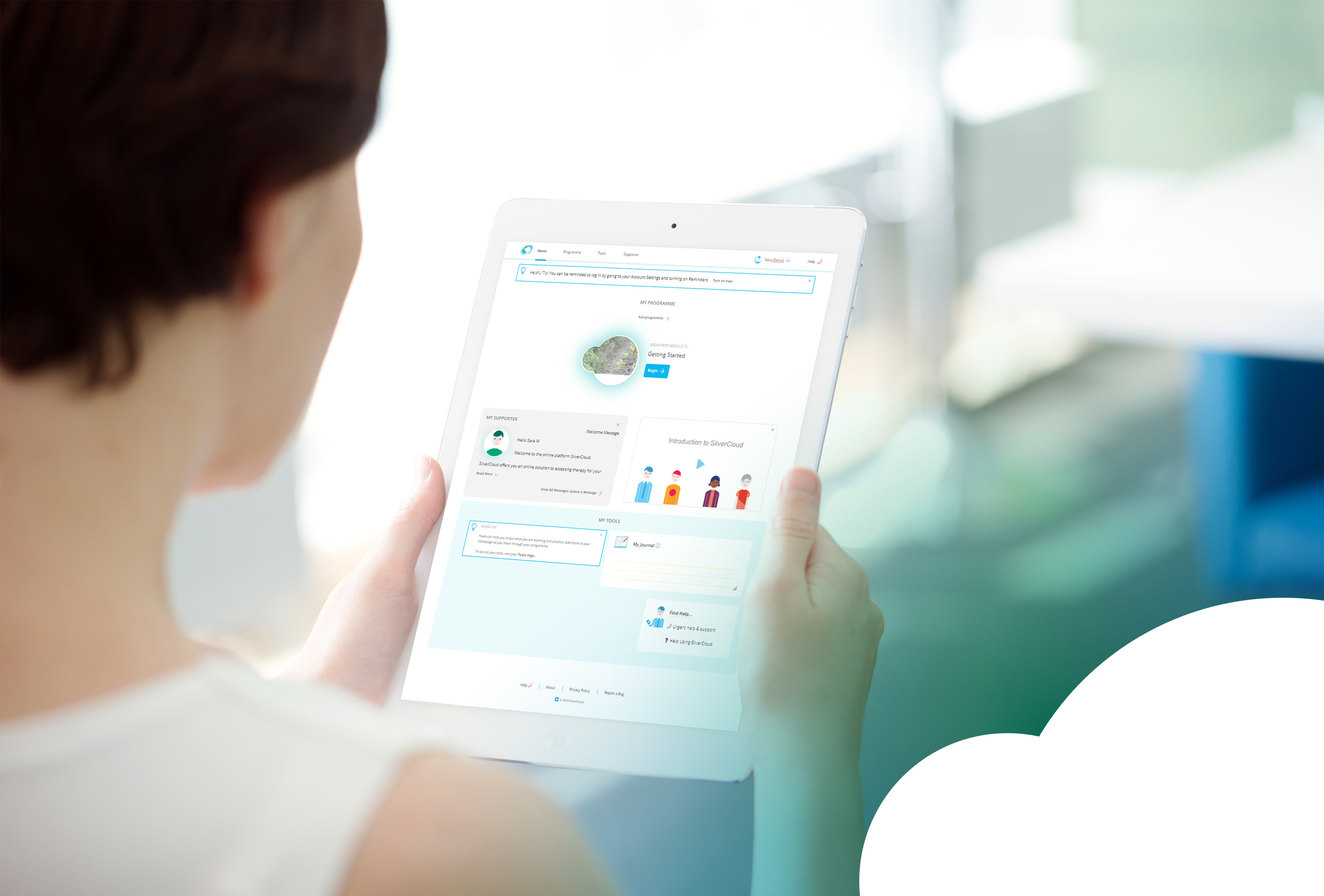 As the of number of Americans who struggle with mental illness rises to the millions, it is critical for clinicians to reach patients and get them invested in their recovery. Digital Health platforms can help with on-time communication tools and structured cognitive behavioral health instruction.
Increasing Patient Engagement through choice
Patients are much more likely to be engaged with their mental healthcare if they are given options. Digital health platforms give patients choices on how to address their care by offering them self-directed programs, support through their online therapist, and immediate access across devices. The SilverCloud Health platform is proven to provide stronger engagement rates (up to 3xs more) than our competitors by employing this range of tools.
Improve outcomes and quality of care through personalization.
Digital platforms drive positive outcomes across the continuum of care by offering evidence-based programs that adjust to the user
Health Systems can diagnose, treat, and drive better clinical outcomes, as much as a 60%+ recovery rate, across their patient population with an all-purpose tool like SilverCloud. Over 30 evidence-based programs cover the spectrum of mental health and chronic disease. The programs can then innovate to the user's needs, which keeps them engaged throughout the course of treatment.
Depression is as costly as heart disease or AIDs in the U.S. Economy, both in treatment and how it affects workplace productivity.
Successful treatment of depression or other mental health conditions is critical to a vigorous economy
A recent analysis by the American Psychiatric Association Foundation found that about 7 percent of American workers have depression. That translates into $210.5 billion per year in total costs in treatment and loss of revenue. Digital Behavioral Healthcare is at the forefront of treating more patients for the same money. If we can lower the rate of untreated mental illness by making it easily available and allowing less healthcare professionals to reach more patients, then we would start to lower the cost of healthcare. In addition, a clinician's time can then be spent on the more challenging patients, who need more one-on-one attention over a longer period of time.
SilverCloud Health's mission is to make people healthier by providing effective, accessible and affordable behavioral healthcare opportunities, filling a massive void in the market today.
SilverCloud Health users talk about their engagement with the program
SilverCloud continues to research and improve the program in order to carry on pioneering digital behavioral health. Our success is evident in our user's words of self- empowerment: "…the whole course, even just sitting down and doing it puts you in a frame of mind of taking charge; …I would have taken a Xanax for them [panic attacks] while now even if I have a mini one I just know I wouldn't need one I just feel a stronger person…and know it's going to pass." And how they engage in their own care: "…what you do on the course, it doesn't end with you, you pass it on, so it becomes part of your language; I can kinda stop my feelings in their tracks a bit…"
Why Choose SilverCloud
SilverCloud is the leading provider of online mental health and behavioral healthcare solutions delivering evidence-based content, tools and supportive programs to over 220 partners
SilverCloud provides one platform covering many different behavioral health conditions and patient severity types to include chronic and comorbid conditions
Over 15 years clinical research on internet delivered therapeutic interventions
Full clinical Randomized Control Trials (RCT) showing outcomes equivalent to face-to-face
Strong research pipeline – currently 15 clinical trials in 6 countries
Delivers a personalized approach with customized content and appropriate levels of health coaching.
The platform flexes around a provider's specific care delivery needs and clinical care pathways
Download our Guide about the relationship between patient engagement and outcomes