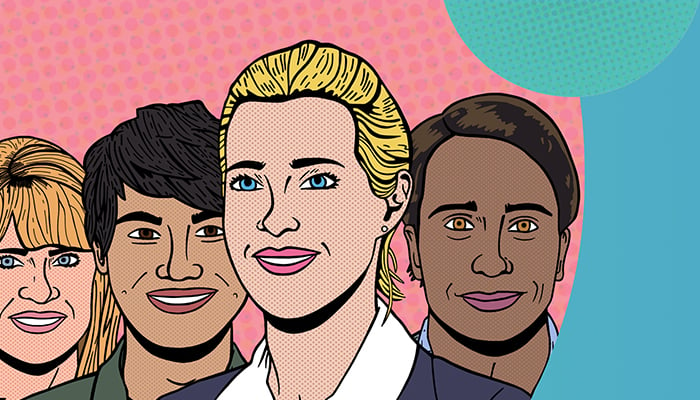 As CEO of a mental health services company, I encourage our SilverCloud team members to talk about mental health and wellbeing every day. But the stigma around discussing mental health still exists. We've still got work to do.

The advent of Mental Health Awareness Month in May, however, gives us an added opportunity to provide information and inspiration. That's why I'm excited to announce the launch of SilverCloud's "Mental Health Superheroes" series.
Real People, Real Stories



Our team's goal is to create more opportunities for conversations about mental health and wellbeing. We'll be sharing the stories of mental health superheroes, both inside and outside of SilverCloud, shining a light on their great work and inspiration, with the common goal of helping everyone live their best life.
Share the Mental Health Awareness journey with us as we post these stories. The more we know, the more we're empowered to be our best selves.
Sincerely,
Ken Cahill, CEO
Our First Superhero - Michelle McGill, Head of People, SilverCloud
Michelle began working at SilverCloud in 2018, and, due to the pandemic, all five of her family members (Michelle, her husband, two sons, and daughter) shifted to working and schooling at home in early 2020.

In addition, like many of you, early in the pandemic, Michelle was tasked with supporting the movement of SilverCloud employees across Ireland, the UK, and the US to a fully remote working option; most of the Irish and US teams were office-based.

Not only is Michelle a strong advocate for employee wellbeing and mental health, but we thought it would be useful to share a peek behind the curtain of how a company that offers mental health services supports the mental health of its own employees.

SilverCloud: Michelle, let's get started by telling everyone what you do at SilverCloud.
Michelle: The Head of People's role is to lead the design, implementation, and evaluation of best-in-class people strategies that support SilverCloud in achieving its organizational goals. And yes, I spent a few minutes putting that wording together!
SilverCloud: Let's jump right in and discuss the connection between best-in-class people strategies and employee wellbeing and mental health.
Michelle: As a company, we spend a lot of time getting employee feedback through quarterly surveys and continuously tweaking our policies and programs to support our employees.
SilverCloud: What kind of questions do you ask in employee surveys?
Michelle: We have introduced quarterly engagement surveys. These are a pulse check about how the team is feeling. They help us get a sense of what we are doing well and identify areas where we need to improve. One of the questions asks employees to rate their work-life balance. We conducted a 'Working from Home: How can we help' survey in February 2021 (one year into COVID-19 restrictions), as we knew our employees were dealing with more mental health issues due to COVID-19 and working remotely, and we wanted to know if the initiatives we had introduced early in the pandemic were still appropriate 12 months later.
SilverCloud: What actions have you taken to handle some of those challenges?
Michelle: Here are some.
Communications:
COVD-19 has reminded us that everyone is dealing with some challenge or another. At SilverCloud, we stress the importance of 'being kind,' particularly when it comes to how we communicate with each other.

Managers are encouraged to actively listen to the needs of their teams, providing flexibility when necessary, such as when parents are struggling with childcare issues.

Leadership recognizes that there are areas for improvement, and we are working on them. From a workplace wellbeing perspective, as I say, it is important that people feel heard and have the ability to take action on something. Examples of this include the establishment of a Communications Taskforce and a Diversity, Equity, and Inclusion (DEI) DE&I Working Group to address some of the areas that we felt needed attention.
Social and Self-Care:
Prior to the pandemic, our offices in Boston, Dublin, and the UK had many company-sponsored events and informal get-togethers that our employees loved. Our surveys showed that employees really missed the camaraderie of the office. We are blessed to have an incredible social committee that has created some incredible virtual events. The ones that our employees are enjoying most are company-wide bingo and quiz nights, where we also offer prizes! We host them early in the evening in Ireland and the UK, which means that they are a good afternoon break activity for our U.S.-based employees.

We introduced monthly Wellness Days, and we encourage people to take a day off on a Friday or Monday to create a long weekend. The key is this should be a day where NO WORK is done, and employees are taking extra time for themselves to do what they enjoy. As this is a company-wide initiative, the feedback has been really positive. People who typically would have difficulty taking time off for their own self-care are now welcoming this time to unwind.

All employees have access to at least some of our SilverCloud modules, including Space for Resilience.
Workday Stress Relief:
Every two weeks, we have 'No Meeting Thursdays,' where we don't schedule any internal meetings, so employees can have time to focus on core activities or workstreams and as a balm for video call burnout.

Our meeting policy is now that 30-minute meetings be shortened to 25 minutes, and 60-minute meetings are reduced to 50 minutes to allow for breaks between meetings.

We have made video optional for internal video chat meetings to reduce the stress of being 'on camera' all the time.

We promote informal online chat meetings to relax and wind down with the team.
New Hires:
We're growing quickly, and onboarding in a new company is daunting enough, let alone doing it remotely. To ease that process, we have instituted a 'buddy system,' where we appoint a 'buddy' from another team to answer questions and provide introductions to team members.

We include a 'Reflections Sheet' in our onboarding packets for new employees to record what worked for them during the day and where they need support. These issues can be shared with managers or HR at the new employee's discretion.
SilverCloud: As we look forward to a time beyond COVID-19, what employee wellbeing initiatives do you think will be important for companies to implement?
Michelle: Once we can get together in person, it will be important for the mental health and wellbeing of employees to experience the positive feelings of being around others and being part of a team. So, I think we'll be doubling down on in-person team-building activities, social events, and public recognition programs. I also believe that some programs that we launched during the pandemic should be continued. For SilverCloud, that would include monthly Wellness Days, No internal meeting Thursdays, the new employee buddy program, and new onboarding Reflections sheets.

We also need to address the fact that the future of work has changed: it will be a hybrid of office and remote. The ways we have communicated while our workers were fully remote may need to change. We may reduce the number of virtual video calls and add in on-site meetings. We haven't figured everything out yet - it's a work in progress as people and situations are always changing. The goal is for us to always work to get it right. We've made great progress, but there is still more to be done.

IThe rest of the HR team and I look forward to continuing our open-door policy virtually and eventually in person. We are always here to help or for a quick catch-up if needed.

Keep Checking in for More Stories About Our Mental Health Superheroes!