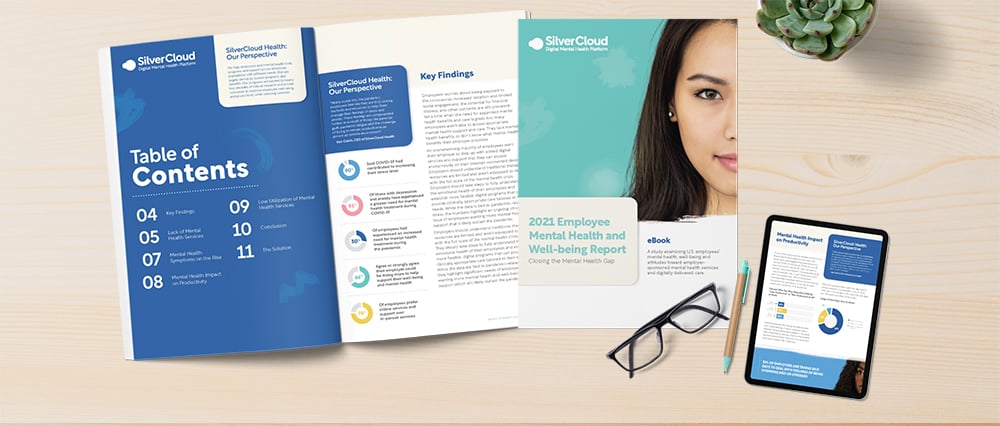 As we approach the one-year anniversary of the COVID-19 outbreak in the U.S., it's clear that the pandemic has increased mental health challenges.
"We have had many conversations with Human Resource Directors, Employee Assistance Program providers, and other corporate wellbeing team members, and they all say the same thing," says Ken Cahill, CEO of SilverCloud Health. "Mental health issues are greatly affecting employees, and these challenges will likely continue for years to come."
To help SilverCloud customers quantify the effects of COVID-19 on their employees' mental health and productivity, we decided to survey employees around the country.
The results showed that the impact was more substantial than we imagined.
2021 SilverCloud Employee Mental Health and Wellbeing Survey
In January 2021, SilverCloud Health commissioned a survey through a third-party research firm of 1,288 U.S.-based, full-time employed adults. Researchers ensured a representative and diverse sample using the U.S. Census balance for different age groups, income levels, races, genders, relationship status, geographical regions, and more.
A comprehensive analysis and discussion of the survey results are available in our 2021 Employee Mental Health and Wellbeing Survey Report.
Following are highlights that affect companies and Employee Assistance Program (EAP) providers:
COVID-19's Impact on Employee Stress Level
Not surprisingly, our survey results confirmed COVID-19's impact on employees' mental health. Here are some of the takeaways:
90% of employees said COVID-19 had contributed to increasing their stress level

30% of employees experienced an increased need for mental health treatment during the COVID-19 pandemic

81% of those with depression and anxiety experienced a greater need for mental health treatment during COVID-19
COVID-19's Impact on Productivity and the Financial Implications
A whopping 38% of survey respondents reported missing time at work due to COVID-related stress.
We crunched the numbers and found that the time missed by these employees is equivalent to 6.7% of all hours worked, or an average of over a half-hour per day for every employee. As the survey respondents had average annual earnings of $87,000, this equals a loss of almost $5,800 per year for every employee.
For an employer with 5,000 employees, this equates to lost productivity of $120,000 per day or over $28 million per year.
What Employees Want
Employees in our survey clearly wanted more help dealing with their increased mental health challenges. In fact, 66% of respondents agreed or strongly agreed their employer could be doing more to help support their wellbeing and mental health.
Traditionally, companies and EAP providers would turn to one-on-one, in-person employee counseling providers as their mental health solution. Yet, even prior to the coronavirus outbreak, there was a shortage of in-person mental health counselors. The pandemic has shone a spotlight on this issue.
A useful chart has been created by KFF to track the percent of mental health needs met by in-person providers by state. As of September 30, 2020, almost every state had an unmet need of at least 50%, including New York (79.4%), Chicago (66.7%), and California (63.3%).
While some in-person providers have shifted to virtual one-on-one counseling, others have not, compounding the shortage even more.
Luckily, there's good news.
According to our survey, 78% of employees prefer online mental health services and support over in-person services.
In addition, six out of 10 respondents said they would be more likely to use their mental health benefits if they could access their benefits at any time from their smartphone or other devices.
An Online Mental Health Program for COVID-19 and Beyond
SilverCloud is an easily scalable digital solution that relieves a significant burden from health systems while offering a clinically effective resource for patients who are struggling with mental health symptoms or are at risk for developing these conditions. Our global science and counseling teams have continued to create programs that not only speak to general mental health issues, but ones that have come to the forefront due to COVID-19:
In April 2020, SilverCloud's product team fast-tracked a new module called "Challenging Times" to help people deal with the unprecedented issues related to the pandemic, along with a broader COVID-19 program to support employees experiencing pandemic-related stress, worry, sleep issues, bereavement, isolation, and work-life balance.

On February 9, 2021, SilverCloud launched a new module titled "Money Worries" with the help of an expert on financial difficulties and mental health, Dr. Thomas Richardson, a Clinical Psychologist and accredited Cognitive Behavior Therapist. The module helps employees struggling with a variety of financial challenges, including paying bills, dealing with debts that have built up during COVID-19, and more.
The best part? SilverCloud programs include over 18 years of clinical research, with 85% of users showing decreased depression and anxiety symptoms. Our mental health programs are used by hundreds of organizations globally, including the American Medical Association, Froedtert, St. Luke's University Health Network, OSF, Kaiser Permanente, and Yale Medicine.
Next Steps
Interested in learning how to meet your employees' mental health needs while saving money on mental health costs, as well as reducing the negative effect of lost productivity on your bottom line?
Find out more about SilverCloud's virtual care platform for mental health and behavioral health support.