Is digital the solution to provider shortages and soaring demand for mental health in the US Health Systems?
Amid provider shortages and soaring demand, US Health Systems feel the crunch of effectively integrating mental health into primary care. This shortage of mental health providers in the United States has been a well-known phenomenon for some time. These include prescribing providers such as psychiatrists, psychiatric mental health nurse practitioners, psychologists, therapists, and clinical social workers. This shortage is significantly more evident in rural and other underserved areas, where 60% of American counties are without a single mental health provider, resulting in upwards of 120 million Americans having almost nonexistent access to mental health care.
Even prior to the Covid-19 pandemic, mental health in the United States was at a near crisis level, with increases in opiate overdoses and completed suicides largely responsible for a lowered life expectancy seen for the first time since the Spanish Flu pandemic. Many factors associated with the Covid-19 pandemic such as shared grief and loss, economic pressures, and social isolation have accelerated an exacerbation in mental health concerns including skyrocketing rates in both prevalence and acuity of depression, anxiety, and substance use, adding substantial strain to an already overburdened behavioral health system of care. This has been especially evident among adolescent populations, which have seen significantly higher rates of emergency department visits for mental health conditions as the pandemic has worn on.
Covid didn't create the challenge, but certainly increased it
While Covid has had a very deleterious effect on overall mental health functioning and well-being, it did give rise to the proliferation of startups in digital and virtual mental health. Venture capital poured into digital mental health companies to the tune of over $3 billion USD through the third quarter of 2021. While behavioral health lends itself well to digital and virtual care models and has historically led the way in developing innovative models of care delivery, the massive growth of telehealth providers has created a "double-edged sword" for US Health Systems. These companies have indeed improved access and their consumer focus has improved the patient experience, but they have also created higher demand and competition for behavioral health providers. This has exacerbated health systems' already tenuous ability to recruit and retain a roster of high-quality providers. "Virtual first" employers offer mental health providers remote work opportunities, more competitive pay, fewer administrative burdens, and flexible work hours. All the while, demand for mental health services at health systems has reached an all-time high, forcing health systems to extend their provider networks through partnerships with the very same telehealth companies recruiting away their own providers at a higher cost than traditional employment channels.
In order to meet the increasingly high demand with a decreasingly smaller provider pool, health systems must turn to digital solutions to meet the mental health needs of their patient populations. In addition to scalability, digital solutions can utilize empirically validated instruments to implement measurement-based care and treatment to target, thus allowing health systems to achieve many of their key objectives including shared risk arrangements with payers and delivering on mandated population health initiatives.
What needs to be addressed by health systems?
The massive influx of venture capital into digital and virtual health has created an explosion of available digital mental health solutions and apps. While these offer a number of benefits including improving access and consumer choice, there are challenges and risks that health systems must address in order to ensure safety, quality, and compliance.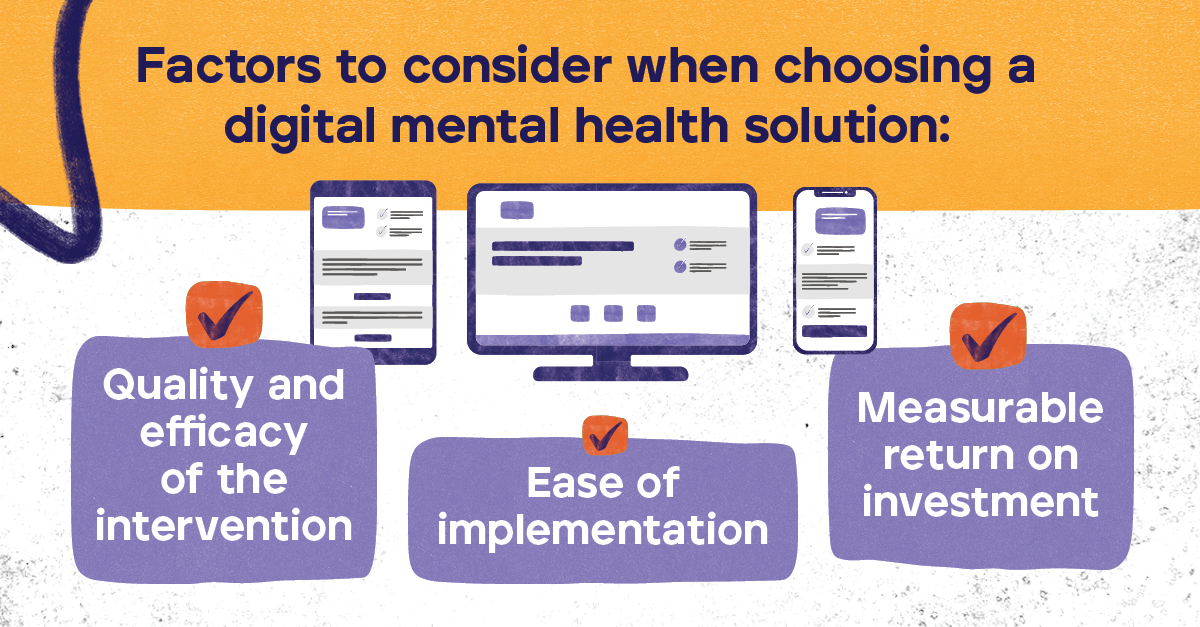 1. Quality and efficacy
First is the quality and efficacy of the intervention. Because the digital mental health space is largely unregulated, many apps have not been empirically validated for safety and efficacy. Fortunately, the American Psychiatric Association has created and distributed an app evaluation model that allows health systems to assess apps for viability and clinical effectiveness. The model includes criteria around access and background, clinical foundations, privacy and security, usability, and data integration toward a therapeutic goal. Health systems, provider groups, and integrated delivery networks should lean into this model when assessing the feasibility of launching a digital mental health solution.
2. Implementing a digital solution
A second factor for health systems to consider is the ease of implementing a digital solution into their existing system of care including care paths, organizational dynamics, and current policies and procedures. A digital mental health product can have strong empirical evidence as a quality intervention, but if a health system is not sufficiently poised to pilot and scale with sufficient organizational infrastructure, an implementation will be unlikely to succeed. Best practices for the effective execution of a digital health platform include creating cross-functional teams with an engaged executive sponsor, a clinical champion, and a core team responsible for project management, marketing, and communications. Additionally, partnering with a digital mental health company with a dedicated customer success team and a history of effective implementations can greatly improve a health system's odds at successfully executing a digital mental health solution at scale.
3. Scalability for business sustainability
One final consideration for health systems to contend with in launching a digital mental health solution is the extent to which the product can deliver a measurable return on investment. Historically, digital interventions have presented a challenge in that traditional coding and reimbursement modalities have not been broadly applicable. However, recent advances made by CMS including the endorsement of innovative care models as Behavioral Health Integration and the Collaborative Care Model, along with critical decisions around separating telehealth from remote patient monitoring are creating paths forward to CPT-driven reimbursement for digital mental health tools. Additionally, savvy revenue cycle management leaders within health systems can leverage digital mental health platforms as components of community health improvement plans designed to improve health equity and overall population health.
Leveraging an Effective Digital Behavioral Health Solution
In conclusion, the overwhelming demand for mental health services coupled with an ongoing critical shortage of mental health providers has placed US health systems and provider groups in the increasingly perilous position of providing timely and effective mental health care for their patient populations. Leveraging a digital mental health platform can be an effective solution to provide a digital front door entry into the care continuum, provide evidence-based interventions and deliver measurement-based care.
About the Author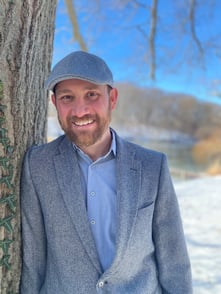 Luke Raymond is Head of US Health Systems Strategic Business unit at SilverCloud Health, the world's leading provider of digital mental health. A therapist by training, Luke has spent time in various clinical and leadership roles in behavioral health with a strong focus on improving access to care, reducing cost and creating effective clinical outcomes. In previous roles, he has led enterprise-wide initiatives that have resulted in 50% reduction in emergency department visits, improved patient and clinician satisfaction, and delivered effective digital care at scale. His clinical interests include ADHD, anxiety and trauma. Luke is a Licensed Clinical Professional Counselor and certified in trauma focused cognitive behavioral therapy and primary care integrated therapy. Luke lives with his family in central Illinois, and outside of work enjoys running, fishing and craft beer.