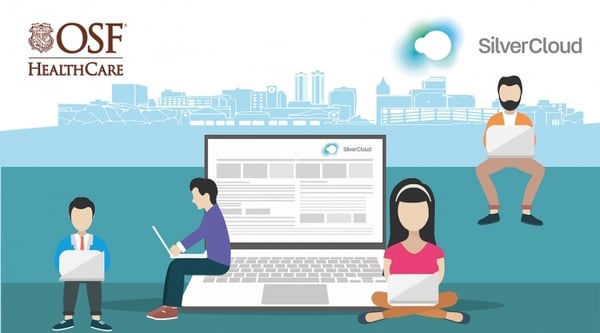 BOSTON, MA, June 6, 2018 - An Illinois healthcare provider solved their patients' access problem as well as provided a valuable service to their community. OSF Healthcare serves Peoria and surrounding areas. Their patients -- especially patients living in rural areas -- were having problems accessing behavioral healthcare services. OSF's solutions was to license the SilverCloud platform not only for their patients but also for the community at large -- whether or not they are an OSF patient.
A newly released case study details OSF's journey with SilverCloud. There is a lot of research and documentation regarding access issues, especially for behavioral health services and rural communities. First, OSF had a solid understanding of their patient population, care gaps and access issues. They knew that in order to bridge that care gap they would need to implement some sort of digital solution. They chose SilverCloud because of its ease of use, its 30+ clinically-validated cognitive behavioral therapy programs, flexible design, and its ability to be incorporated with existing technology. Today, OSF offers SilverCloud for free to its patients and the community.
Luke Raymond, Manager of Behavioral Health Services at OSF HealthCare, said, "The ability to enroll patients immediately and identify a need rather than having them call or schedule an appointment breaks down one of the major barriers to access. With SilverCloud, we can reach patients we otherwise would not have been able to reach before."
By offering SilverCloud's online cognitive behavioral health services to patients and locals, OSF has provided a great service for their patients and community.