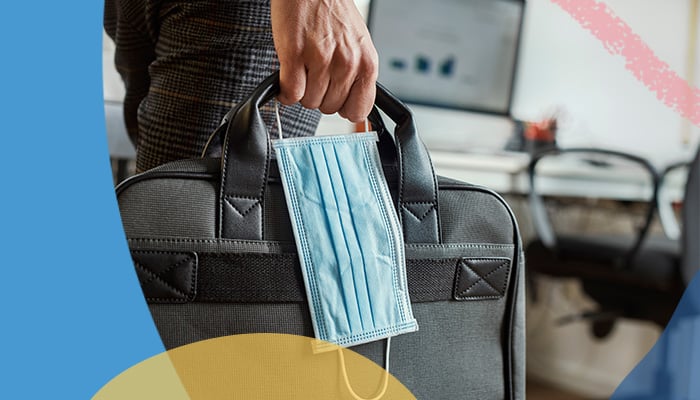 As vaccination rates across the United States rise and CDC guidelines become more relaxed for those who are fully vaccinated, employees are facing the next step – returning to their workplace.
Many of us will return to desks in the coming months that look eerily the same as they did in March of 2020 – daily calendars frozen in the past, papers that are likely no longer relevant to a current project, and likely a coffee mug or water glass in need of washing.
Return-to-office anxiety and stress may feel a lot like the anxiety most of us felt in the early weeks of the pandemic when we were transitioning to working from home and attempting to understand what was going on in the world around us. We saw rapid fire changes to our lives 18 months ago - in the office one day and working from our dining room tables the next and for many people that came with the added stress of having school aged children learning from home.
As we return to our desks and offices it's normal to have a lot of questions – Do I wear a mask? How do I handle being in a meeting room with other people? What's the new standard for greeting people – do we still shake hands? What are my own personal boundaries?
Likely, these questions won't be answered right away and jumping back in all at once may not be feasible for most people, but clear communication and planning will help to alleviate some anxiety.
It's normal to still feel anxious even if you've been vaccinated
Return-to-office may bring about concerns about contracting COVID-19 even if you're vaccinated — what's known as a breakthrough infection — despite being vaccinated. While there are no guarantees, we do know based on the available data that even if a breakthrough infection were to occur, your risk of serious side effects or hospitalization is significantly reduced if you are fully vaccinated.
Having a reliable source of information, like the CDC or a trusted medical provider, will help to ease anxiety. Having a trusted relationship with a medical provider that you can turn to when you have questions is essential. Ask yourself what sources of information you're utilizing and how reliable they are.
Your anxiety doesn't have a timeline
There will certainly be an adjustment period for everyone returning to the office and anxiety levels will differ from person to person. For many of us the biggest adjustment will be transitioning from virtual to in-person work environments - going from a two-dimensional environment to a three-dimensional environment or going from using two senses to using all of our senses may be overwhelming for some people. There may be some anxiety about our physical appearances as well.
Whatever the cause of the anxiety may be, recognize that there's no set answer for how long it may last. Ask yourself: How do you adapt to change or ambiguity, generally? How quickly are those around you adapting to in-person socializing and how much support do you feel you have? Having a sense of these answers may help determine how long feelings of anxiety may last.
Coping with anxiety or feelings of stress
It's completely normal to have anxiety about the transition back to working in the office. To help with this transition, make sure you have all the information you need, like knowing what's expected of you in terms of your working hours or what steps your employer has taken to make your physical space safe. If you're not sure, do you know who you can seek clarification from?
Plan ahead! Start practicing your routine and daily commutes – scheduling these routines back into the day can help us ease back into a normal routine. Feeling like you have a plan in place at home can help you feel less anxious about returning to your office.
Take time to reflect on your boundaries so you can anticipate how you might respond to different social situations at work, like greeting coworkers in the office or grabbing lunch.
Things to consider: Returning to work allows us to see our resilience in how we dealt with the past year. What rituals and activities have you discovered during the pandemic that you'd like to continue? Did you learn anything new or pick up a new hobby? What opportunities do you have to work with new colleagues? Thinking about what we may have gained and what new opportunities may be ahead of us may help to ease anxious thoughts or feelings.
What's next?
Investigate whether your employer has an Employee Assistance Program (EAP) and if it offers behavioral or mental health assistance.
Silvercloud Health helps thousands of organizations address unmet behavioral and mental health needs among their employees and their family members.
We support employers by providing various behavioral and mental health tools, programs, and coaching to improve employees' mental health and, ultimately, employers' ROI.
With more than half a million users globally, Silvercloud is the leading digital behavioral and mental health solution.