In this three-part series, we begin to take a look at how recent innovations in digital mental health platforms act as both a technology enabler and a care services extender in collaborative care environments. In the first of this series, we looked at the effectiveness of the collaborative care model and its potential to increase referrals to digital mental health apps. This blog, the second of this series will focus on the impact of utilizing digital mental health frameworks across patient-centered teams, holistic care delivery, and measure-based care. A follow-up article will focus on the impact digital mental health frameworks have on population-based care, evidence-based care, and accountable care.

Collaborative care (CoCM), developed at the University of Washington AIMS Center, is a specific type of integrated care that has been validated by more than 90 randomized controlled trials across diverse populations and for patients with numerous behavioral health and comorbid medical conditions. Collaborative care has been shown to be effective at integrating behavioral health care with a patient-centered team approach providing evidence-based treatments for patients across the continuum.
A Digital Framework for CoCM and Behavioral Health Integration (BHI)
The integrated model chart below shows how digital mental health platforms, like SilverCloud, provide both technology enablement and a broad scope of services to help scale behavioral health within primary care settings to treat mild to moderate mental illness. From self-management through to psychiatric care, digital mental health platforms can facilitate, automate, and perform many of the collaborative care tasks, while expanding service capabilities.

Digitally Driven Integrated Primary Care and Behavioral Health: How Technology Can Expand Access to Effective Treatment: Lorain Rainey, John Torous et al.


Integration of Digital Health Coaches in a Collaborative Care Team
Health coaches play an important role in collaborative care teams, especially for patients with complex needs. They become particularly important when used as the front line of care using evidence-based practices, health coaches work with patients to co-create a care plan. They also help build skills to tackle their emotional and physical conditions and improve their confidence in self-managing their care. An example of real-world impact is a health coach using SilverCloud's evidence-based programs and tools. This works exceptionally well to drive down PHQ9 with an average of 65% of patients showing clinically significant improvement.

Coaches are also an effective tool for creating care capacity in primary care. Working with care managers, they can perform weekly caseload reviews to evaluate patient progress and determine if further interventions are warranted. This, in turn, improves care efficiency with patients being stepped up or down to appropriate care paths. If stepped up to therapy, coaches still can play a critical role in empowering patients to engage in self-management activities between sessions as well as send reminders and provide motivational guidance.
Treat Every Chronic Condition as a Mental Health Condition
The below graph acutely puts into perspective the difficulties of treating chronic conditions without addressing coexisting mental health issues. While the financial impact is evident, the contributing factors being driven by untreated mental health conditions are protocol non-compliance, medication mismanagement, deteriorating mental and physical health, and increasing care resources (team/tests/treatments) to name a few.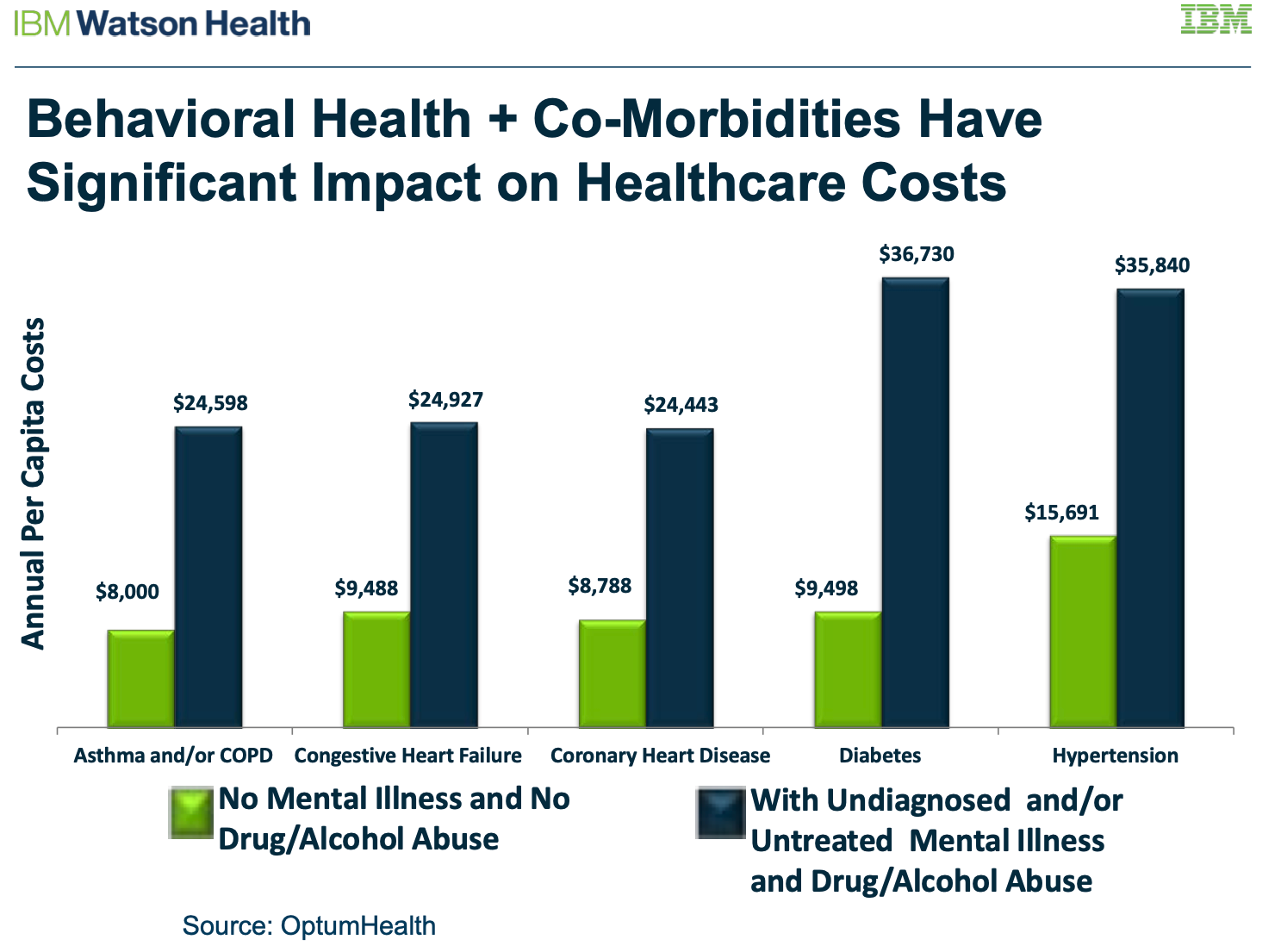 IBM Watson Health: The Rewards of Integrating Behavioral Health & Mental Health into Primary Care and the PCMH 2.0

A digital health framework can deliver more equitable access, support to address care disparities, and deliver enhanced holistic care where and when needed to improve patient outcomes while reducing the cost of care. One of the most cogent benefits of offering a digital health platform, like SilverCloud, is that it helps to address the low health literacy many chronic patients have in regards to their mental health.
Those with undiagnosed mental health conditions can be quickly assessed and provided with educational and therapeutic content that can have an immediate impact on their health and treatment compliance, with the desired effect of decreasing hospitalizations. The ability to quickly scale behavioral health services to chronic care populations presents a compelling proposition, one in which plans are increasingly leveraging as in-person care has transitioned to more mainstream virtual care services.
Measure-Based Care is Value-Based Care
Digital frameworks in collaborative care offer the biggest bang for their buck in terms of integrating behavioral health with measure-based care practices across large and diverse populations. The value is extended with electronic health record (EHR) integration to track quantitative measures in a range of treatment programs. Digital mental health platforms can act as a BHI engine that helps accelerate care. They do this by combining assessment tools, workflow automation, consumer engagement mental health solutions, and applied AI to both extend care services and capture critical health information on a consistent and timely basis.

Charting clinical measures (PHQ9/GAD7) and other rating scales over time provides actionable insights that show how the patient is responding to treatments. The real-time data capture and digital dashboard displays, of which SilverCloud is one of the few digital mental health platforms in the market to provide enable care teams to make better, quicker, and more informed decisions for providing the best possible care for their patients. Scaling mental health remote monitoring services with measure-based practices improves patient screening, extends care impact, and captures care intelligence that is becoming the basis for value-based care models.
Conclusion
Digital frameworks in collaborative care settings have a tremendous opportunity to make care delivery simpler, faster, more efficient, and more effective. They show one of the greatest abilities to deliver economies of scale in care services and bridge the gap in whole health delivery by bringing mental health care access closer to all patients, meeting them where and when they need it most. The benefits of digital mental health platforms, that support this framework, fill the operational, performance, and efficiency gaps that are needed to address Value-Based Care, a key component of CoCM.
1 Northeast Business Group: Digital Tools and Solutions for Mental Health