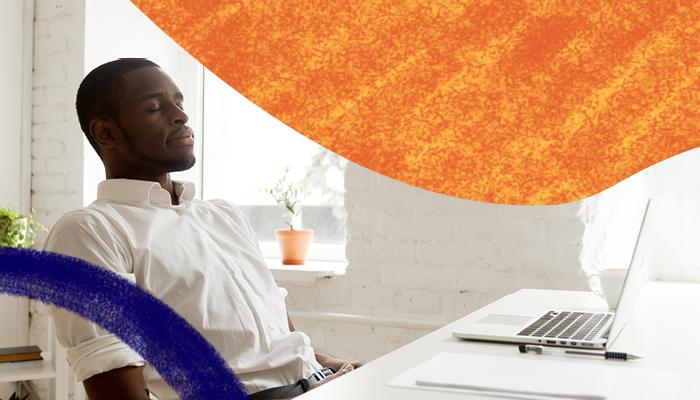 Stress is a natural part of life. Whether it's caused by work demands, personal challenges, or global events, everyone experiences negative stress at some point in time. The COVID-19 pandemic has taken a massive toll on employee's behavioral health and wellness. In fact, in the past year alone, about half of Americans reported experiencing a major stressful event. Thankfully, the workplace can actually be an extremely effective force for good when it comes to reducing employee stress levels. Building resilience helps employees better adapt in the face of adversity and stress.
Resilient individuals not only survive stress-inducing life events, but they learn and eventually grow from them. Even though they aren't immune to experiencing challenges at work, they are better equipped to cope with them. While some people are naturally more resilient than others, there are many ways one can practice and strengthen their resilience for the long term.
1. Practice Mindfulness in the Workplace
Mindfulness teaches employees to be fully present in the moment, acknowledging their own thoughts and feelings without judgment. Mindfulness allows individuals to more rationally approach moments of high stress without projecting fears onto others. It's also an extremely cost-effective stress management technique to learn and practice.
Employers can promote mindfulness in the workplace through workshops and classes, online tutorials, and daily activities such as breathing exercises, journaling, or basic yoga poses. Integrating mindfulness into core talent processes such as manager training, onboarding, performance conversations, and leadership development is also something organizations should consider moving forward.
2. Encourage Positive Social Connections
Employers can help their team build supportive social relationships through the implementation of collaborative team activities. Working together towards a common goal teaches employees to better rely on each other to overcome obstacles. In fact, one of the most overlooked aspects of the resilience skill set is the ability to have compassion - both for self and for others.
Compassion increases positive emotions, which further improves cooperation and collaboration. Individual, team, and organizational success rely on a compassionate work environment. By cultivating a caring atmosphere and providing the support employees need, you're setting your team up for strength in the face of adversity.
3. Reinforce Taking Regular Breaks
Throughout the workday, it's imperative that employers pay attention to the peaks and valleys of energy and productivity amongst their employees. Clarity, mental focus, and energy cycles typically last 90-120 minutes long. This is why stepping away, even for a few minutes, can help to reset employee energy and attention.

Balancing work activities with brief breaks can promote greater energy, creativity, mental clarity, and focus, ultimately enhancing the capacity for resilience throughout the day. This means that the long-term payoff is the preservation of energy and a lessening of burnout.
4. Provide Access to Mental and Behavioral Health Support
The mind and body are inextricably intertwined. When we feel physically unwell, our ability to manage emotional stress becomes altered. So, think of how draining a high-pressure work task can be when employees are already fatigued. Building resilience is not the same as invulnerability, and no matter how tough one might think they are; we all have a breaking point.

Because of this, employers should work to destigmatize the use of employee wellbeing programs and mental health offerings. By providing a digital behavioral healthcare solution such as SilverCloud Health in the workplace, you're introducing employees to immediate comprehensive support. Mental health resources are essential for making sure workplace stress doesn't spiral into more pervasive health issues.

As an employer, showing employees that you're invested in the betterment of their mental health and wellbeing is crucial. SilverCloud Health is a complete mental health and digital platform that allows you to deliver scalable and effective support to your employees.

Our Space from Resilience Program is broken into multiple easy to approach modules that employees can access at their own convenience. The program was designed to help individuals seek positive coping methods, implement problem-solving techniques, and practice self-reflection to find overall balance. Discover how you can reinforce a healthy work environment and ultimately strengthen emotional resilience amongst your employees.