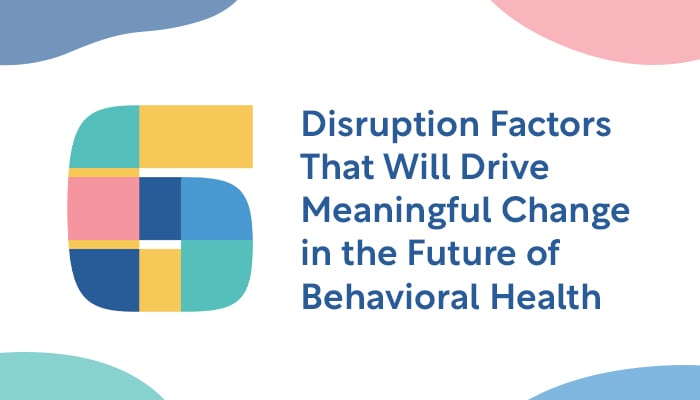 Today's global challenges have shed light on the need for healthcare providers to seek innovation. Doing so could lead to improved care outcomes, reduced healthcare costs, and a more productive work environment overall. Current trends indicate that changes are happening sooner rather than later, and health providers can better care for their patients if they're aware of what is causing changes and are already thinking about how to adapt and adopt new practices. Let's review six disruption factors that we believe will be driving meaningful change in behavioral healthcare.
Cultural and Behavioral Change
As the stigma surrounding behavioral illness lessens, it's hopeful that society will begin to not only confront their challenges but discover healthy ways to manage them. Thankfully, these changes already seem to be taking place: For example, a study by the ADAA found that 60% of U.S. adults aged 18-25 view seeking professional help for behavioral health as a sign of strength. In addition, by continuing to invest in behavioral health, governments are further lowering the stigma. Increased investment emphasizes the severity of the challenges that people continue to face.
Scientific Breakthroughs and Technology Advances
As behavioral healthcare specialists and researchers perform more comprehensive research, society can expect to better understand underlying pathologies that lead to behavioral illness. There will also be an increase in cost-effective treatment options. Because of this, organizations that offer care will be able to cater treatments to people's personal needs. Early-stage innovations provide hope in terms of potential revolutionary breakthroughs. For example, studies are being conducted to link the gut microbiome and the brain to treat various mental illnesses.
Increased Access to Patient Care
Cultural change and increased scientific breakthroughs will help facilitate better access to care for everyone. Insurance coverage will expand to more individuals who can enable this access, and emerging health tools will augment in-person care. The economic and social fallout of the pandemic has also revealed an expansion in telehealth and shared data. Furthermore, with an increased awareness of racial behavioral health disparities and unequal access to care in the U.S., there's an uprising in culturally competent health resources. Finally, health tools combined with clinical breakthroughs will aid in more effective in-patient treatment for those who need it.
Scaled Data Sharing Across Health Systems
Having a robust data-sharing environment will help increase access to behavioral health treatments. As the stigma surrounding behavioral illness lessens, consumers will be more open to sharing their health data. We expect that consumers will also be able to personally access and control their own data. A secure, centralized database and advanced governance standards can drive a safe and efficient environment to guarantee data blinding and privacy. Finally, increased data sharing will better inform the current state of an individual and will help them identify potential behavioral health issues before they arise.
Interoperable Health Data
Data sharing should soon be supported by fully interoperable health data built on universal standards. This data will be carried on a personal and longitudinal life record, which will collect holistic health data. Standardizing health platforms and electronic records will help to aggregate data. Furthermore, organizations will use artificial intelligence to predict the early onset of behavioral disorders. This will subsequently allow them to recommend treatments and interventions to improve health outcomes.
Empowered Consumers
Consumers will have increased access to high-quality treatment, leading to a better experience overall. They will increasingly use personalized health tools, while increased access to quality services and fair pricing will promote equity in healthcare. They'll also choose services that will leverage on-demand virtual engagement. These changes will mean that consumers will feel empowered to comprehensively evaluate care providers. This, in turn, will likely cause care providers to operate in a more consumer-centric manner.
Building on These Disruption Factors
Care providers must build on these disruption factors to deliver higher quality care for their patients. Efforts to create this future will rely heavily on access to consumer behavioral health data and the ability to apply advanced analytics. Increased data sharing can enable providers to develop and deliver personalized and preventative healthcare solutions. Providers also have an opportunity to leverage emerging technology to deliver better outcomes for their patients.
Here at SilverCloud Health, we provide online mental and behavioral health programs that can help health providers streamline quality care. SilverCloud is a trusted leader in digital behavioral healthcare as our programs are built on decades of clinical research.
Discover how you can further connect with your patients by learning more about SilverCloud Health for your organization here.