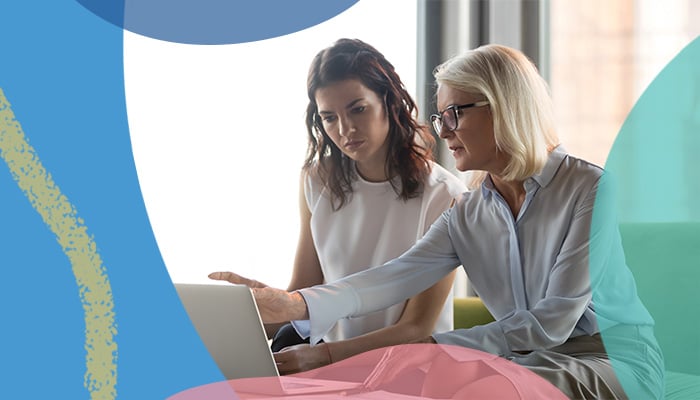 According to the National Institute of Mental Health, nearly one in five adults in the United States live with a mental illness. With so many people facing these challenges, mental health issues are likely to impact you or someone you know, whether in your personal life or the workplace. This means that it's important for employers to be made aware of the impact of stress and mental illness at work.
As an employer, you work hard to find the best people for your team, and you have the opportunity to help them care for their overall wellbeing beyond the office walls. Access to a rich set of mental health services helps executives provide quality resources to better take care of their teams. This is where an Employee Assistance Program (EAP) comes into play. Considering choosing the right program for your organization is an important task, we've provided insight below on what an EAP is, the benefits associated with it, and the services that can be expected.
Understanding Your Employee Assistance Program
If you aren't currently utilizing an Employee Assistance Program, it's a professional service designed to help employees address challenges that arise in their everyday lives. EAPs provide services to employees, often in the form of counseling, and to employers, often in the form of organizational development. In addition, EAP's can help ease the stigma of mental health in the workplace by making it easy and affordable for employees to seek help from qualified professionals.
Typically, employees will access EAP services through an external provider that has experience in offering counseling and referral services. Those services may be offered in-house for some larger organizations, but more commonly, EAP services are outsourced. Services can also be customized based on the needs of the workplace. For example, some companies may need to offer more counseling options to their employees, while other companies might need additional organizational training.
EAP Mental Health Benefits
An Employee Assistance Program can provide many benefits to the workplace in terms of improving employee mental health. The cumulative stress experienced by employees often presents quite a few unique challenges, some of which we've listed below.
Workplace stress often leads to:
Depression
Anxiety
Family issues
Sleep disturbances
Substance abuse
Poor workplace performance
All of these issues can be addressed from the variety of services that are provided by an EAP. The most prominent service that EAP's provide is the counseling aspect. When employees are stressed and overwhelmed, they can't perform their duties efficiently. This often leads to decreased productivity and increased absences. EAP counseling provides the resources that an employee might need to get help.
There are several ways in which an EAP can provide improvements, but here's a list of some highlights:
Confidentiality
Faster return to work
Immediate Assistance
Preventing Escalation
Affordable Perks
Further Expanding Your EAP for Additional Support
While many Employee Assistance Programs provide a great start on the road to improved employee wellbeing, it's worth looking into providing additional mental health services. No matter how comprehensive your Employee Assistance Program is, there will inevitably be unmet needs amongst employees. In addition, when looking to address the full scope of sustaining employee wellbeing, every organization will have a different approach. You may add wellbeing components to your existing program, or you may decide to start the process from scratch. Either way, it's important to follow a detailed guide when establishing a corporate wellbeing program.
Employers are further solidifying a successful wellbeing program by providing additional online cognitive behavioral therapy (CBT) programs in conjunction with an EAP. This partnership allows employers to quickly scale proven mental health solutions across the entire team. Online CBT programs offer digital tools, content, and support focused on a variety of mental health challenges.
A Smart Workplace Mental Health Solution
At SilverCloud Health, we took it upon ourselves to commission a survey through a third-party research firm of 1,288 US employees. The survey examined their need for employer-sponsored mental health benefits, care, and support. Discover the results to help you provide the appropriate mental health support and care to your employees.
SilverCloud Health is a trusted leader in digital behavioral healthcare, having partnered with hundreds of organizations of all sizes and industries. With SilverCloud, employees have immediate, 24/7 access to a suite of interactive digital content for a variety of mental health challenges. All of our programs are data-driven and backed by two decades of research that can be scaled across large and diverse populations.
When assessing our online mental health platform, it's important to note that a key module is the "Space from Stress" program. This module includes an introductory video and quiz, psychoeducational content, homework suggestions, interactive quizzes, and summaries. The program helps users look at all areas of life that contribute to stress and figuring out healthy ways to manage them. This includes creating SMART goals, time management, solving problems, cognitive restructuring, and more.
Are you interested in expanding your Employee Assistance Program? Learn more about how SilverCloud can help to deliver additional support alongside your EAP.