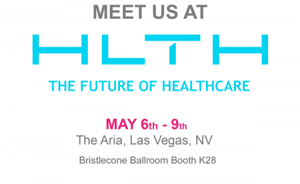 SilverCloud will be exhibiting at this year's HLTH conference taking place at The Aria in Las Vegas May 6th - 9th. The event brings together the biggest players in healthcare with the latest technologies, innovations and business strategies to discuss and explore new disruptive care models that are advancing the healthcare ecosystem.

SilverCloud's Digital Behavioral Health Platform Optimizes
the Care Experience by Innovating the Patient Journey
As one of the fastest growing companies in the behavior health space, SilverCloud provides payers, providers and pharma companies with innovative and scalable behavioral health for all their patients.
Learn how SilverCloud is disrupting care delivery to:

Extend Patient Reach - Across the care continuum for mental health and chronic disease, treat mild, moderate and severe patients with the largest comprehensive library of customizable evidenced-based programs.
Drive Member Engagement - Enhance care delivery with measurable, cost-effective behavioral
solutions across mental and chronic health - empower members with innovative self-care digital solutions and keep them engaged in managing their care.

Improve Medication Adherence - Optimize pharmacology through digital, provide clinically proven programs to improve clinical trial submissions/outcomes, address behavioral care gaps and improve self-management.
Join us at booth K28 and meet with our team as we will be exhibiting our digital behavioral health platform and experience our newest user interface designed to improve patient engagement while continuing to provide a safe and secure environment for patients. Connect with us to coordinate a time to meet at the event.
About HLTH
HLTH is a launch event designed to accelerate the discussion and adoption of the latest technologies, innovations and business strategies that Providers, Payers, Employers, Pharma, Policy Makers, Associations, Academics, Investors, and Startups are advancing to improve care, lower cost and increase care satisfaction. In attendance will be key players, including: health payment, delivery, and policy makers, as well as the disruptive startups and existing companies that provide tech-enabled services to drive efficiencies and better health outcomes.