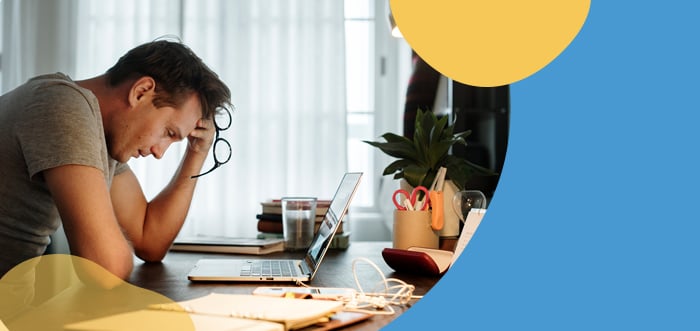 Life is full of ups and downs. Feeling anxious or sad are typical reactions to life's challenging times.

When those feelings become more severe, they have an increasingly negative effect on your employees' personal and work lives.

Even prior to the pandemic, the prevalence of anxiety and depression issues in the U.S. was sobering. According to the Anxiety and Depression Association of America (AADA):
Anxiety disorders affect 40 million Americans age 18 and older, or 18.1% of the population. It is the most common type of mental health issue in the U.S.
Anxiety issues are very treatable, yet only 36.9% of sufferers receive treatment.
At least one major depressive episode has been experienced by approximately 17.3 million U.S. adults age 18 or older.
COVID-19 Impact on Depression and Anxiety
A KFF report published in February 2021 highlights the startling increase in anxiety and depression issues since the beginning of the COVID-19 outbreak.

As shown in Figure 2 below, in January 2021, 41% of U.S. adults reported symptoms of depression and/or anxiety disorders. This number has stayed the same since the spring of 2020.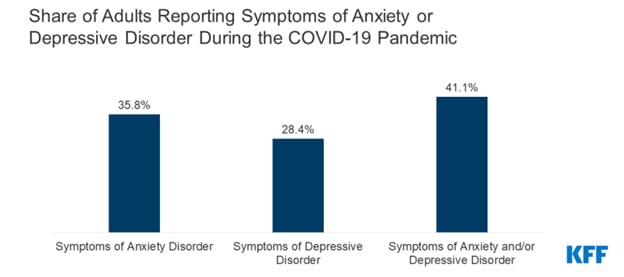 Notes: These adults, ages 18+, have symptoms of anxiety or depressive disorders that generally occur more than half the days or nearly every day. The data shown is for January 6 - 18, 2021. Source: U.S. Census Bureau, Household Pulse Survey, 2021 - 2021

Those numbers are even higher for your employees of color.

In addition to higher rates of COVID-19 cases and deaths, Black and Hispanic communities are more likely than White adults to report symptoms of anxiety and/or depressive disorder, according to Figure 7 below.

Some possible reasons why include:
Black parents more often than White parents have experienced negative impacts of the outbreak on their children's education, the ability to care for their children, and relationships with family members.
Black and Hispanic people prior to COVID-19 were less likely to receive behavioral health services compared to the general population. The pandemic has increased that challenge.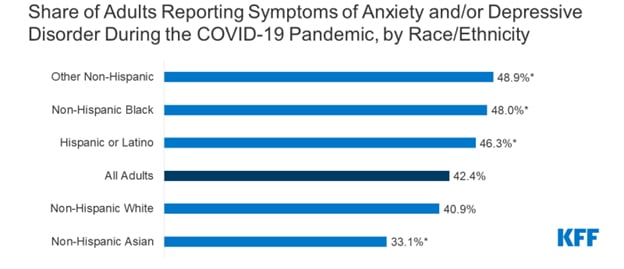 Notes: *Indicates a statistically significant difference relative to Non-Hispanic White adults at the p<0.05 level. These adults (ages 18+) report symptoms of anxiety and/or depressive disorder generally occurring more than half the days or nearly every day. "Other Non-Hispanic" includes people of other races or multiple races. Data shown are for December 9 - 21, 2020. Source: KFF analysis of the U.S. Census Bureau Household Pulse Survey, 2020.
Employees Dealing with COVID-19 Depression and Anxiety Issues
To provide useful information for employers and EAP providers, in January 2021, SilverCloud Health commissioned a survey through a third-party research firm of 1,288 U.S.-based, full-time employed adults. The survey samples included the U.S. Census balance for different age groups, income levels, races, genders, relationship status, geographical regions, and more.

The survey results provided a look into the state of employees' mental health, including:
81% of those with depression and anxiety experienced a greater need for mental health treatment during COVID-19.
30% of employees experienced an increased need for mental health treatment during the COVID-19 pandemic.
Surveys conducted by McKinsey in late 2020 confirm that employees are looking for additional mental health support options.
The Link Between Anxiety, Depression and the Bottom Line

Employees want help with their mental and behavioral health issues. Employers and EAP providers want to help employees to feel happier and healthier. The best part? There are financial benefits to companies and EAP providers to reduce anxiety and depression disorders for employees.

There are certainly direct costs associated with employee mental health, but there are also many indirect costs. These include increased rates of absenteeism, short-term disability, safety incidents, underperformance, reduced productivity, and more, including:
The World Health Organization (WHO) estimates that anxiety and depression disorders cost the global economy US$ 1 trillion each year in lost productivity.
When employees are depressed, they are absent 31.4 days per year and lose another 27.9 days to unproductivity, according to a McLean Hospital report.
According to the same report, employees with unresolved depression contribute to a loss to the U.S. economy of $210.5 billion a year in absenteeism, reduced productivity, and medical costs.
Depression is the leading cause of disability for Americans aged 15-44, according to the AADA.
How Digital Health Options Help Employees With Depression and Anxiety
The January 2021 JAMA "Internet-Based Cognitive Behavioral Therapy for Depression" systematic review and meta-analysis of 39 studies concluded that Internet-based Cognitive Behavioral Therapy outperformed the treatment as a usual option.

Treatment, as usual, consists of in-person or one-on-one CBT counseling. The shortage of mental health counselors, even more so during the pandemic, limits those options.

The 2021 Employee Mental Health and Wellbeing Survey showed that employees are interested in receiving online mental health services. In fact, 78% of respondents prefer online mental health services and support over in-person services, and 60% of employees said they would be more likely to use their mental health benefits if they could access their benefits at any time from their smartphone or other devices.
SilverCloud Programs for Anxiety and Depression
Anxiety and depression are at the heart of many mental health issues. That's why the "Space from Anxiety" and "Space from Depression" modules have long been a part of SilverCloud programs.

These self-guided programs help users develop more flexible ways of thinking, become aware of and understand emotions, and increase activity and motivation in daily life.

In addition, SilverCloud has added two programs. In April 2020, the "Challenging Times" module was launched as part of a broad COVID-19 program that supports users dealing with pandemic-related anxiety, depression, stress, sleep issues, and more. A second program, "Money Worries," helps users manage the anxiety and depression that may arise from experiencing financial difficulties, including those brought on by COVID-19.
How the Leadership Team Can Help Employees Now
"There are many ways you can help support your employees' mental health right now," says Ken Cahill, CEO of SilverCloud Health. Here are some:
Check-in with employees often -

It's not enough to wave to them on Zoom calls. With social isolation, children in virtual school, and other work from home issues, it's more important than ever to have frequent one-on-one conversations with your direct reports.

Provide meeting-free times -

Many of us actually have more meetings while working from home than we did in person.

According to CNN, s

everal companies have deemed Thursday mornings or Friday afternoons as "meeting-free" times to give employees a much-needed break.

Communicate with employees about mental health offerings -

You may have added new options to help employees, some help may be virtual, and you will likely have employees who have never had a need for mental health benefits until the pandemic. Let them know what's available to them now.
Thanks for doing your part to support the mental health of your employees during this challenging time. You can learn more about COVID-related effects on employees in our 2021 Employee Mental Health and Wellbeing Survey Report.