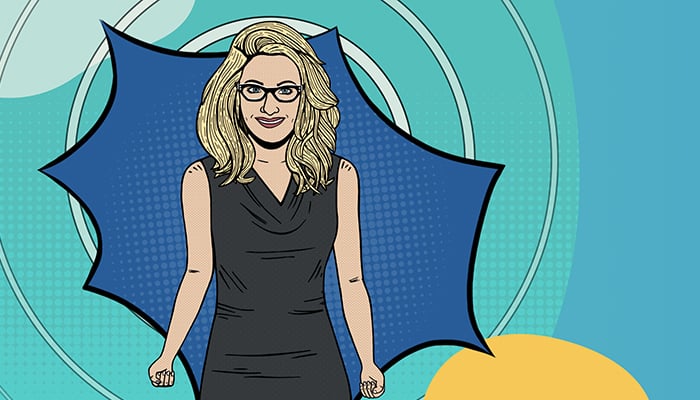 Meet SilverCloud's fourth mental health superhero, Dr. Carlene Macmillan.

A Harvard graduate (undergrad and Harvard Medical School), Dr. Macmillan is one of the founders of Brooklyn Minds, which specializes in helping people with moderate to severe mental illness who need a team-based approach for treatment.
With over 20 clinicians and 60 employees, along with her work as a practicing psychiatrist and wife and mom to five-year-old twins, Dr. Macmillan has her hands full. Yet, she still finds time to provide mental health education and advocacy through a variety of other activities, including working with the American Academy of Child and Adolescent Psychiatry and participating in the new social media network, Clubhouse.

Read on to learn more about Dr. Macmillan.

SilverCloud: You've recently received some exciting news. Tell us about it.
Dr. Macmillan: Yes, our pilot program, 'Frontier Psychiatrists Daily,' was selected as a finalist in the Clubhouse Creator First program. Frontier Psychiatrists Daily is an evidence-based recurring series featuring professionals and experts exploring the frontier of mental healthcare.
SilverCloud: Congratulations! Let's take a step back. Since Clubhouse is so new, could you explain to our readers a little about it and how you've been participating in it?
Dr. Macmillan: Clubhouse is a free, audio-only social network where people can join in on conversations on almost any topic. It's only a little over a year old and has really gained traction in 2021.

I joined in October of 2020 because a nurse in our practice, who's very innovative, heard about it and said, 'Hey, you need to check this out.' Initially, I wasn't sure what to expect, but by listening in and talking to people, I realized there was a real interest in mental health topics.

In early 2021, Dr. Sohaib Imtiaz, the founder of Human Behaviour (one of the most popular clubs on Clubhouse, with over 500,000 followers), heard my husband (Dr. Owen Muir, also a psychiatrist) and me speaking a couple of times and invited us to start a weekly room in his club, titled "Behavioural Health – AMA with Psychiatrists." We've hosted this on Sunday nights for several months, and we get several thousand participants. We talk about mental health issues, including ADHD, bipolar disorder, and depression.

My husband and I also created a club on Clubhouse -- Sphere, which covers new topics in mental health.
SilverCloud: You seem pretty busy with your Clubhouse commitments. Why did you decide to enter the Creator First competition?
Dr. Macmillan: If we become one of the 20 winners of the competition, we will receive financial support, sponsorships, and resources to grow our Frontier Psychiatrists Daily show, along with a great deal of media exposure. It's also the only show amongst the finalists led by licensed mental health professionals, which is another way to continue our journey towards destigmatizing mental health.
SilverCloud: When do you find out if your show is one of the 20 winners?
Dr. Macmillan: We should find out in early June 2021. We're feeling hopeful, as our pilot show debuted on May 16, 2021, and received a review and a Grade of 'A' from one of the toughest reviewers.
SilverCloud: The reviewer included this in his review: 'After being the victim of hate speech over my mental health, it's refreshing to find real medical professionals on Clubhouse.' Is this a challenge on Clubhouse?
Dr. Macmillan: Just like on every social media platform, there are people with a variety of experiences who share information and opinions. As M.D.s, we feel a responsibility to provide evidence-based mental health information on Clubhouse. We also make sure to suggest therapeutic resources instead of actually providing therapy on Clubhouse.
SilverCloud: While you're very active on Clubhouse, you also volunteer your time with the American Academy of Child and Adolescent Psychiatry (AACAP), right?
Dr. Macmillan: Yes. I'm the co-chair of the Consumer Issues committee, and I've been on that committee since my child psychiatry fellowship. The committee creates and distributes information that helps the general public. One example is providing education and resources regarding child and adolescent suicide through something called the Suicide Resource Center, available on the AACAP website.
SilverCloud: Thanks for speaking with us, Dr. Macmillan. And thanks for the great help you provide in the world of mental health!